Garret Camp, the bad boy of Silicon Valley, has recently launched Eco Coin ... the worlds first eco friendly crypto currency.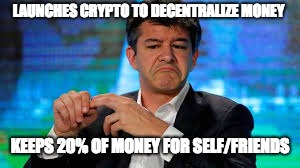 Because Bitcoin is obviously just a fad, Camp stated that "I realized it might be better to release a new project from a different philosophical standpoint with cooperation from a lot of universities, scientists, and research institutes—like the Internet".
What is Eco Coin?
The goal of Eco Coin is simple: incentivize sustainable behavior through monetized actions. Imagine getting paid for picking up trash, riding your bike to work, setting your thermostat a few degrees higher during the summer. It all sounds wonderful... if it would actually happen.
To me Eco Coin seems like a pump and dump play by a playboy from Silicon Valley hoping to profit off of the ICO hype in addition to the screen time he is guaranteed to get by being the CEO of Uber.
The Facts
I read their white paper... after getting over the fact that it had a bunch of typos I learned a few things.
Eco Coin has been in development since 2009 .... hmm, that's interesting, isn't that when another crypto currency was released???
The goal is to have each coin backed by a physical asset... in this case they chose to use a tree... a god damn tree. How are you going to verify that these trees exist? Take a selfie with a tree and get an Eco coin! Are all trees equal? What if your tree is a piece of shit, will you still get a full coin?
Hot or Not??
The goal of this coin, if it is legitimate, is admirable. Yet the execution leaves A LOT to be desired. Yet, at the end of the day, I will probably throw some money at this simply because the crypto community lovvveeesss to pump shit coins with a lot of hype.
Garret Camp, you are a douche bag who runs a somewhat evil company. I don't think that you are actually trying to do something good, but on the off chance that you are, do it fucking professionally...
/endrant
Check Out Our Other Posts