Three Fun Ways to See the Steem Blockchain!
Would you like to learn about three fun ways to see the Steem blockchain in real time because this might show you that a blockchain is not only numbers and blocks, and that it can be viewed in many different ways?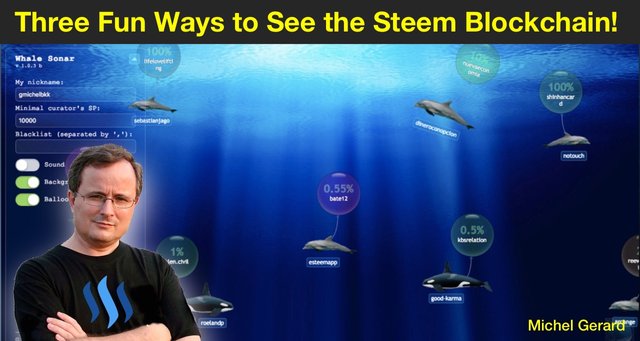 There might be other great graphical tools to see the Steem blockchain in real time that I do not know about and I welcome your input in the comment area.
Three Fun Ways to See the Steem Blockchain!
I have found 3 tools that can show you the Steem blockchain in real time as you haven't seen it before. The first one is a stream of data showing up very fast on the screen while the two others are more like a graphical representation of transactions happening on the Steem blockchain.
Steem Stream
The first tool is Steem Stream by @roelandp.
You just have to visit the URL and see all the transactions going before your eyes. It is going very fast and it can be difficult at times to click on a link and go to a post, a comment or a user.
You can access the tool here: http://steemstream.com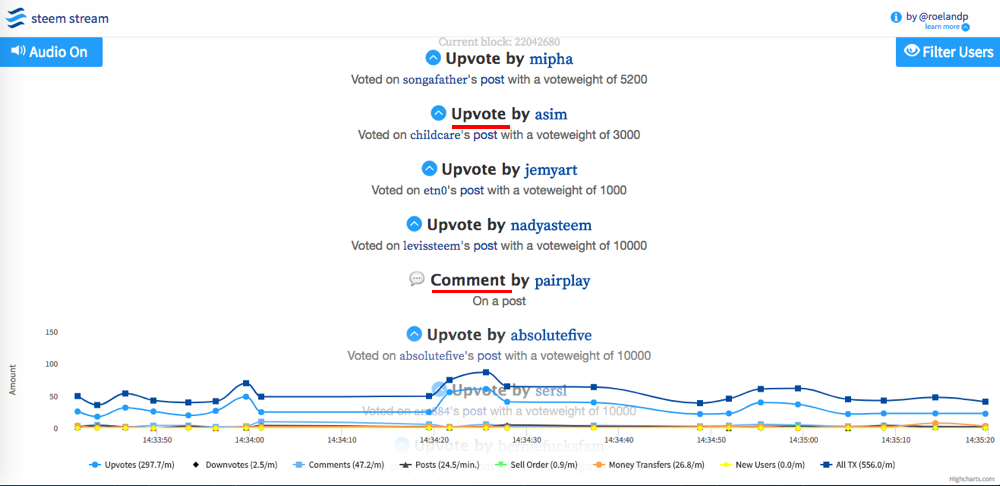 You can see upvotes, comments, transfers, downvotes, etcetera.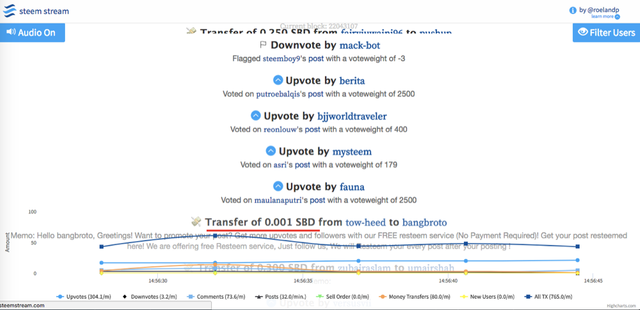 Clicking on a link will open in a new tab or window on Steemit.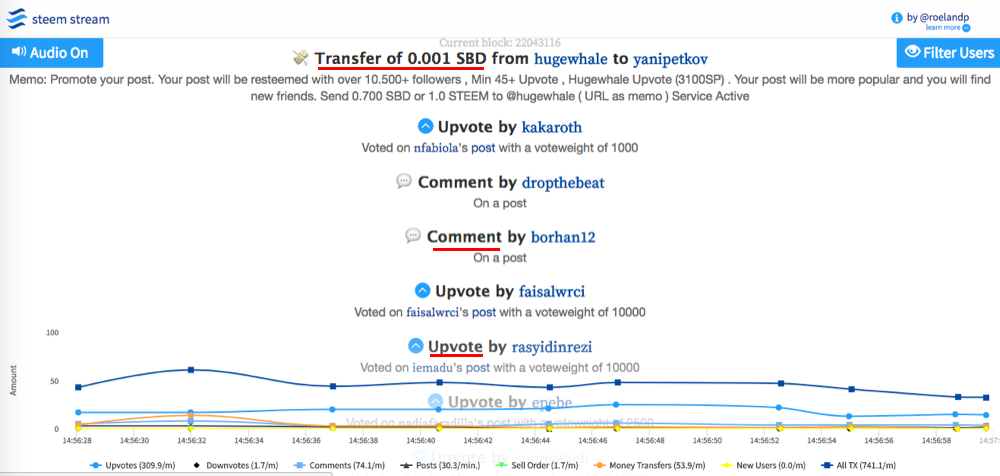 At the bottom of the screen, you can select the data you want to see, like only the "Comments" and "Posts" in this last image.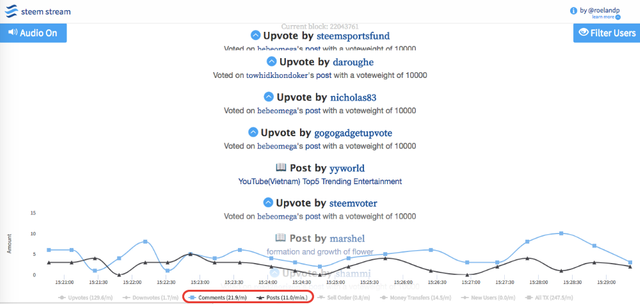 Pond
The second tool is Steemit Pond by @mynameisbrian.
This is a very entertaining and creative way to see the Steem blockchain transactions as fish in a pond and your own transactions as scuba divers. You can click on any of the graphics and it will go to Steemit.
You can access the tool here: http://steemitpond.com
As soon as you go to this website, you will see upvotes going up and different fish crossing the pond.
At the top right you have the icons to filter users and the legend.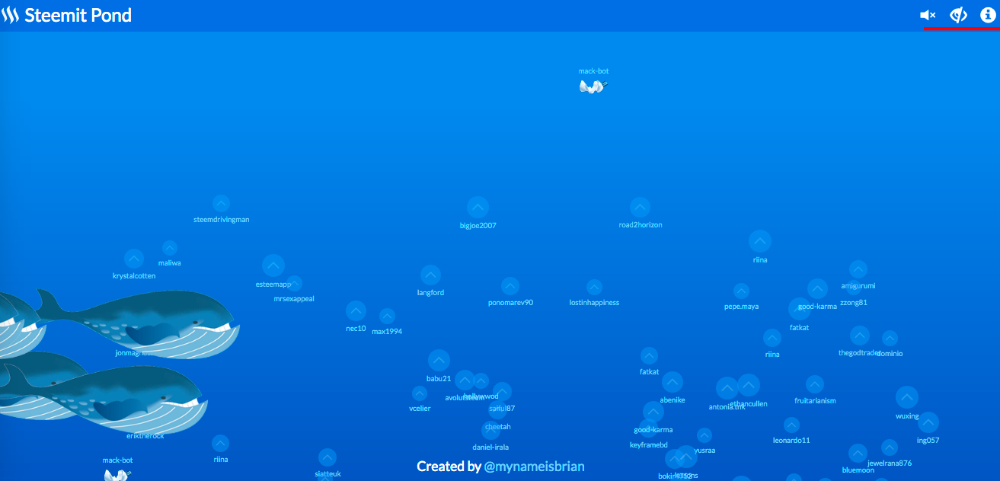 You can enter your username here and your transactions will show as scuba divers in the pond.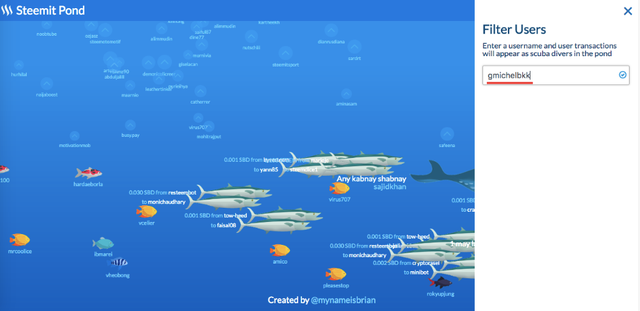 This is the legend that I combined in one image.
The type of fish determine what it is, a new top-level post, a comment, a new account created, a transfer, etcetera. You surely need some practice to recognize what's going on that way on the Steem blockchain.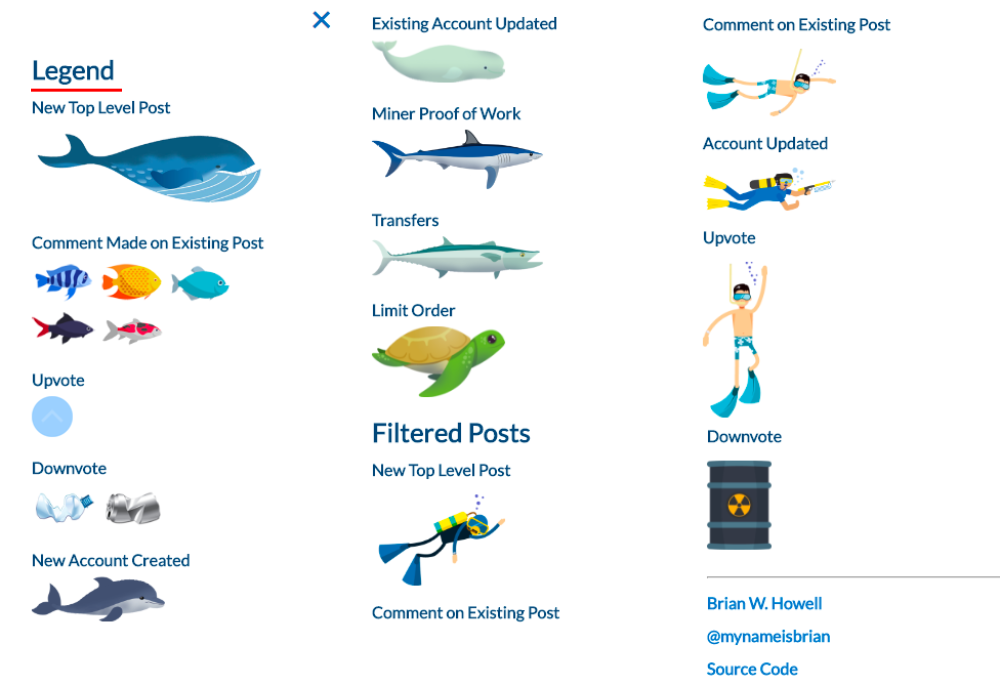 When you filter users, they will show as scuba divers.
This can go very fast, so you have to get ready to click on a fish if you want to see the detail about it.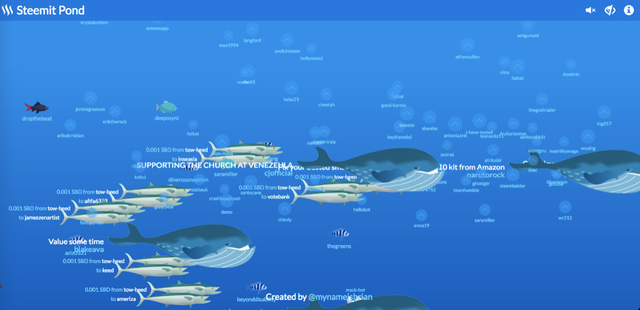 More fish!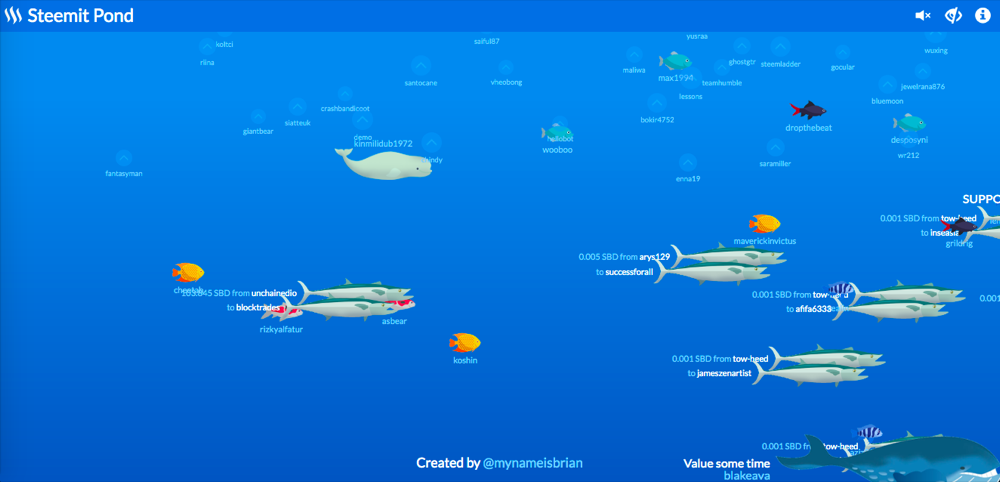 When the animation stops, just refresh the browser for another go.
Whale Sonar
The third tool is Whale Sonar by @elviento.
This is another creative way to see information about users on the Steem blockchain and try to catch a whale. When you click on a fish you will have a window showing the information about a user.
You can access the tool here: http://steem.loadsup.net/sonar/
You can enter your username in the window at the left and select background, balloons and sound.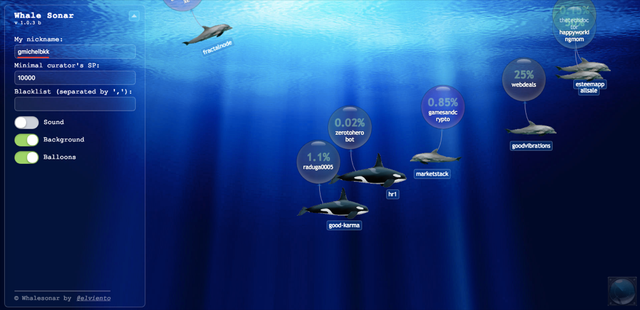 When you click on a fish, this will slow down the animation and show a window with very useful information that is clickable: curator information, upvote rewards and post information.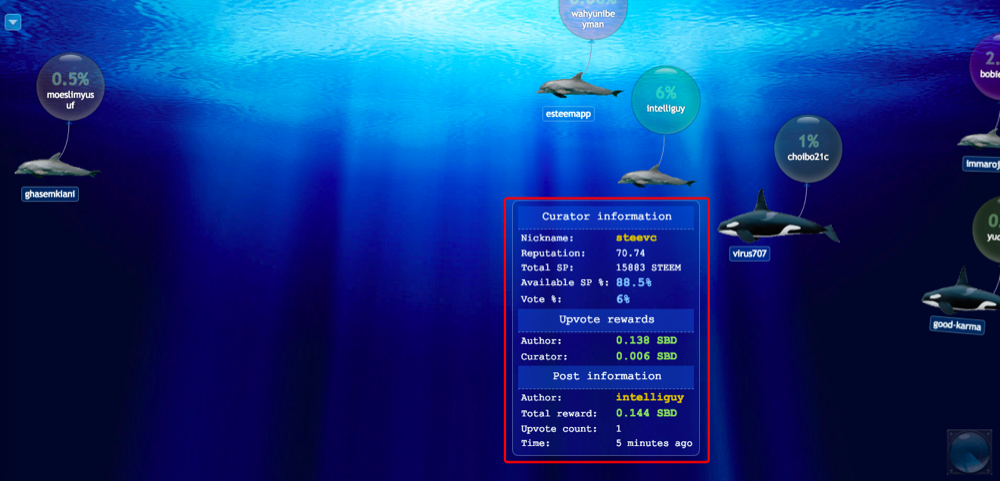 Dolphins and whales.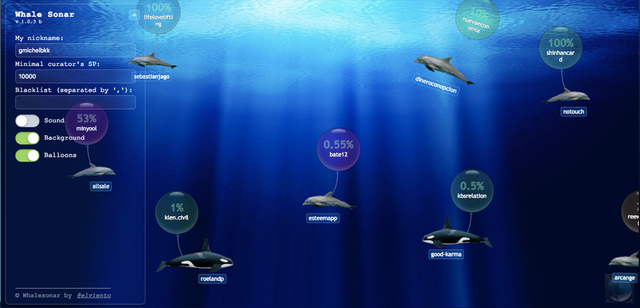 This is what it looks like without the balloons and background.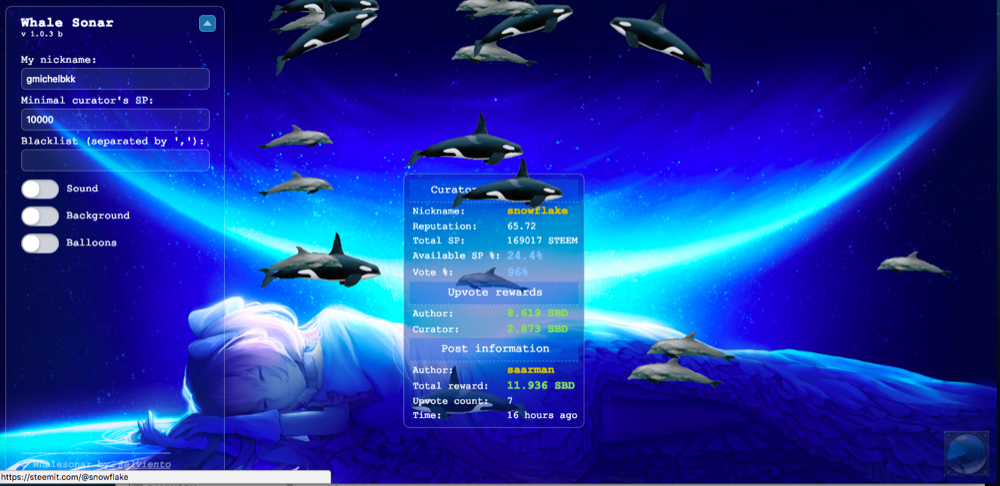 I hope that you enjoyed this post and that you will give these tools a try.
Let me know which one you prefer in a comment below.
Would you upvote this post and follow me for more because this will encourage me to write more Steem tool posts like this one?
Would you please help @jerrybanfield become a top 10 Witness because you can help funding projects to build Steem as explained here? Vote for jerrybanfield as a witness or set jerrybanfield as a proxy to handle all witness votes at https://steemit.com/~witnesses. Read the 5 reasons why I'm voting for Jerry Banfield as a witness and how to vote in my post. You may be interested to read: What is a Steem Witness, How to Vote and Why?
Michel Gerard