Know Who your Upvoters Are!
Would you like to know more about "Upvoters" because this well-designed tool will show you the curators who upvote your posts and also other interesting data in your Steemit account?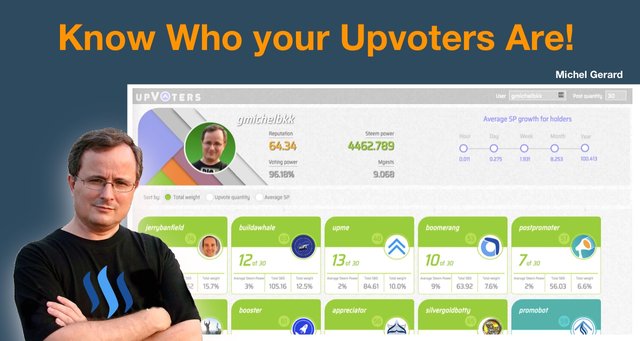 The tool I want to show you today is very neat and it's called Upvoters.
There you can see detailed statistics of your Steemit account such as actual Steem Power, Voting Power, exact Reputation, and something I haven't seen anywhere else, a timeline of average SP growth for holders.
You can also see Upvote statistics for a certain number of days you set up, that can be sorted by Total Weight, Upvote Quantity and Average SP.
You can access the tool here: http://steem.loadsup.net/upvoters/
Upvoters was created by @elviento.
Know Who your Upvoters Are!
This is what you have at the top of "Upvoters."
At the top right, you have to type your username and select a number of days. In that case, I chose 30 days.
Then, the header will show your exact Reputation with two digits, your Steem Power, your Voting Power and your Mgests, which are internal Steemit units corresponding to your Steem Power.

What's interesting is to see the "Average SP growth for holders."
As you may or may not know Steem Power holders are receiving 15% of annual Steem tokens inflation and this depends on the Steem Power amount in your account.

In my case it says that I am receiving 8.253 Steem per month, and 100 Steem per year just by holding Steem Power.
That's something I haven't paid attention to, and I bet you didn't either.
This got me interested, so I checked the FAQs on Steemit.
This is what it says.


Back to "Upvoters."
You can sort your results by "Total Weight" and the tiles will take their positions nicely.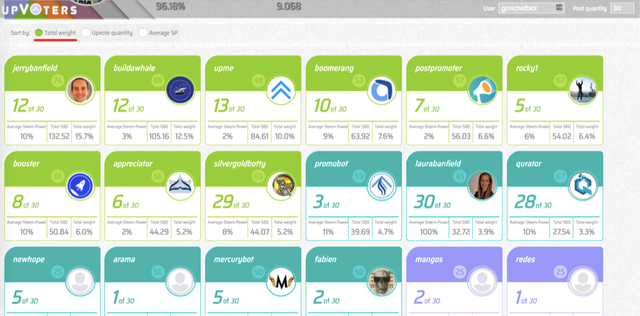 You can sort your results by "Upvote Quantity."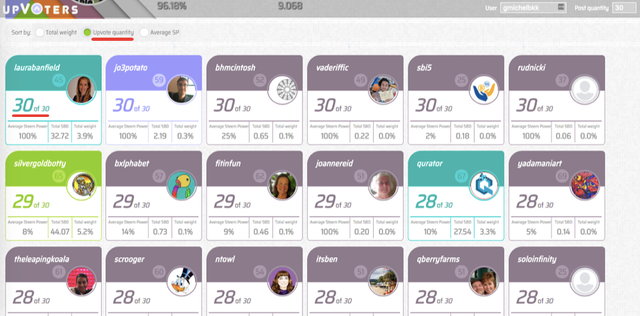 You can sort your results by "Average SP."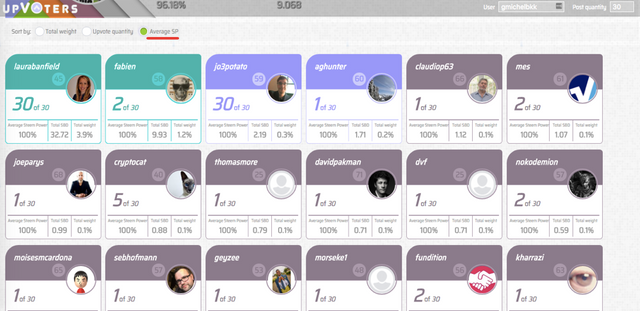 This data will help you understand a bit more about the curators who are upvoting your posts.
You can see how many posts they have upvoted, in this case 29 out of 30.
You can see their "Average Steem Power," their "Total SBD" and "Total Weight."

When you click on a tile, this will open the user's profile in a new tab and you can then learn about them, upvote their posts back and comment.
That's a simple tool, very well designed, that I am sure will have some use for you.
Would you upvote this post and follow me for more because this will encourage me to write more Steem tool posts like this one?
Would you please help @jerrybanfield become a top 10 Witness because you can help funding projects to build Steem as explained here? Vote for jerrybanfield as a witness or set jerrybanfield as a proxy to handle all witness votes at https://steemit.com/~witnesses. Read the 5 reasons why I'm voting for Jerry Banfield as a witness and how to vote in my post. You may be interested to read: What is a Steem Witness, How to Vote and Why?
Michel Gerard