How to Examine your Upvotes on Steem Ocean!
Would you like to know how to see detailed stats about the upvotes you have made in a week, see what posts you upvoted and for what amount of SBD, see the categories you upvoted the most, because this might be useful to adjust your voting strategy?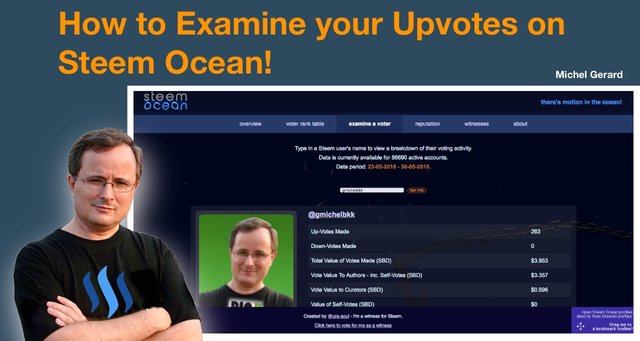 You can examine your own account or any user on Steem with Steem Ocean, which is the tool I am going to show you today.
Steem Ocean was created by witness @ura-soul.
How to Examine your Upvotes on Steem Ocean!
In order to use Steem Ocean you have to go to: http://steemocean.com/voter
You will land on the tab "examine a voter" and what you have to do is enter your username and click "Get info."
The stats shown will be for the last week.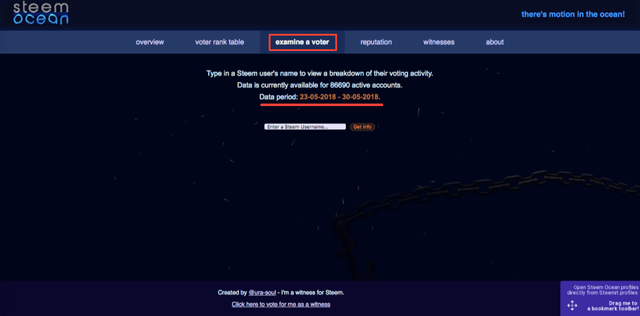 After you have clicked "Get info," you will see the stats for your account.
Mine is here: http://steemocean.com/voter/gmichelbkk
You can also replace my username by yours in the link and you will see your own stats.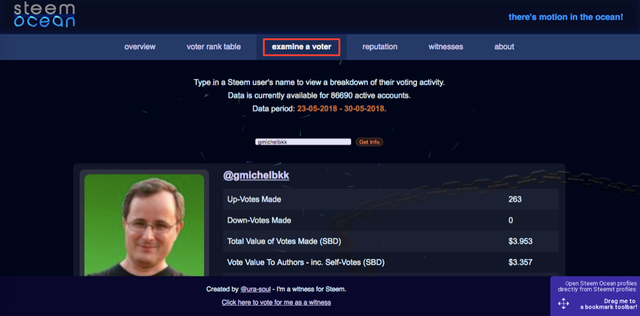 At the top of the page you have a summary of your votes for the week like upvotes made, the total value of votes made in SBD, etcetera.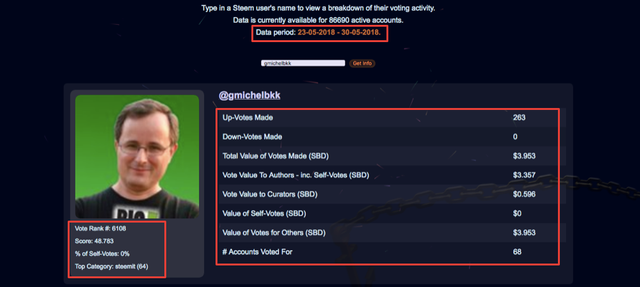 These are the stats for my account between 23 and 30 May 2018.
| Up-Votes Made | 263 |
| --- | --- |
| Down-Votes Made | 0 |
| Total Value of Votes Made (SBD) | $3.953 |
| Vote Value To Authors - inc. Self-Votes (SBD) | $3.357 |
| Vote Value to Curators (SBD) | $0.596 |
| Value of Self-Votes (SBD) | $0 |
| Value of Votes for Others (SBD) | $3.953 |
| # Accounts Voted For | 68 |
I have made 263 upvotes, the total value of votes is $3.953 SBD with $3.357 SBD for authors and $0.596 SBD for curators. I have no self-vote and the value of votes for others is $3.953 SBD on 68 accounts.
Under your profile image you can see that you are given a vote rank and a score, and you can see your most voted category.
Below the main section you have the categories you have voted for.
If you click on the "Votes Cast" it will order it ascending or descending and in the image below you can see that my top category is "Steemit."
You can also order by "Vote Value (SBD)" if you wish.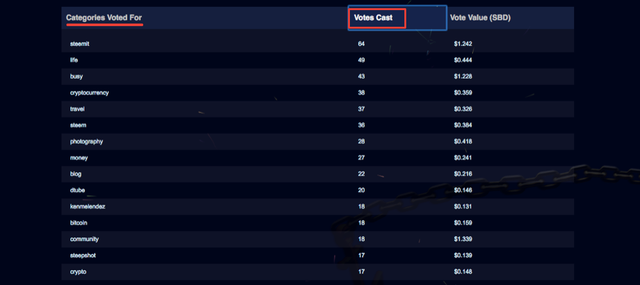 The next section is for votes made for posts and comments.
If you click on the "Timestamp" a new tab will open with the post or comment.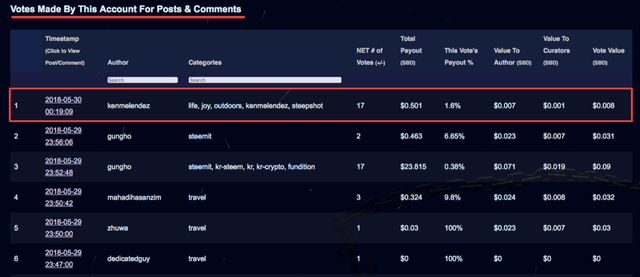 After the "Timestamp" you have the author and the categories for the post, then the number of votes it received and the total payout in SBD.
Concerning your vote, you can see your shared percent, the value to the author and curators, and the total vote value.
You can click on any header to order it. Below it is ordered by "Vote Value (SBD)."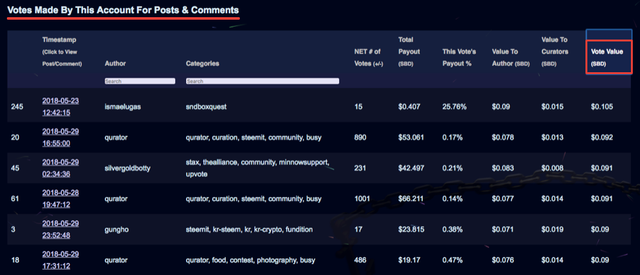 Here, it is ordered by "NET # of Votes (+/-)."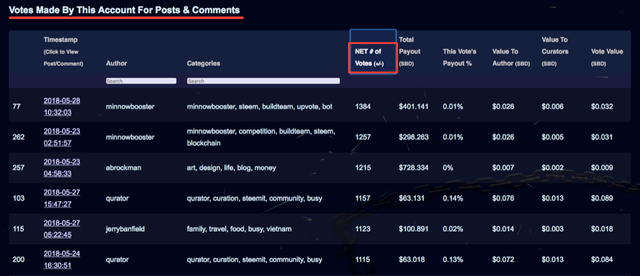 At the bottom right of the page there is a browser bookmark that you can use to check any Steem account you visit. You just have to drag the purple area to your bookmark toolbar and you will be ready.

The bookmark will show like this and when you are on any Steemit account and click the bookmark, you will be directed to Steem Ocean and the stats for the account.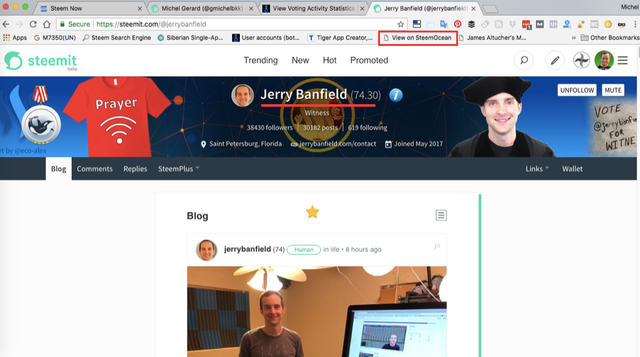 This is, for example, the stats for @jerrybanfield.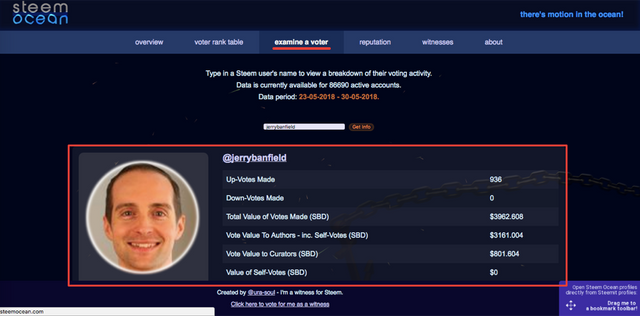 That's all for now and I hope that this is useful for you to know more about your upvoting pattern or those of other users on Steemit.
Would you upvote this post and follow me for more because this will encourage me to write more Steem tool posts like this one?
Would you please help @jerrybanfield become a top 10 Witness because you can help funding projects to build Steem as explained here? Vote for jerrybanfield as a witness or set jerrybanfield as a proxy to handle all witness votes at https://steemit.com/~witnesses. Read the 5 reasons why I'm voting for Jerry Banfield as a witness and how to vote in my post. You may be interested to read: What is a Steem Witness, How to Vote and Why?
Michel Gerard