Do You Know Who Resteem your Posts?
Would you like to know how many resteems you got this year, how many of your posts were resteemed and how many users resteemed your posts because this might be helpful if you want to know what posts are the most successful and who are your real fans?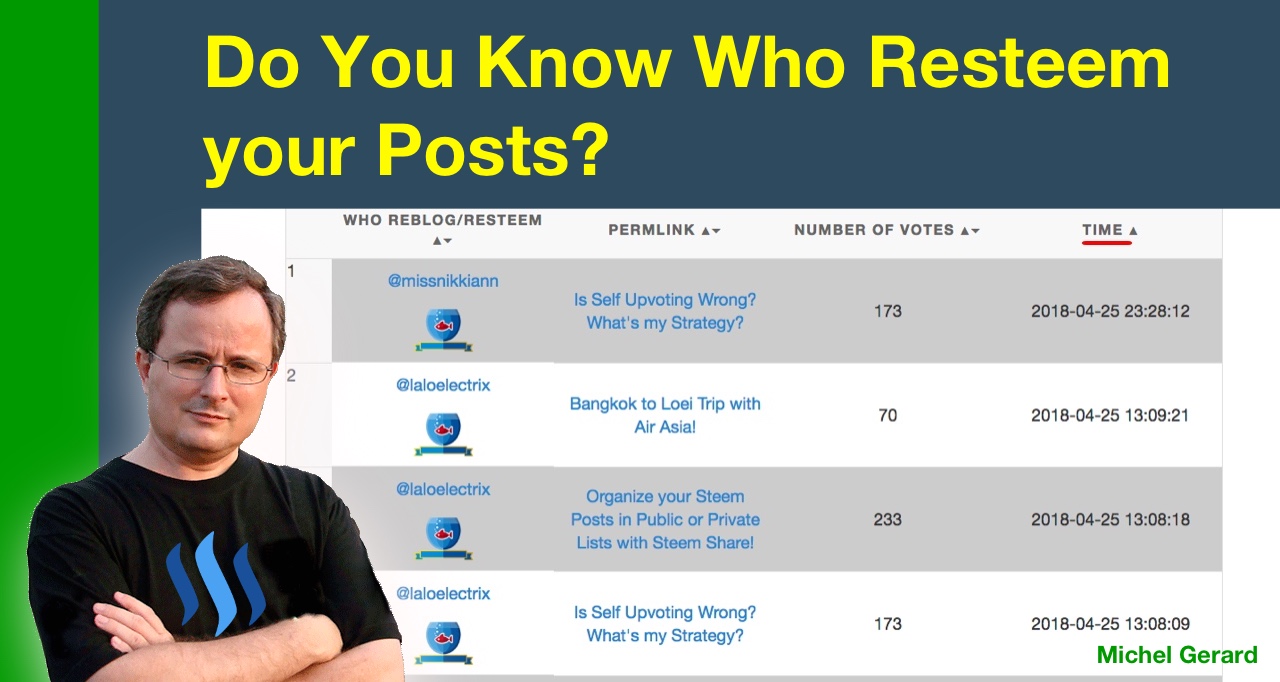 Unlike authoring, curating and upvoting, resteeming doesn't earn you anything, so when users are resteeming, this is very valuable because it's done without any gain by someone who really likes your posts.
Do You Know Who Resteem your Posts?
Today I'd like to show you a simple tool created and maintained by @justyy. It is called "Steemit reblog/Resteem Checker" and you can access it here: https://helloacm.com/tools/steemit/reblogs/
You have only one thing to do and it is to enter your Steem ID and click a button.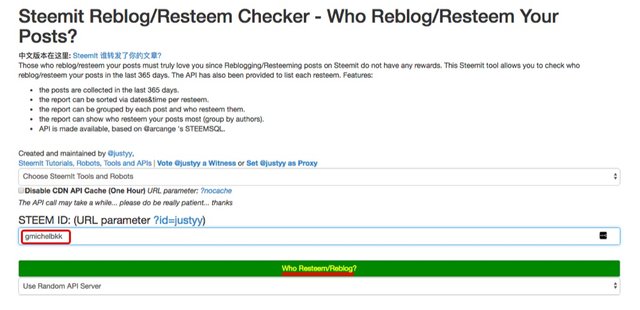 After you click the "Who Resteem/Reblog?" button you will quickly see your badge from SteemBoard and three different results, which are all in one page and that you can access clicking on the links.

The tool has found for the last 365 days, 391 resteems, 121 posts resteemed and 293 users who have resteemed.
The first result is 391 resteems and it is sorted by date and time like this.
You can see who is the user resteeming what post and the number of votes for the post.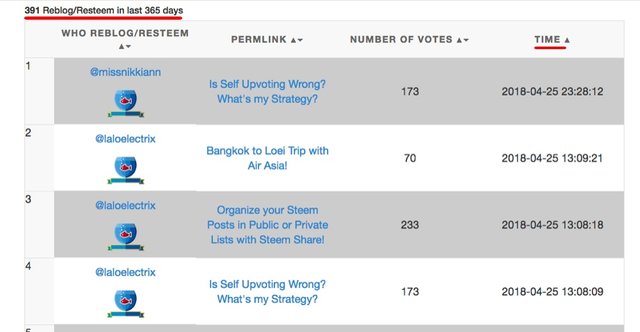 If you want you can sort by number of votes, users or permalink.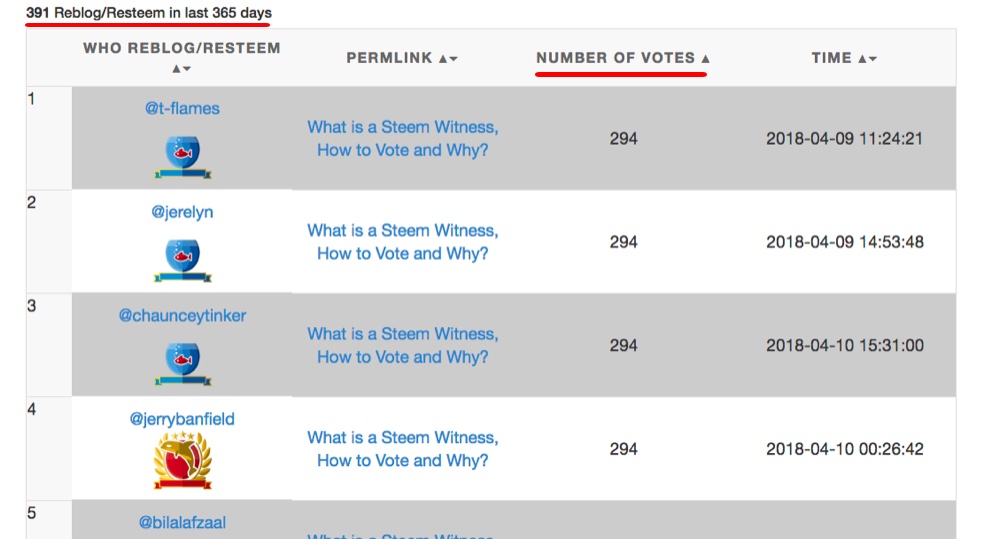 The second results is 121 posts resteemed and it is sorted by count like this.
This shows me what is my most resteemed post in the last 365 days, the users that resteemed it and the number of votes on the post.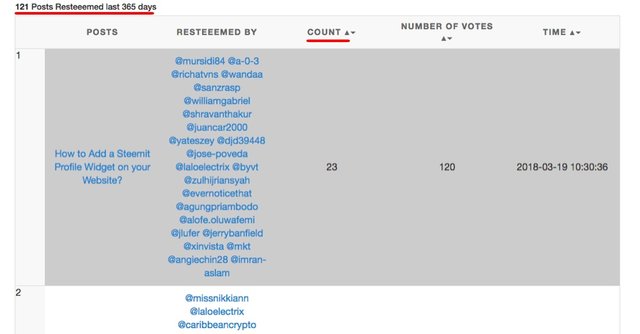 This can be useful to identify what kind of posts are the most resteemed so you can write more of the same.
Then, the third result is 293 users resteemed y posts.
It is sorted by count and I see that @laloelectrix is my top resteemer, resteeming 19 posts.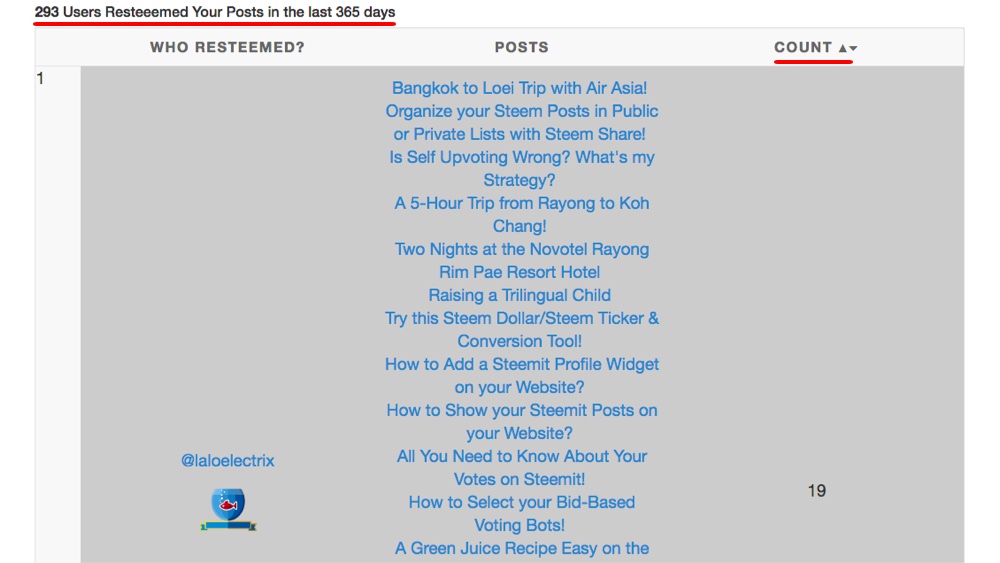 Thank you very much @laloelectrix, you are a true fan!
Thank you also to @jerrybanfield who is my second best resteemer and @youngky who is my third best resteemer.
Thank you to all who resteemed my posts.
I hope that you liked this post and I invite you to try this tool right now.
Would you upvote this post and follow me for more because this will encourage me to write more Steem tool posts like this one?
Would you please help @jerrybanfield become a top 10 Witness because you can help funding projects to build Steem as explained here? Vote for jerrybanfield as a witness or set jerrybanfield as a proxy to handle all witness votes at https://steemit.com/~witnesses. Read the 5 reasons why I'm voting for Jerry Banfield as a witness and how to vote in my post. You may be interested to read: What is a Steem Witness, How to Vote and Why?
Michel Gerard