Discover your Most Valuable Player on Steemit!
Would you like to know who is your most valuable player and most loyal player on Steemit because this information might be useful if you want to follow and upvote them back?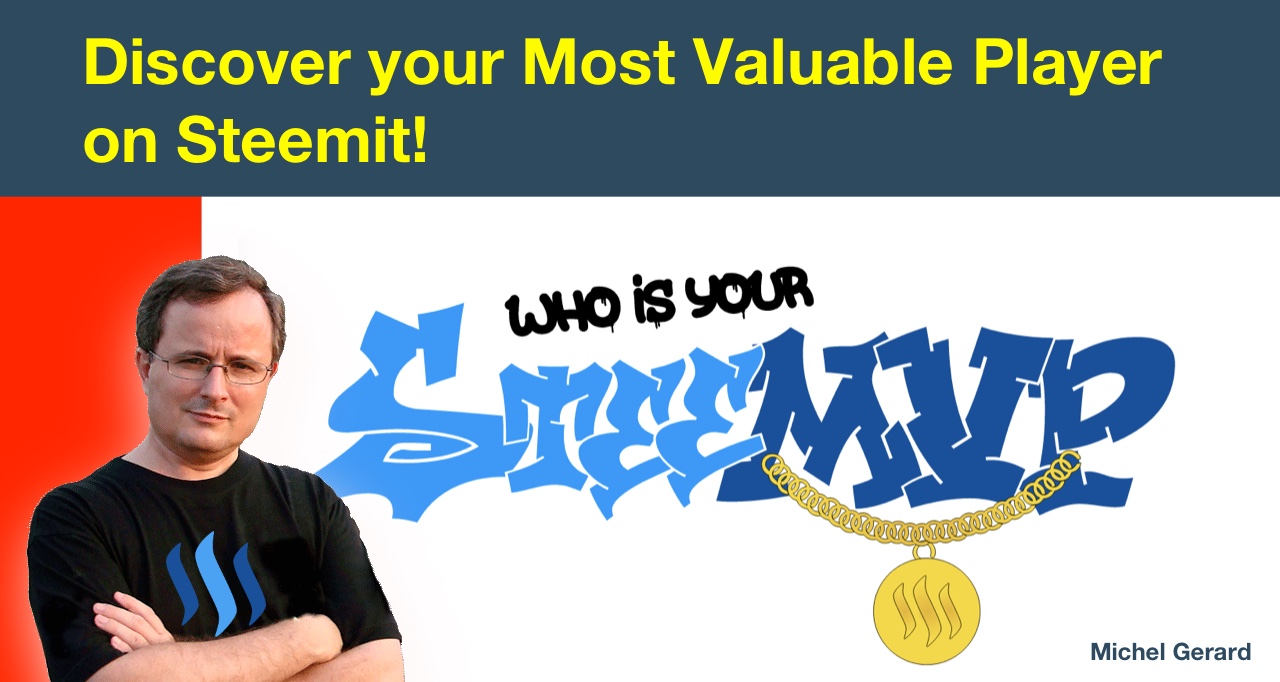 The tool also shows your other valuable and loyal players that you will like to know about.
Discover your Most Valuable Player on Steemit!
This tool named "SteemVP" was created two years ago and is one of the oldest tool I know of, which was made by @roelandp.
You can access the tool here: http://steemvp.com
When you go to the website, it is all you see and you have to enter your username, and then hit your "Enter" key on your keyboard.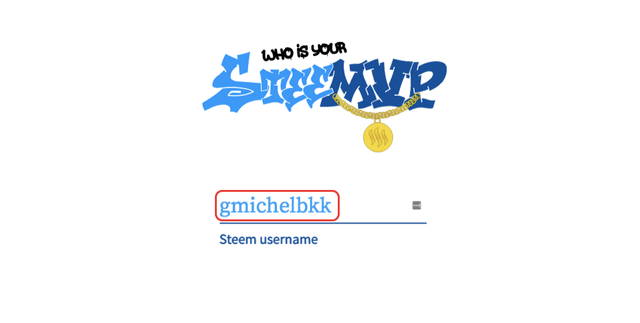 Don't look for a "Submit button" because there is none.
After a few seconds, you will see your results in a single page.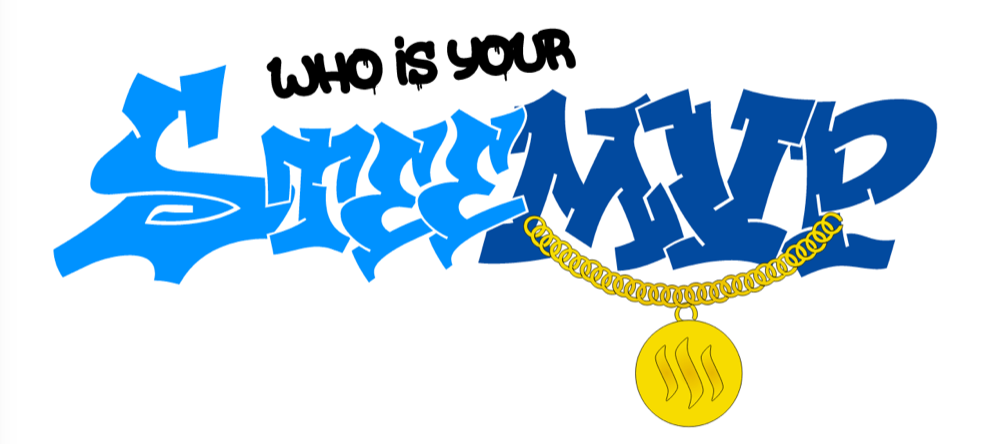 The results are displayed with a unique and colorful font, which is very original for a tool like this.
The tool will tell you how many votes you got from how many voters in the last 30 days. It will also show you the amount in payout value.

You will find the tool most helpful if you are not using upvoting bots because if you do, one of them will likely be your Most Valuable Player.
This is the case for my account here with @buildawhale, which is a bot I use frequently.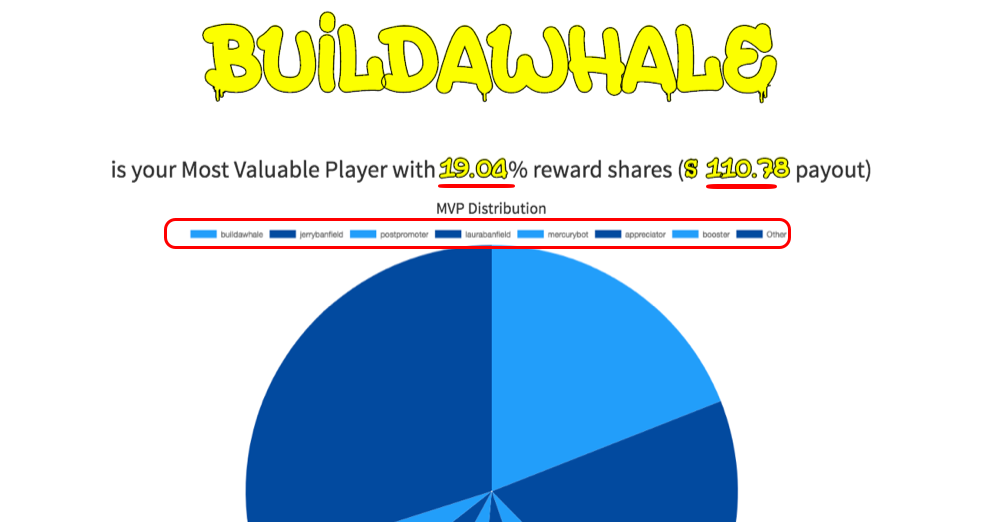 This is still useful to see a breakdown in this pie chart and the MVP distribution, which will show you other important players.
Then, the website shows your Most Loyal Player and in this case, it's not a bot.
On the 27 recent posts I have, @laurabanfield is my most loyal player because I received a vote for each post. This doesn't take into account the value of the votes, just that the user is voting consistently.
Then, you have all the other voters and when you hover your mouse, you can see how many votes they placed.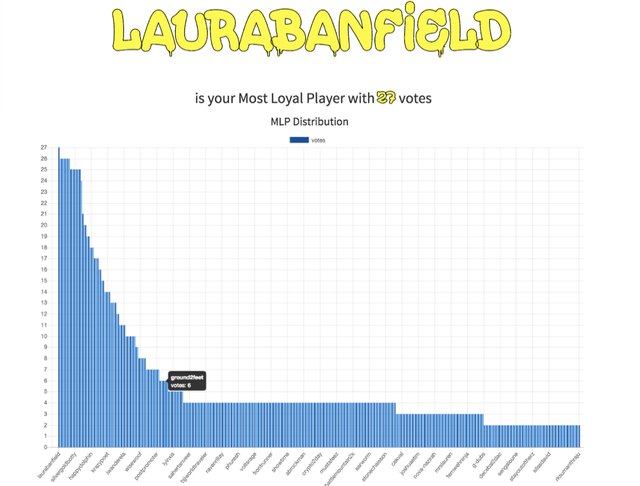 Having a closer look at this graph showed me loyal users I didn't know about. I think this graph is the best part of this tool because it is important to know who support you long-term regardless of the SBD value they give you. They are your fans.
Finally, you have the "Raw Data" and this will show you all you need to know about for any of the users that have voted for you.
This is sorted by "SBD Payout" and you can see at a glance who are giving you the most rewards with their votes.
You can also sort the results by Votes, Reward Shares and % Shares.
The "Search" is also very handy, just type the first letter, the second letter, and like in Google, results will show instantly.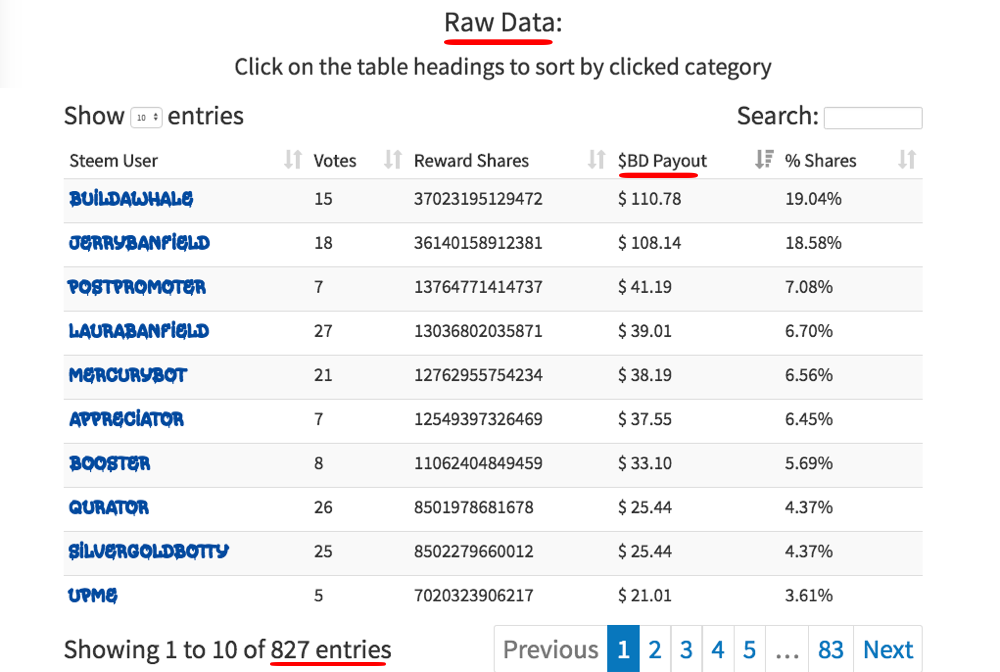 As you can see, there are quite a lot of records to go through and this might be a good way to discover new authors and follow them back after clicking on their names and seeing their blogs.
I hope that you will give this tool a try and that it is useful for you.
Would you upvote this post and follow me for more because this will encourage me to write more Steem tool posts like this one?
Would you please help @jerrybanfield become a top 10 Witness because you can help funding projects to build Steem as explained here? Vote for jerrybanfield as a witness or set jerrybanfield as a proxy to handle all witness votes at https://steemit.com/~witnesses. Read the 5 reasons why I'm voting for Jerry Banfield as a witness and how to vote in my post. You may be interested to read: What is a Steem Witness, How to Vote and Why?
Michel Gerard