Curate your Favorite Authors with SteemDunk!
Today I'd like to show you a curation tool that can help you upvote your favorite authors and has a 7-day log of all the posts it has upvoted, so you can read the posts later and comment.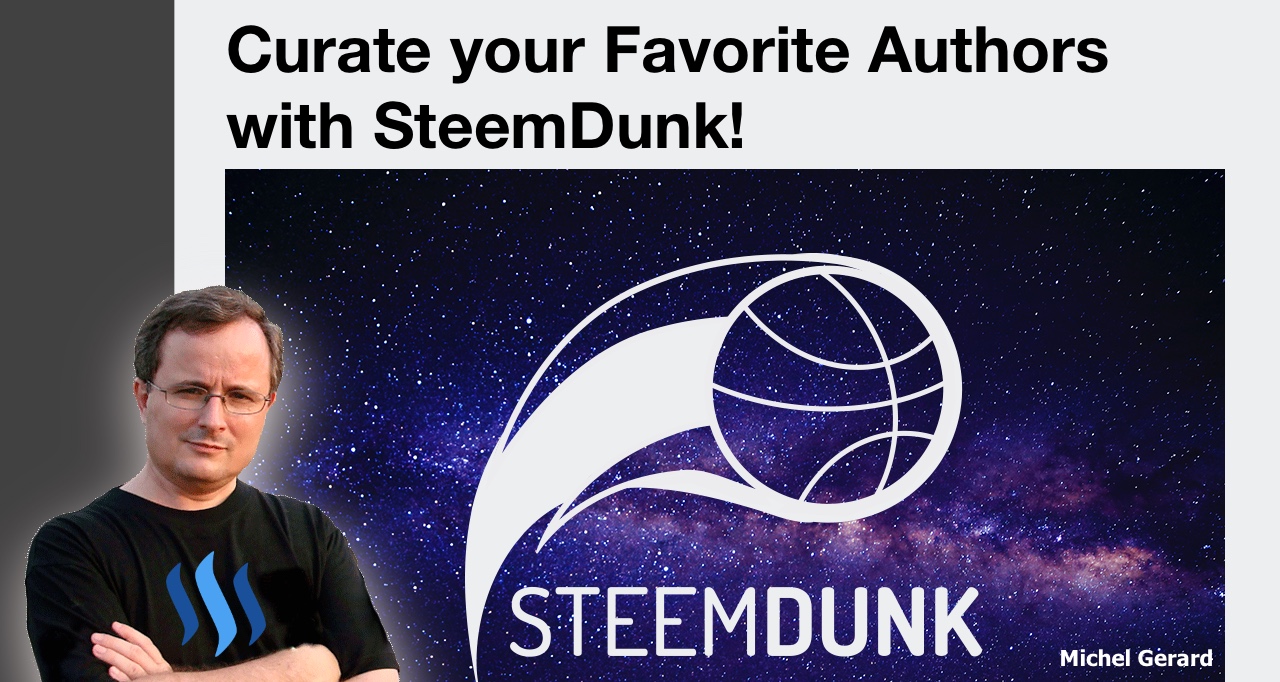 I am using another upvoting tool as well, which is great, but the one I am going to show you now is very simple to use and has some unique features.
Curate your Favorite Authors with SteemDunk!
SteemDunk is the website I am using to curate some of my favorite authors. It is very easy to use and you can start with the free plan, which gives you a limit of 20 authors.
I learned about this tool a while back reading an article by @fitinfun. The creator of the tool is @samrg472 and a witness, @steemdunk is the tool's profile on Steemit, and you can sign-up on https://steemdunk.xyz.
The curation tool uses SteemConnect to log you in, so it is safe.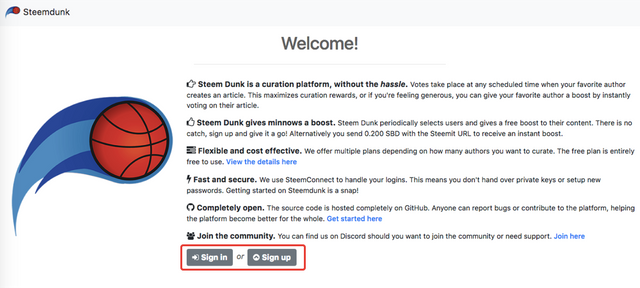 This is what you see just after you log in.
If you want to support the tool, vote for witness @samrg472.
The first section is for the Stats where you can see your "Voting Power" and your "Bandwidth."

You can also see your plan, "BRONZE" in my case, and I have used 4 slots out of 20.
If you click on "Upgrade or Review," you will see the different plans.
The second section are for the Settings.
SteemDunk will upvote your content from time to time and you can allow that in this section.

You can also automatically claim your rewards every 24 hours and pause all votes.
This is now the Author Curation section where you set up your authors.
Click on the "Add author" button after entering the username and a new entry will be created.

You then can use the different sliders to select the "Voting Weight," the "Voting Delay," and what other upvoters don't have, a "Max Daily Votes."
This last option is very useful when you have authors who publish several posts a day. You can set a 10% vote weight for a maximum of 4 votes per day to one author, and a 20% vote weight for a maximum of 2 votes per day to another.
This enables you to manage your voting power better because if there is no limit, you may have one author starting at one post every two days, and then 5 posts per day without you knowing, which will drain all your voting power.
The last section is the "Vote Log" for the last 7 days.

You can see when the vote took place and the percent of vote weight used, if it was "Success" or "Daily Limit Exceeded" for a particular author. You have also a direct link to the post that you can then read and comment on.
If a vote fail it will show as "Fail" in the log.

Finally, if you upvote a post before the bot does, you will read "Manual Vote."

I hope this post is useful for you and gives you another alternative tool to try for your curation efforts.
Would you upvote this post and follow me for more because this will encourage me to write more posts on Steem tools like this one?
Would you please help @jerrybanfield become a top 20 witness because you can help funding projects to build Steem as explained here? Vote for jerrybanfield as a witness or set jerrybanfield as a proxy to handle all witness votes at https://steemit.com/~witnesses. Read the 5 reasons why I'm voting for Jerry Banfield as a witness and how to vote in my post.
Michel Gerard