A Better Way to Browse Steemit!
Would you like to learn about a better way you can browse through Steemit using a browser extension because I believe you won't be able to do without it after trying it?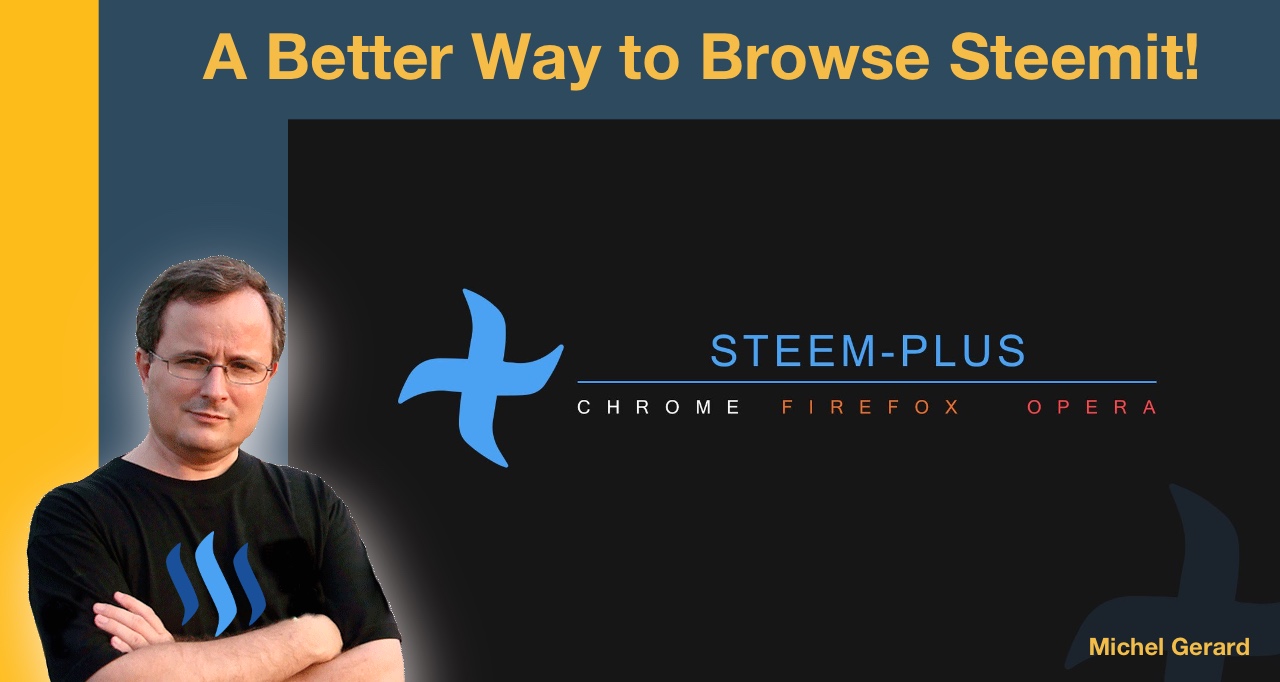 The browser extension is a lightweight toolbox called SteemPlus that let you use Steemit the way you would like it to be, thanks to @steem-plus.
A Better Way to Browse Steemit!
I have been looking at this browser extension for a while and finally decided to try it out. It is available for Chrome, Firefox and Opera.
You can follow me and install it while reading this tutorial.
Click here for Chrome.
When you are ready to install click the "Add to Chrome" button.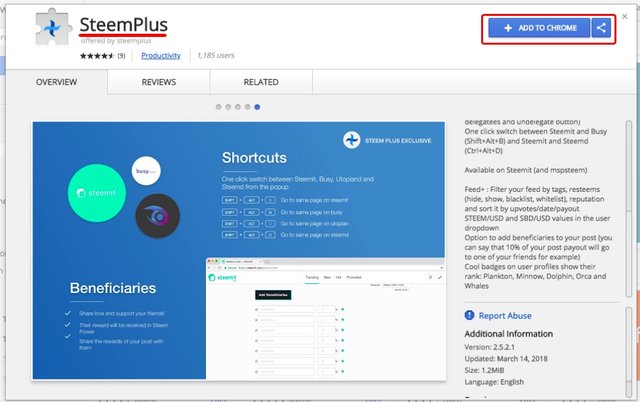 This is all that the Chrome extension can do and I will show you that in this post and following posts.
Lightweight toolbox for Steemit
SteemPlus lets you take control of your feed and minnows chose their voting weight and upvote posts and comments in one click on both Steemit and Busy.

Overview of features
Available on Steemit and Busy

Voting slider for minnows (you do not need to vote at 100% anymore!)
True value of your account on your wallet (calculated with current SBD and STEEM market prices)
Delegation button in your wallet (with list of delegatees and undelegate button)
One click switch between Steemit and Busy (Shift+Alt+B) and Steemit and Steemd (Ctrl+Alt+D)

Available on Steemit (and mspsteem)

Feed+ : Filter your feed by tags, resteems (hide, show, blacklist, whitelist), reputation and sort it by upvotes/date/payout
STEEM/USD and SBD/USD values in the user dropdown
Option to add beneficiaries to your post (you can say that 10% of your post payout will go to one of your friends for example)
Cool badges on user profiles show their rank: Plankton, Minnow, Dolphin, Orca and Whales
This pop-up shows after clicking the "Add to Chrome" button.
Click "Add extension."

When the extension is added there will be a small icon from where you can log in.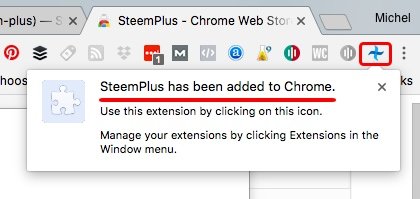 When you first click this icon, you will see a welcome screen. Click the "Next" link to take the tour and at the end you will see the "Sign in via SteemConnect" button.
This extension uses SteemConnect, which make it safe to use.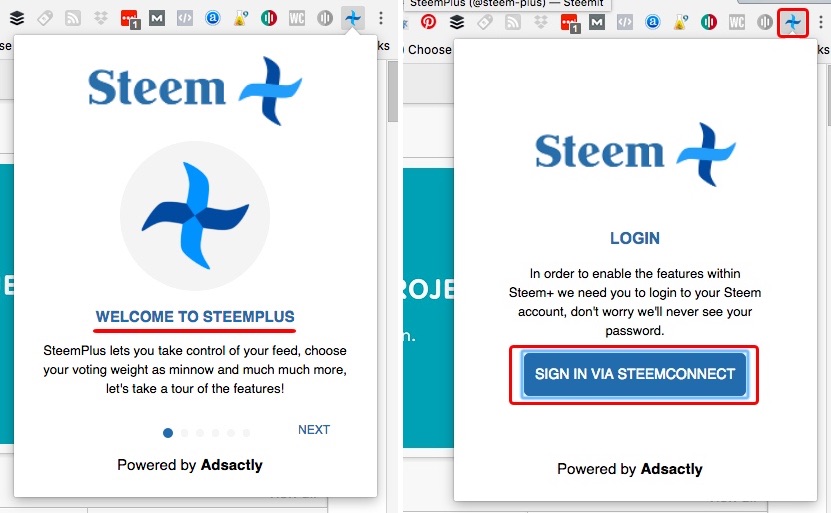 The first screen on SteemConnect shows you what the app is doing.
Then, after you click "Continue" you can sign in with your username and active key.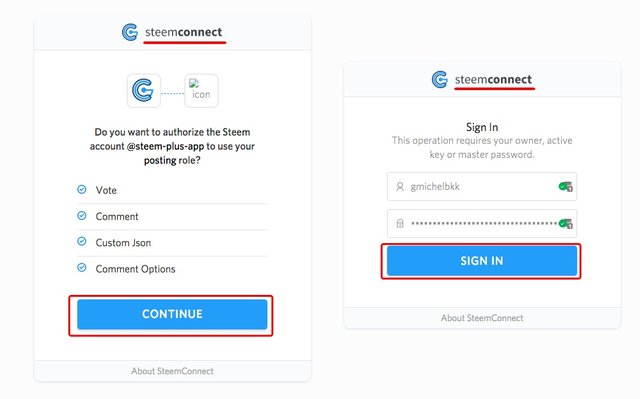 This is the differences you immediately see when you sign in Steemit via this Chrome extension.
At the top, there is the SteemPlus feed and at the right the button to log in and log out.
Then, you have the reputation with 2 digits and an info button.
At the left, a badge shows your status Minnow, Dolphin, Whale, etc…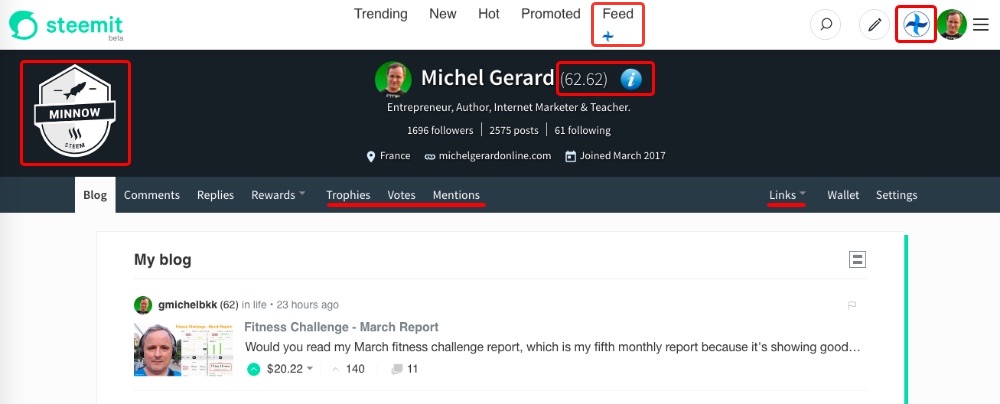 Then, you can see new tabs: Trophies, Votes and Mentions.
There is also a Links menu with very useful links.
If you are logged out of SteemPlus, the button shows in gray.

When you are logged in and go to another user's profile, you can see their badge and reputation information.
The new tabs will show their trophies, votes and mentions.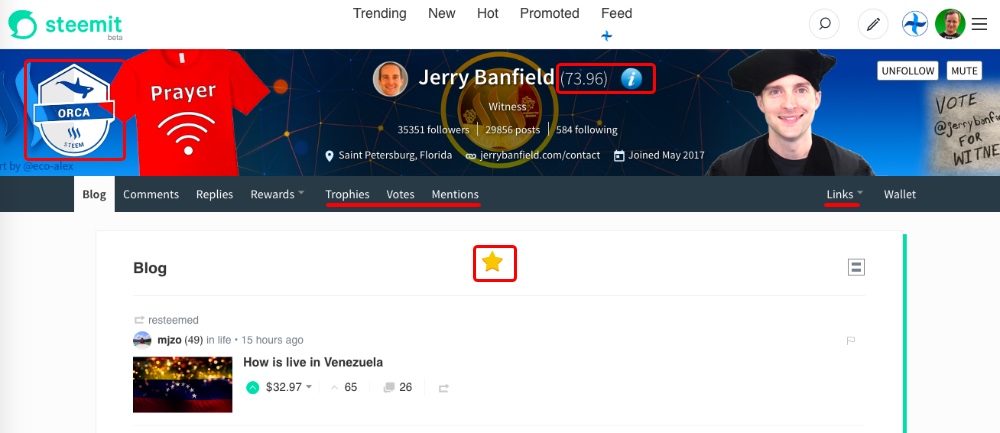 You can also favorite the user.
This is how your user info is shown, you can see your voting power and voting value.

When you click your profile image, there is one more option at the end, which is "Market" and the price of Steem. The Links menu has links to tools with your username embedded, so you will directly access your stats. If you are on someone else's profile, these links will go to their stats.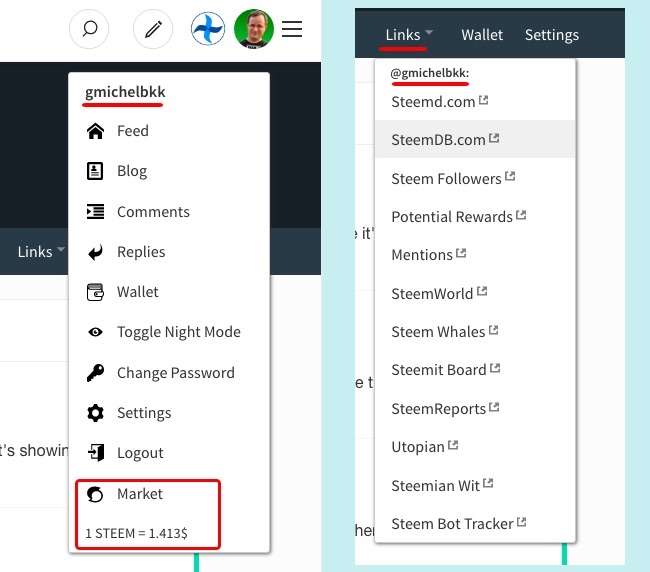 The last thing I will show you today about this tool is the slider to upvote posts and comments, you will see the vote value and can adjust accordingly.

The great thing is that if you are a minnow with less than 500 SP, normally you are forced to vote at 100% on Steemit, but with SteemPlus active, you will have a slider to adjust your votes too.
That's all for this post, and in my next one I will show more in detail the different features of SteemPlus.
I hope this post is useful for you.
Would you upvote this post and follow me for more because this will encourage me to write more posts on Steem tools like this one?
Would you please help @jerrybanfield become a top 20 witness because you can help funding projects to build Steem as explained here? Vote for jerrybanfield as a witness or set jerrybanfield as a proxy to handle all witness votes at https://steemit.com/~witnesses. Read the 5 reasons why I'm voting for Jerry Banfield as a witness and how to vote in my post.
Michel Gerard