Steemit.Chat Contest #15 + Contest #14 Winners Announcement!
The 14th contest was about sharing with us the nicest thing a stranger has done for you. There were some good entries and it was quite interesting to read through them and select 6 winners.
I'm a little late in starting contest #15 owing to a hectic schedule. Behind on a lot of my regular posts as well. But first let's get on with the announcement of winners for Contest #14.
Congrats to these Steemians who won Contest #14:
I read some incredible stories in the entries and it was a very difficult decision to make. I'm so thankful to everyone who shared a little bit of their lives with me and other users of the Contest channel!
Winners-i'm glad you guys were patient until I announced the winners. I've been travelling a lot due to work and timelines can get pushed forward sometimes.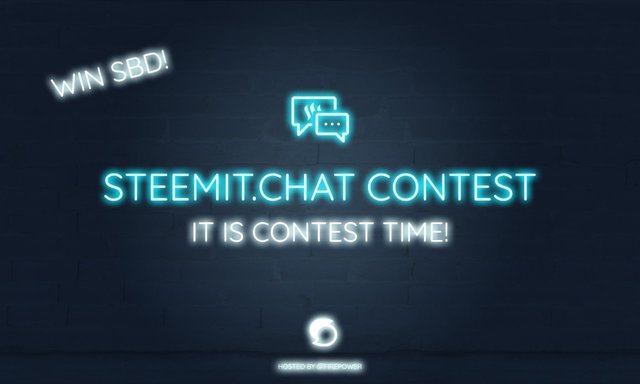 Contest #15
Let's get on with the 15th contest and it's quite simple. I'm sure many of you will participate in this. We'll run this in the official contest channel on Steemit.Chat. I will close this contest on Monday evening if I can get online to remain on schedule. I'm travelling again in less than 24 hrs. So, we have about 3 days to go.
Create a Sentence with These Two words!
1 Entry per person.
Form a sentence with Wabbit and Bibble.
Keep it short under 150-200 words if possible i.e., don't write a very long story.
Post a single comment in steemitchat-contest channel with your entry.
You have until the next Monday till this post pays out or my announcement in the channel closing the contest (whichever is earlier).
There will be 6 winners. I will choose 6 responses that I like the most. Winners will get an equal split of the SBDs from this post.
Multiple entries will lead to disqualification so kindly post a single comment in the chatroom!
Contest will take place in steemitchat-contest channel on Steemit.Chat.
You are also welcome to drop more Steemit.Chat contest ideas in this post or in the contest channel and you may get some SBDs if your idea gets selected for a future contest.
Let contest #15 begin!
---
If you like my work kindly resteem it to your friends. You may also continue reading my recent posts which might interest you:
---