Why small ads on Steemit.com are a good thing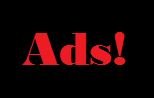 First of all, if you don't want to see ads, go use another front end like busy (that is actually what they want) or use an adblocker, but stop complaining about positive progress.
For the first time in months, they actually listened to the community and started creating different streams of income to get the development team back on board, and now people complain about ads, which by the way aren't even there yet.
They clearly stated that they will try it as an experiment, nothing is set in stone yet so calm down.
I don't think they will use annoying popup ads, just some small fakebook like ads as the top post of the trending page for example. At least that is how I would do it. That does not disturb the user experience at all. Even Reddit does it.
It's a good thing, and if you still don't want ads, there are two ways (listed above) to never come in contact with any ads on steemit.com
Update: Ads seem to be enabled for people who are not logged in. Several people have reported seeing the ads. I can't see them when I log out, but I don't know why. They are at the bottom of every post and in trending, hot, new and promoted.