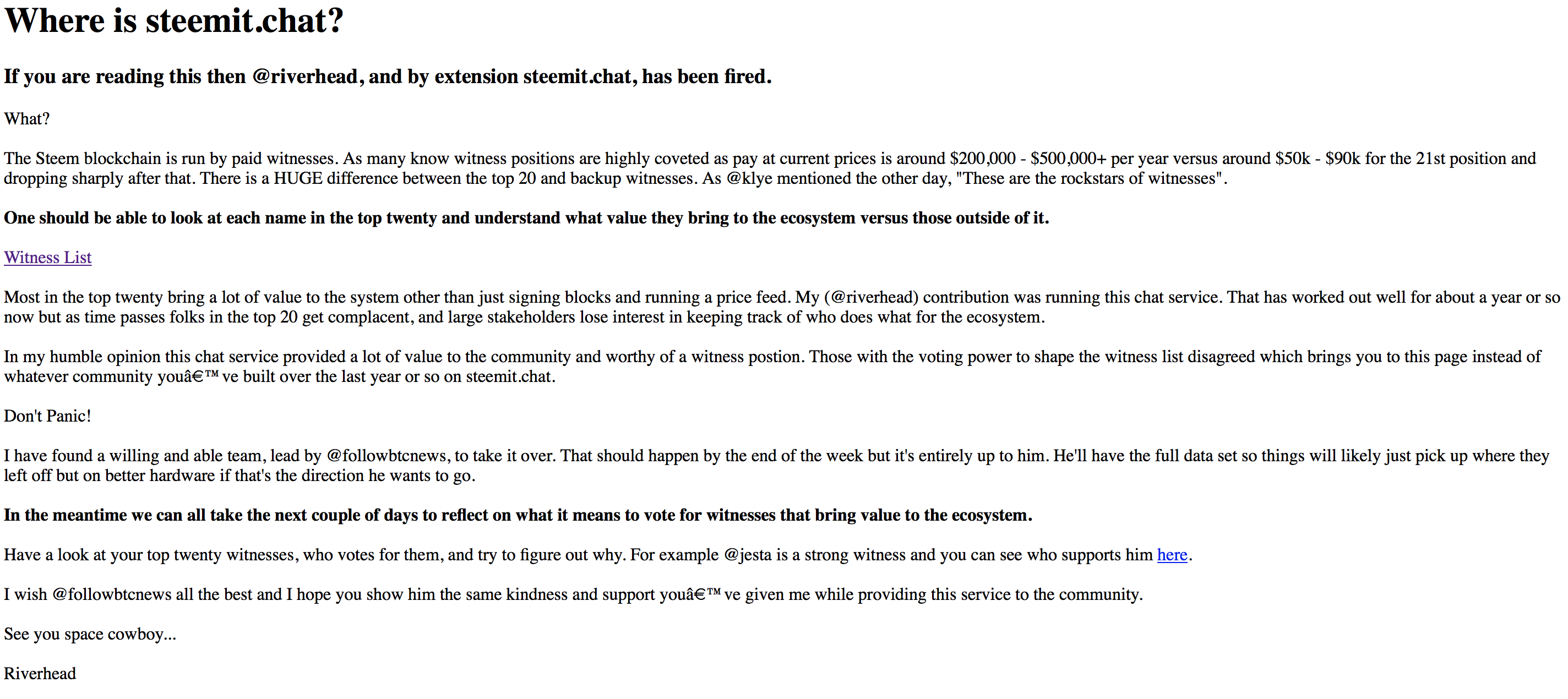 ---
I don't know if you saw this already, but I just bumped into it a few minutes ago, when I wanted to check out some messages left for me in the steemit.chat.
In short, @riverhead, one of the most respected guys in this ecosystem, and the owner and maintainer of steemit.chat "got fired".
I didn't understand very well how he "got fired" and I don't want to enter into the intricacies of his work relationships, as this is entirely his job (pun not intended).
But I am interested in another part of this story, namely the one in which top 21 witnesses are seeing a huge discrepancy in payments compared with the rest of the witnesses. And the discrepancy, as he writes it very clearly, is that top 21 witnesses are seeing payments between $200,000 - $500,000 per year, whereas the rest are seeing $50k - $90k.
I share a lot of @riverhead's opinions on this topic, although we never met and I don't think we ever talked, not even in the - now defunct - chat. But I know how difficult it is to create and maintain a service related to a constantly growing community.
When I started steem.supply I did it mostly to solve a personal problem: how to see when and how much am I getting paid.
But the community picked up on this, started to provide feedback and, before I know it, steem.supply became a service on which businesses built on top of Steemit are relying. Thousands of people are visiting it every day and are expecting it to work and to work accurately. Just like thousands of people were expecting that @riverhead's steemit.chat would work all the time.
And, just like @riverhead' steemit.chat, steem.supply needs hardware, bandwidth, maintenance and improvements. All of them were provided as is by myself, in exchange of a witness vote. Which I always thanked for and felt a lot of gratitude when offered.
I'm well under the top 50 witnesses (not even dreaming to ever reach top 21) and I never complained. I'm not complaining now either. But I'm just saying that, if there isn't a massive change of perspective about how witnesses are treated on the Steem ecosystem, valuable and consistent services, like steemit.chat, or steem.supply, will simply disappear.
There is no free lunch in this world. Everything has a cost. Luckily, these services are only costing you a vote.
Think about it.
And vote consciously.
---
I'm a serial entrepreneur, blogger and ultrarunner. You can find me mainly on my blog at Dragos Roua where I write about productivity, business, relationships and running. Here on Steemit you may stay updated by following me @dragosroua.


---
Wanna know when you're getting paid?
I know the feeling. That's why I created steem.supply, an easy to use and accurate tool for calculating your Steemit rewards
It's free to use, but if you think this is a useful addition, I'd appreciate your witness vote.
Thank you!
Psst: new to Steemit? Start Here