One Last Big Push For STEEM In The Netcoins Contest - Let's Make This Happen Guys!
At the moment of writing, STEEM lost its first position on the Netcoins coin listing contest:
---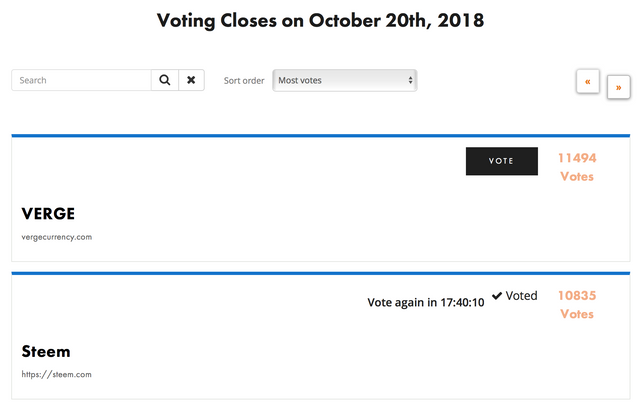 ---
That's the bad news.
The good news is that the difference is under 700 votes, so I'm sure we can make this happen. I can't vote anymore, because I already casted a vote in the last 24 hours, but here's what I think we can do:
post a very quick article about this with a very clear message: go vote for STEEM! I think many people didn't see this yet, or aren't convinced about it.
spread the word via silent channels (emails, whatsapp) about this to all the people that could help us
keep this going on for the last 15 hours
I really think we can make this happen!
Come on, guys, one last big push!
---
I'm a serial entrepreneur, blogger and ultrarunner. You can find me mainly on my blog at Dragos Roua where I write about productivity, business, relationships and running. Here on Steemit you may stay updated by following me @dragosroua.


---
Wanna know when you're getting paid?
I know the feeling. That's why I created steem.supply, an easy to use and accurate tool for calculating your Steemit rewards
It's free to use, but if you think this is a useful addition, I'd appreciate your witness vote.
Thank you!
Psst: new to Steemit? Start Here