Where is Data Science Trending in 2019?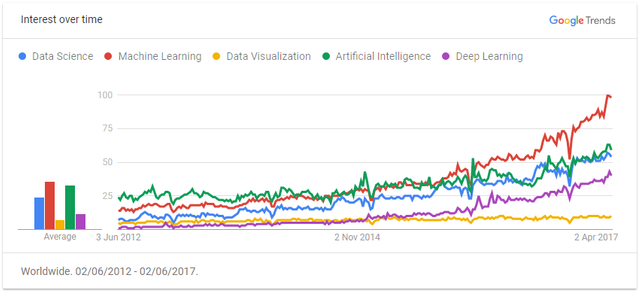 If you want to keep up on data science trends, you better be ready for a long and wild ride. What you think you knew is no longer relevant.
In 2013 there was a career once considered bulletproof: actuarial sciences. The black box statistics experts who partnered with econometricians to offer insights into data about customers. Yet the time for actuarial's heyday was soon to change, with the birth of cloud services.
Faster computing power brought on by GPUs and TPUs has created an industry hardly resembled by the past. What was once seen as analysis by Excel, Fortran, and the C programming language, today is one where deep learning algorithms and gradient boosts have become industry standard and outperform 10:1 even the simplest algorithms of yesteryear. Softwares including Matlab, SPSS, STATA, JMP, and SAS are quickly playing catch up, but one only need look at the latest Gartner Reports and Magic Quadrants to see where trends have moved.
The latest technology in 2018 is open source in the Python and the R ecosystems, and even with cutting edge software led by Hadoop and Hive stacks, or Knime and H20 Sparkling Water workflows, it is clear that the future of data science is one that is democratized.
There are new softwares today such as Fast.ai where anyone can learn deep learning fundamentals practically for free. Through learnings by Francois Chollet and Ian Goodfellow, the technolgoy in AI has already moved on to new exciting possibilities.
What was deep learning of the 2015 and 2016 era today is seen as the TPU tensors by Theano and Tensorflow. Even today the rapid evolvement of work in OpenAI, has moved into new evolutionary automation techniques.
Although leaders such as Elon Musk have distanced themselves from OpenAI, the truth remains further real than in the past even with new AI technologies: they are rule based engines.
To achieve an AI of the case in Her or West World will take yet more time, but we beg the question, when will that trend be seen?
Already from Fake News Video dubs on Obama to Fanuc-robot burger flippings and coffee makers, the jobs of baristas and sandwich makers may soon be a thing of the past. Could the future Subway be one where through selecting options on a kiosk, a Fanuc robot makes the sandwich, and a cashless payment system dispenses your sandwich? Labs are testing this concept now, and this could be mainstream by 2020.
Video image technology rapidly is evolving as well to track our children and our every movement.
The big question you may want to ask yourself, is how should you best get involved with data science in 2018?
If you are starting out from scratch, learning the algorithms of yesteryear is valuable nonetheless.
From linear regression to logistic regression and clustering techniques to decision trees and random forest, these algorithms are core at what led to breakthroughs in 2011 and 2012 into the new tensors, neural networks, and the more recent deep learning technologies.
Consider learning online through machine learning textbooks that I recommend on Github what you can do to get started.
If you are already beyond this stage, you could jump head-on into neural networks and deep learning, but to what extent should one ignore and give up on the feature engineering world that we have depended on for so many years? Can we truly exclude null values and inaccurate results to deep learning algorithms to appropriately identify?
Deep learning is an industry that is only starting to get underway here in 2018, and the AI waves continue to heat up. If you are looking to be a fundamental player in the domain, you will want to consider picking up Tensorflow, or Keras to be significant and potent in the data science space.
Stay tuned on my weekly posts where I share insights into data science, and what you can do to be a player in the space, or to be aware of the latest trends and insights.