Project hope and curation trail on steemauto.com - brainstorming
INTRODUCTION
Since you're reading this post - it means that you're most likely invited personally by me and please don't resteem it.
Past few months has been really great for @project.hope and we've managed to build some decent community already. Many people on Steemit knows already about our efforts. We've also managed to receive support of over 200k SP in form of delegation.
That is obviously awesome. However I'm hoping to reach one more MILESTONE before 2019 will be over and I would need your help.
Basically I would like to bring more rewards and solid upvotes to those of you, who are part of this project. Especially those who decided to set up 10-20% beneficiary to @ph-fund (project hope future fund account).
Right now each time you share your publication related to blockchain, AI, technology, economy, business, steem, psychology etc - I'm upvoting it few hours after it's being active with both accounts: @crypto.piotr and @project.hope (together over 220k SP).
I WANT TO DOUBLE IT.
I would love each of your publication to receive upvotes coming from at least half million SP. And I've been wondering how to achieve that ...
Obviously receiving more delegations isn't going to be easy. It's very time consuming and my impression is that since HF21 took place - most users prefer to curate themselfs and enjoy receiving increased curation rewards.
At the same time I believe, that most users wouldn't mind to support our content with 2-3 upvotes daily. Especially if they could profit at the same time.
You may ask: how could people profit from supporting our posts with upvotes? Let me explain :)
CURATION TRAIL
My idea is to start Project HOPE "Curation Trail" on steemauto.com and encourage others to join. Name of this curation trail: @ph-fund
This curation trail would be VERY different from those that I studied so far:
all publications supported with our curation trail are the same ones, that are resteemed on @project.hope (average only 2-3 posts daily) - so everyone can see witness for himself/herself what content are we supporting and see it's high quality.

MOST IMPORTANTLY: after upvote from ph-fund will be placed - few hours later one from @crypto.piotr and @project.hope will follow (220k).
This way anyone who follows this curation trail will maximize it's voting power and will receive higher rewards. After HF21 it's important to place our upvotes before other strong upvotes will follow.
Let me give you an example: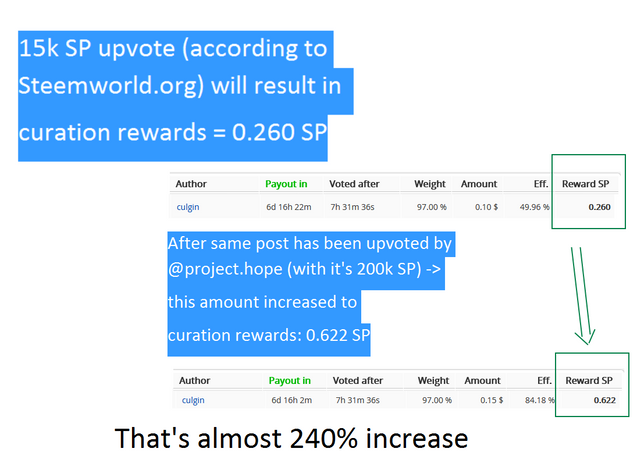 Results are quite impressive. Don't you think? Voting power of user having 15k SP ... more than doubled .
Let me know if it make sense to you guys? I think it shouldn't be difficult to encourage users with over 300k SP total to join Project hope curation trail. Adding over 200k SP from our upvotes -> and we will reach mentioned half million in upvotes :)
Does it make sense?
WHAT HELP WOULD I NEED ?
Just few steps, some easy, some difficult:
obviously I would like to get some quality feedback from you (comment section below)

visit steemauto.com and follow @ph-fund "curation trail" with 100% of your upvoting power

I'm planning to run marketing campaign to promote this idea and I would like to know who would be willing to write his own publication encouraging people to join this curation trail and post it on your own profile.
I think that best time to do it would be around 26-27th dec (after christmas, but before new years eve).
Hope I can count on some of you guys. I'm aware that not everyone may have time. However I would like to finish this year with a big BOOM and I hope I can count on you :)
Cheers
Piotr