Review of Spinbot - a New Kind of Voting Bot
There is a new bot in town. It doesn't take payment, it takes gifts. I recently wrote about proof-of-care. This is it. You prove to the bot you care and then it upvotes back - FOREVER.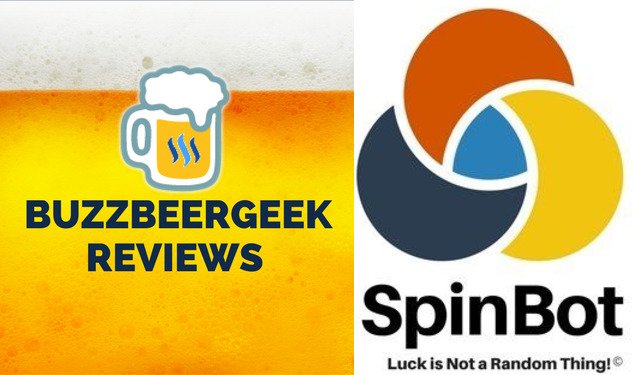 ---
@spinbot is not a person. It is a bot with programming. Even if it did not enjoy upvoting, it would have no choice. Thankfully, it enjoys it very much.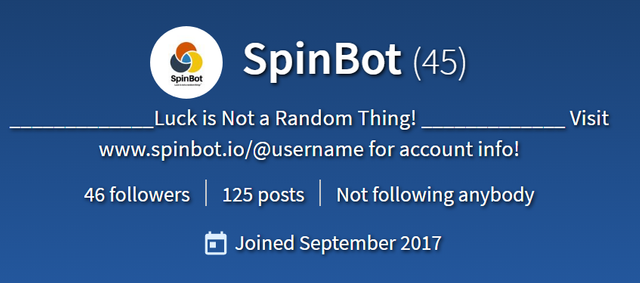 Basics:
It is an upvote bot that remembers you forever when you send it 1 STEEM minimum. That means that if 10 people send it 1 STEEM there is 1/10 chance you'd get an upvote. A gamble but one that drastically goes in your favour if you send at least 1 STEEM. Think about it, you'll be remembered forever.
Stats:
Right now Spinbot has got about 31,000 SP so when it finds you, you will feel it!


The upside:
Sundays are for everyone! Wednesdays too! Two days a week @spinbot doesn't care how much you sent it, as long as you did. Everyone has an equal chance of getting an upvote.
The downside:
It isn't free. I know it sucks, but there it is.
Why I will be using it:
Because like with everything in crypto, it's good to get on board first. Whenever I have a bit of extra or it upvotes me I'll show some love back. That is actually a good rule of thumb here in Steemit. Whenever someone likes you, shovel some of it back because you can never have too many friends. Spinbot doesn't even care about your personality, it gets along with everyone.
Testimonials from all the giddy users from @spinbot's wallet
Another tinny little push. Cheers!
Remember me, please! :)
Adding to bot investment
Eat, dear Spinny, and dont up others but meeeeee
great project, good luck!
Hello from @edthecanadian
@outerground forget me not
Feed me Spinbot!!!
My first time, please be gentle..LOL
@spinbot I WANT YOUR BABIES!!!
Conclusion:
Don't be a square, use it! Ask around in their discord: https://discordapp.com/invite/Mz2EZP3
Official info links:
https://steemit.com/steemit/@spinbot/spinbot-official-announcement-10-21-17
Keep track of how much you sent it already:
http://www.spinbot.io/@username
Keep in mind that Spinny runs on fuel of integrity, honesty and good will!
---
| Need some post visibility and promotion? Use @bellyrub bot! | Still not enough? Trade or earn BUILDTEAM tokens! Better Steemit future right now. By @buildteam. |
| --- | --- |
---
Buy BTC with Coinbase. Free 10$ in the link. Don't want to spend money and you don't like writing posts? Check out @sportsncoffee and @steempickem for FREE Sports Contests!


---
I offer good curation rewards if you'd like to follow my trail! Find me in chat or discord. Same username. Earn while you sleep! Expect @professorbromide, @cheftony, @derrick829, @anejosua's vote and many more when I upvote! If you liked their vote, show some love back!