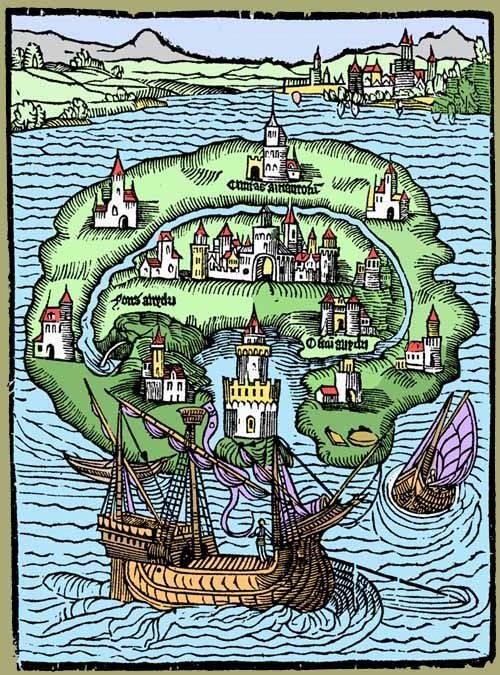 There have been many references to utopia in relation to steemit, it is often used as a catch all name for a perfect society:
fishborne48
'It's utopic, right ?'
Steemit is working towards creating a platform that is open to all and will no doubt improve society and take it closer to that idea we commonly refer to as Utopia, however the main distinction between steemit and other 'utopian' projects is that steemit is not trying to create the perfect society. If steemit arrives at a place that could be described as a fairer society it would have been through principles and not planning.
Nowhere
The word utopia originates from greek word meaning 'no place' or 'nowhere' which suggests somewhere that is unreachable, it is often taken to mean a good place. The word was coined in the book 'Utopia' by Thomas More published in 1516 where he describes his idealised society, the vision that More goes on to describe would be seen as unrealistic or unacceptable today.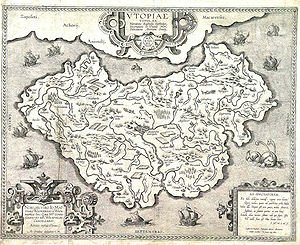 There is no private property on Utopia, with goods being stored in warehouses and people requesting what they need. There are also no locks on the doors of the houses, which are rotated between the citizens every ten years.

Agriculture is the most important job on the island. Every person is taught it and must live in the countryside, farming for two years at a time, with women doing the same work as men.

Every citizen must learn at least one of the other essential trades: weaving (mainly done by the women), carpentry, metalsmithing and masonry. There is deliberate simplicity about these trades; for instance, all people wear the same types of simple clothes and there are no dressmakers making fine apparel.

All able-bodied citizens must work; thus unemployment is eradicated, and the length of the working day can be minimised: the people only have to work six hours a day (although many willingly work for longer).

Slavery is a feature of Utopian life and it is reported that every household has two slaves. The slaves are either from other countries or are the Utopian criminals.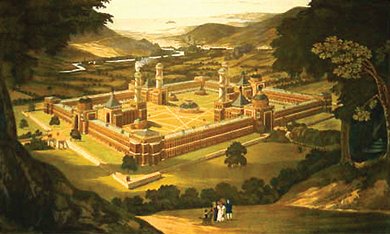 New Harmony, a utopian attempt, depicted as proposed by Robert Owen
Modern Utopianism
Another more recent attempt to visualise and plan a perfect system is 'Project Venus' as depicted in the popular youtube documentary 'Zeitgeist Addendum', which 'advocates transition from the global money-based economic system to a post-scarcity economy or resource-based economy'.
Zeitgeist echoes Thomas More's 'warehouses' in stating that there is an artificial scarcity in society that can be somehow replaced with abundance, it also denies the human nature of self interest and incentives and suggests humans can be conditioned to behave differently.
"There is no human nature, there's human behaviour and that's always been changed throughout history"
Released shortly after the banking crisis of 2008 it came at a time when people were beginning to search for alternatives to our present system.
A Realistic Approach
A free society should allow the individual to pursue whatever path they want in life as long as it does not harm someone else's ability to do the same and it should recognise human self interest and harness it to serve society in general.
An assumption in Utopian theories is that everyone will behave the same, they do not take into account that everybody is different and one persons idea of utopia is another's dystopia. In most examples we can see that societies that are based on centralised control end up as police states.
A society that is free to choose and free to innovate is as close to a utopia that we can hope to achieve, there will always be some that realise their goals easier than others but the opportunity for free expression is essential.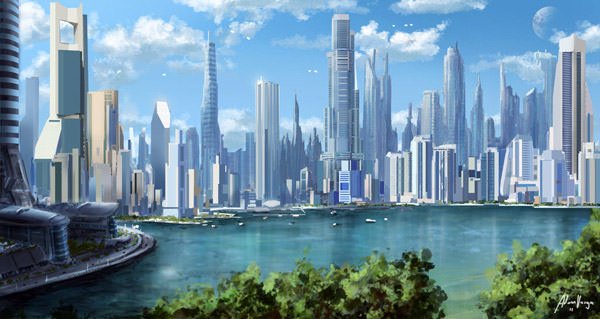 "Man is flawed from day one. There are no solutions, only trade-offs. Whatever you do with one of man's flaws, it creates another problem. You try to get the best trade-off you can get, and that's what you hope for...They don't assume that there is a solution out there. Adam Smith didn't believe that either the government or the market could solve all problems, but that you had to simply tolerate certain things."
Thomas Sowell
Steemit is certainly taking us closer to better world but it will not be a perfect world because people are not perfect.