As I have reported already Fakebook (as I now call them) is refusing for 2 weeks now to allow me to post links to @shadowbot's main website (https://shadowbot.us)! Everytime instantly they are marked as blocked URLs! For what reason? Take a look at this guy he made the EXACT same post 3 times pushing his HYIP scam but that is okay by fakebook? Why is that not blocked and removed? They steal money!
BINARY OPTIONS/BITCOIN MINING:-Be careful of who you invest your hard earned money with. Trading is meant to earn profit and not the other way round. I manage an account with good attainable profit with just 10% as my commission after your successful payouts. 100usd be sure of a weekly payout of 1600usd.
200usd be sure of 2600usd.
300usd be sure of 3600usd.
400usd be sure of 4600usd.
500usd be sure of 5600usd.I am also into bitcoin mining in 3 hours and withdraw goes straight to your wallet.INFO HERE
Look legit to you? I wouldn't send him my coins/money! SCAM! Obvious scam! And yet when I try to tell someone it is a scam and if they REALLY want to earn to use steem and shadowbot I am flagged as the spammer/scammer!? FAKEBOOK actively censors steem and people who they view as a threat!
Here is the reply I tried to post to this scammer:
What a scam! Join Steem.com and earn for free with us: https://shadowbot.us/shadowbot/faq.php
And this is what happened instantly upon posting: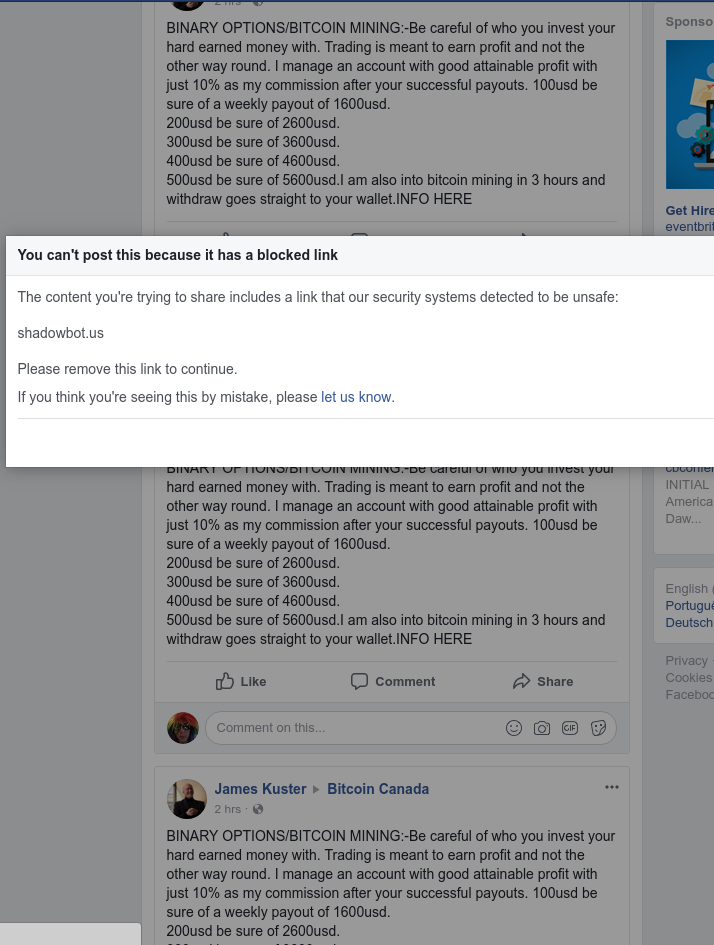 Full Size
And after closing the popup here is what I see: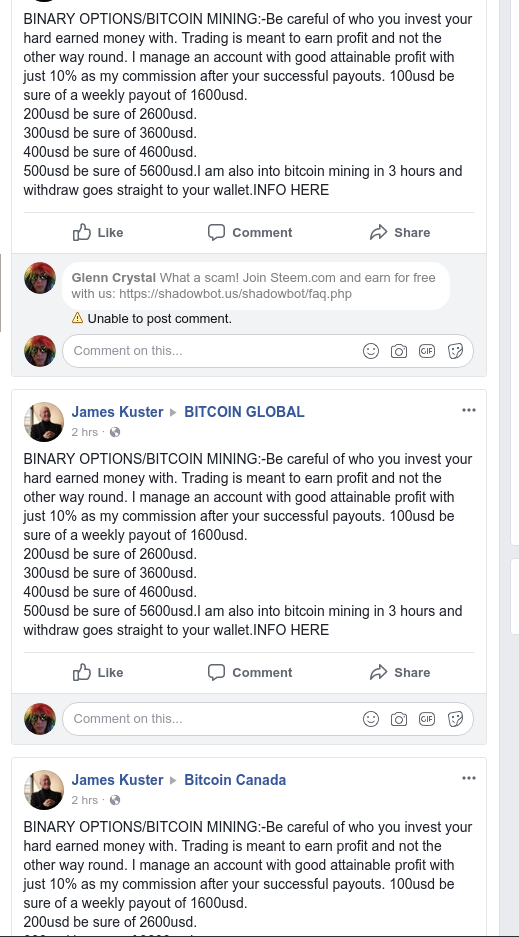 Full Size
Previous posts regarding this censorship