Voting bar for newbies
Voting Bar
A user whose voting power is greater than or equal to 500 can use voting bar.



With this slider, the user can choose how much power he/she will give to.
If he upvotes with the slider value as 100%, he cannot upvote a lot, while if he upvotes with the value as 1%, he can upvote a lot.
In conclusion, the more power you spend, the less you can upvote.
From steemit.com, only a user whose power is greater than or equal to 500 can use this voting bar.
Thus, I've made a plug-in tool which supports the voting bar for all users including whose powers are less than 500, and it works with steemit.com.
How to install?
Connect to the URL with Chrome Web Browser.
https://chrome.google.com/webstore/detail/voting-bar-for-steemit/cgcjlecbfmnkjmlgfcgkochmjecpahio?hl=en
Press the "Add to Chrome" button which exists on the right side of the page.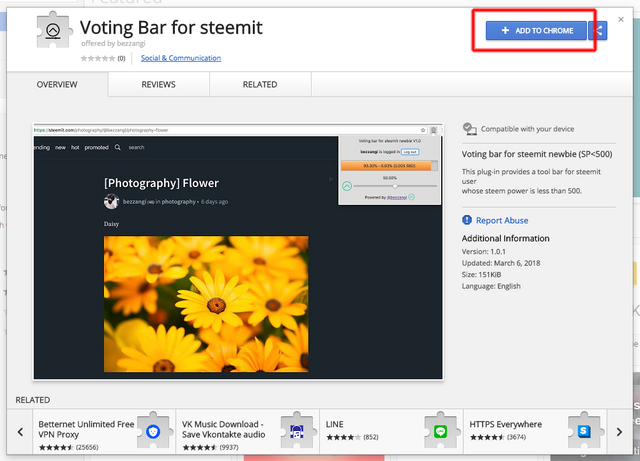 Press the "Add Extension" button.


After installing, you can see the icon from the tool bar of your browser.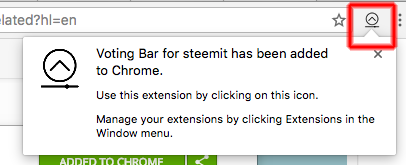 How to Log-in?
When you firstly use this tool, this window will pop-up. It will be shown only once.
Type your ID and Posting Key, and press the "Log-in" button.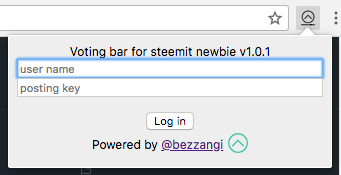 If the id and the posting key is valid, it will be stored on your computer, and it will be deleted when you log-out the tool.
DO NOT USE THIS PLUG-IN IF YOU ARE USING A PUBLIC ACCESS COMPUTER.
What is a posting key?
It's one of a key used in Steemit.
It only can be used for posting and voting, so your account will be safe even if your posting key is stolen.
You can check the key from Wallet->Perissions.
With pressing "SHOW PRIVATE KEY", you can check your own posting key which starts with '5'.
The voting bar
If you succeed to log-in, you will see this below image on your browser.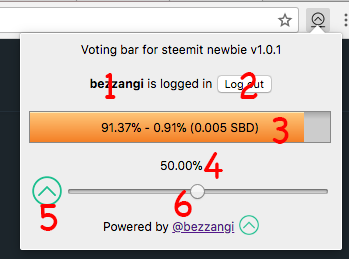 Your id
Log out button
Your current voting power, the power expected to be deducted, expected SBD that you give.
The percentage of voting power from 0.01 to 100%
Button to upvote
The slider
Remainings are version information, a link to the developer, and upvote button to support the developer.
Usage
Go to a post that you want to upvote, press the icon of this tool from your browser.
Determine how much you want to vote using the slider(#6).
Check how much power will be deducted, and the expected SBD(#3).
Press the upvote button(#5)
That's it.
Thank you for your resteem!