Power UP Before Investors Start Buying Steem
Hello Steemit, 
I was member on steemit since months and as a trader I was following Steem and SBD on Poloniex and Bittrex, I have notice some strange things happen, most of traders when they buy a coin they try sell it immediately with higher price or they wait for couple hours or days and sell it when prices go up but with Steem or SBD it was not the same story there is a lot of coins they never come back to the trading circle life.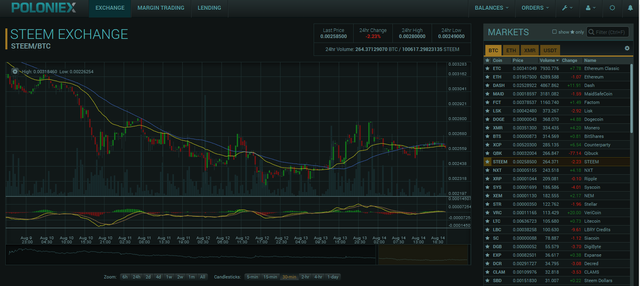 So I have start a small investigation on this coins, reading posts on crytos forums, thinking and analyzing, I want to know where this coins are going, are they sold some where else with higher price?
The answer was no, I was following some buyers, I have take a note of some number of coins but this coins never come back.
Smart Steem Buyers: 
Once when I was new at trading a smart guy tell me some thing that I will never forget : NEVER RUN AFTER A COIN LET THE COIN COME TO YOU!
This buyers they never buy all the time they wait that Steem go down to buy because most of Steem owners are selling their coins, miners too, when they start selling there is some traders panic and sell their Steem coins too, that's why usually the price go down.
Part of this buyers they never sell coins they just buy so like I said I start a small investigation where this coins are going?
The answer was front of my eyes: 
Yes that's true the answer was front of my eyes and I did not see it may be because I was busy with some thing else or some other reasons, these guys are investing in STEEM POWER (I will not give names because of privacy) I have found the exact amount of coins on their wallets coming from poloniex or bittrex and then they power up, some of theme are whales others are dolphins but the strange thing they have no activities on steemit, no up-votes, no posts or comments, nothing they just invest in STEEM POWER.
Whales with no activities on steemit:
I was always reading news about Steemit to respect the rules may be I have miss some posts but I have never read some thing about whales or dolphins without activities, I have discover this guys when I was investigating about Steem coins and I have discover more of them on http://steemwhales.com/ , I was asking my self are they partner on steemit, why they are investing in Steem power, how do they make money?
Here is some millions $ proof :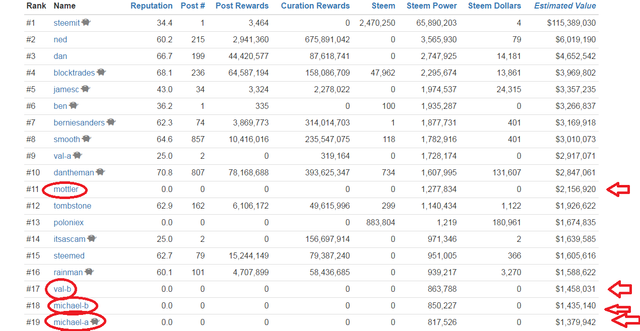 Image credit : http://steemwhales.com/
An Other answer was front of my eyes: 
Steemit give ~ 0.67% for his members every day for free in addition of what they are owning of steem power more than banks so this whales and dolphins are making money every day, they make more than 20% every month of what they have invest and I think it's enough as a reason to invest in steem power not in a bank, there is no job or bank that give you that %, I will just give you a proof for what they making now for just invest in steem power, this is Ned account :

This is my account: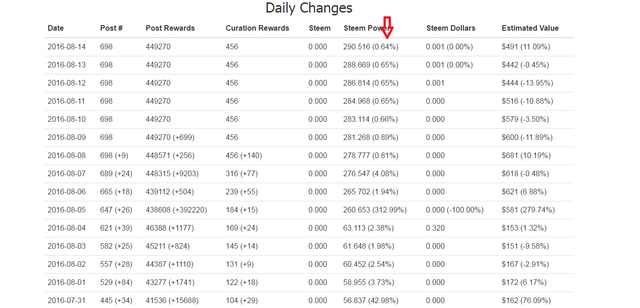 Proof Images credit : http://steemwhales.com/
Why should we invest in steem power now: 
1/ Steem price: 
I believe steem now is on the bottom price, means the lowest price, it can be more shipper but I don't think so, if big buyers start buying we will never see this prices again because soon or later people will know about Steemit, steem power and what they can earn every day and every month if they invest in steem power, investing in bitcoin or other crypto coin is risky , I have lost almost all my money when I have invest in ETH before the hack of the DAO every one know that story but it's not the case with steem because people hate to loose, steemit make us always winners not only on steem power also in posting or up-voting so like I said people will start investing in steem power soon or later, we should be smart and start investing now.
2/Steemit is a baby: 
Most of people don't know about Steemit yet, in my country I'm sure that 99.99% of people don't know about steemit, social network means some thing for fun for most of people they don't know yet about the opportunities that steemit is giving for people, Steemit is growing every day and people are coming minute, so to not blame your self in a few months invest in steem power now.
Conclusion:
Steemit will be the king of the social network, every one will forget about other social network in a few years, do remember the HI5 and the ICQ no body use theme any more, Steemit is the revolution so be part and grow up with Steemit, investing in STEEM POWER is the most better decision you can make in your life, this is my advice and this is what I will do in the future.
Thank you for reading and I hope it's was a helpful post.