You are viewing a single comment's thread from:
RE: Story of an honest Steemian. Honesty in today's world it still exists!!
Over the years I've been ripped off, over charged, stolen from, not been repaid, scammed, etc so many times to expect dishonesty by default.
I have experienced the same thing and so when this thing happened, my first thought was to return it. I knew @bunnypuncher must've punched wrongly this time.
I'm Jonah. I'm the other half of @beatenegg. Like what my entry on the comments section of his contest, I share this account with my husband. He was driving from work to the hospital when it happened.
I posted last night that I was planning on posting a lengthy blog but since my little boy was feeling sick, I had to set it aside. This morning we went to see the doctor but the doctor was 2 hrs behind. When she arrived, she just checked a little on my son and ordered a few lab tests. Don't worry folks, it wasn't anything serious, although as a mother I had to make sure. Dr said it was some respiratory tract infection. Gave some antibiotics and got sent home.
Anyway, it felt like we were waiting forever. We were at the waiting area, me, my son who is sick and my daughter who had no one to be left with at home. My son was napping, head rested on my shoulder. Little girl eating her chips. Me, I was checking out Steemit. Passed by @bunnypuncher's contest, made an entry and checked other blogs.
I went to check if there were any replies or if my comment got upvoted. There was, saying I was getting 1 SBD. When I checked wallet, my phone rang. It was John, the other half of @beatenegg, telling me to check our wallet, asking if I won anything from you and the he was on his way. I said, I won 1 sbd. The call got cut. Anyway, when I checked I knew it was around 30sbd, but to my surprise, it was around 190++sbd. I checked again, maybe I was looking at someone else's wallet. But it was mine.
The thing is, I couldn't see what it was for. It just looked like this;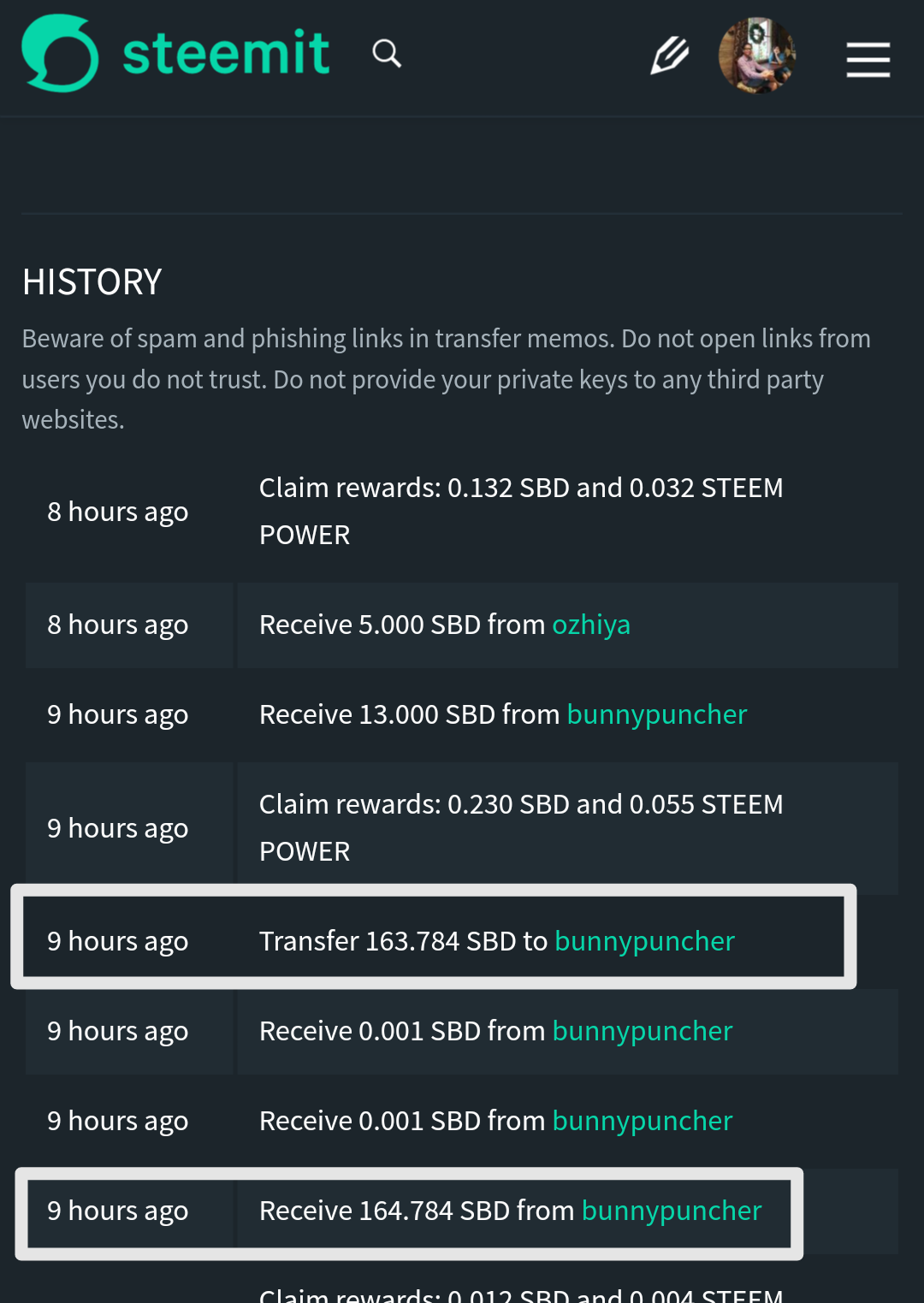 I know I only won 1sbd, why would he have sent more than that? Being fairly new to steemit, i don't know how steemchat works. i didn't know how to return this. I had to call John again. While the med tech was calling me too. I told John there must be a mistake and both agreed to return it. He taught me how, over the phone. I didn't know the other transfers had messages asking me to give them back. I just did what was right and replied to his comment on my comment.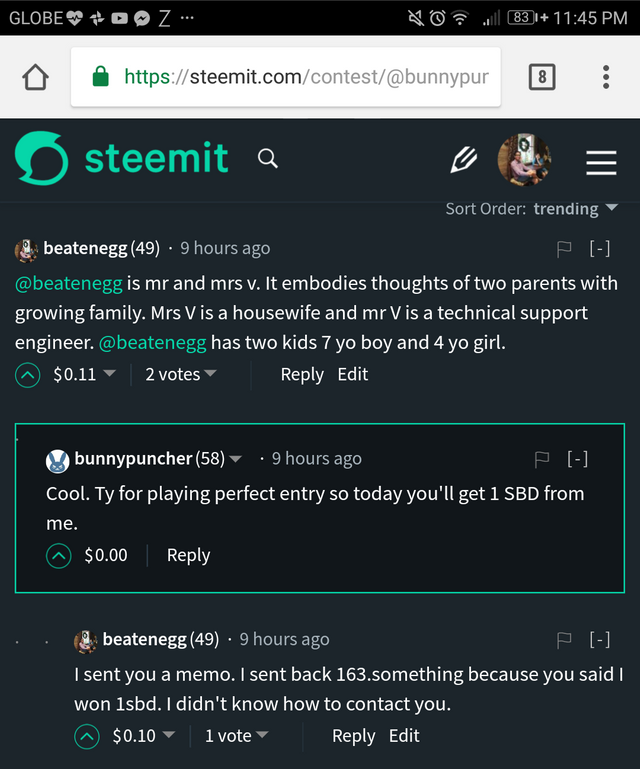 My son is sick and I needed money because currently I'm just doing freelance and it doesn't pay very well. But more than needing the money, I needed good karma. Always. Not just this time. I needed to believe that in case I do the same mistake, there will be others who will do the same thing @beatenegg did.
Thank you fellow Steemians for all the nice words. Sorry, @bunnypuncher, I wasn't able to respond to your last comment right away. I had a patient to attend to. Right now, they're sleeping. Before I go to sleep myself, I'm thanking heavens for using me to restore your faith in people's kindness.
Good night from my side of the world! 🤗🤗🤗