WARNING: Don't use Poloniex at this time for your STEEM and SBD deposits
Good day to all, Steemians!
---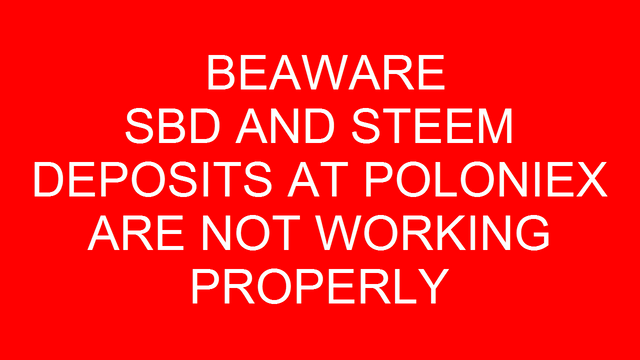 Today
---
while watching @exyle video in his latest blog post and at the end of the video he says that he sent some steem to poloniex and his deposit won't arrived at exchange until now and i am shocked after hearing this because poloniex is one the biggest exchange and many steemians using it for steem and sbd's transfer's so does i, then i decided to check it by myself and i transfer a little amount of SBD to polo to check whether deposits are working or not and shit man my deposit still not shown up at poloniex exchange, i also counter check my memo 3 times and it's perfectly fine so it looks like poloniex exchange again having problems with steem and sbd deposits although their is not any official announcement from them yet but we might see it soon, in my opinion don't try poloniex at this time and use other exchanges for your steem or sbd transfers.
Here is the screen shot of my transfer

Here is the screen shot of my SBD wallet at poloniex exchange.

I also check my tx at block explorer and my tx looks fine so there is defiantly a problem at poloniex end might be some broken script or a bug or else, i also put support ticket but no response from them as usual, i think it will be much more painful if someone sent big amount and end up not shown at exchange, so it's far better use alternate exchanges and not try poloniex at this time.
Thank you very much for reading, have a nice day.