Is this a weird combination? You be the judge. But it can't be bought anywhere! And it's delicious!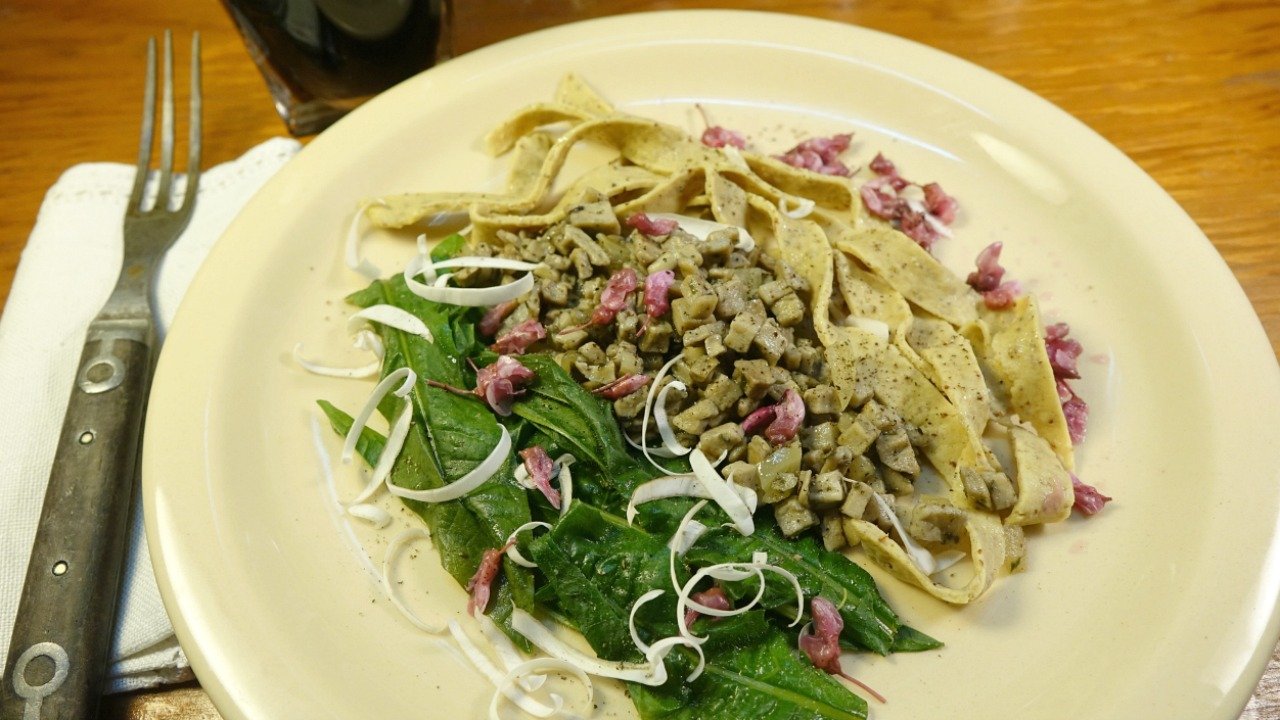 The weirdest combination I could think of for this challenge is dried corn kernels, canned sardines, and peppermint candycanes. I have thought about that combination for a long time, but still can't figure out anything that makes sense! In fact, I'll open up my own special contest, right here and right now. I'll give a prize of $5 SBD to the best entry with those ingredients! Contest ends with the payout period for this post.
---
Getting It All Together!
When it comes to wild food, I have a hard time thinking of anything being really weird. So I'm just going with what I've got on hand.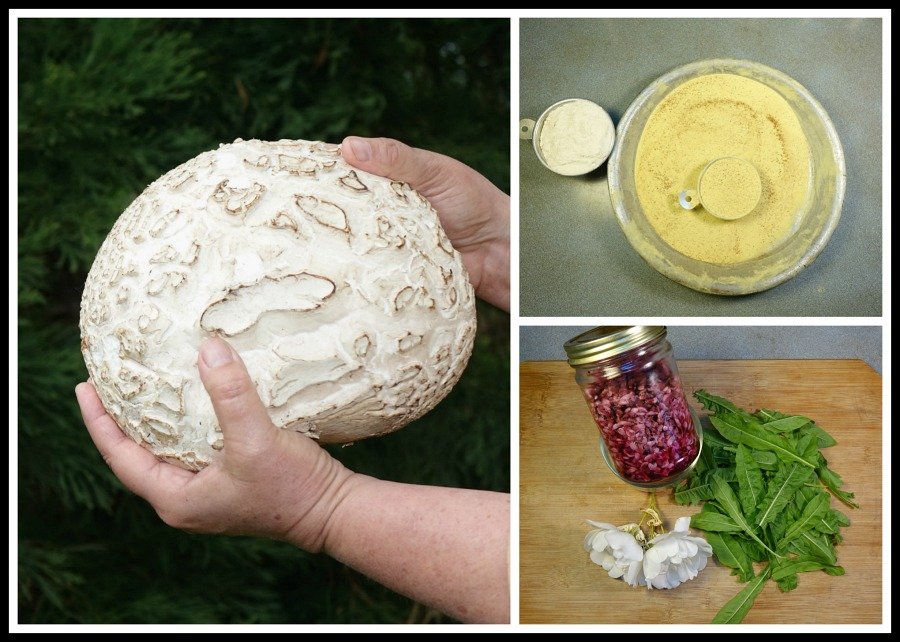 I have a Giant Puffball mushroom (left), pollen from my Ponderosa Pine trees (upper right), fermented Redbud flowers, fresh White Dawn roses, and fresh greens from the Bristly Hawksbeard (lower right).
If you want to know more about how to collect Pine Pollen for yourself, you can check out my earlier Steemit post: How To Harvest Pine Pollen.
---
In The Kitchen!
I use a simple recipe for my pine pollen pasta: equal amounts of flour and pine pollen, 1 egg and 1 egg yolk, a little olive oil. I'll make a separate post showing how I make it. It's super good!
For the Puffball Caviar, I sautee finely chopped puffball with elephant garlic, olive oil, and white wine. I'll make a post about that soon, too. It's super good!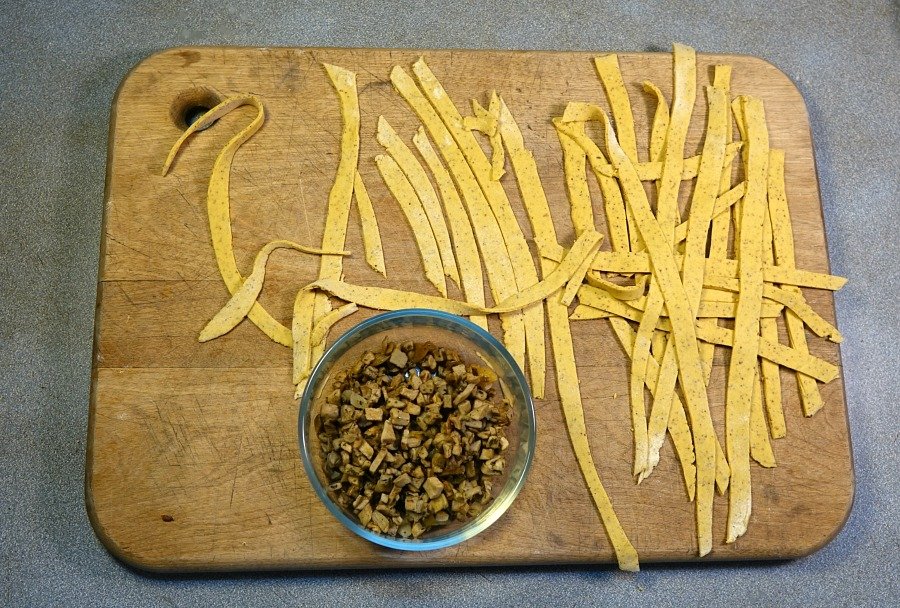 My finished Puffball Caviar, with pine pollen pasta ready to boil in salted water.
---
Eating!
Is this weird? I'll leave you to be the judge of that. I'll venture, though, that nobody else in my town has eaten this particular combination!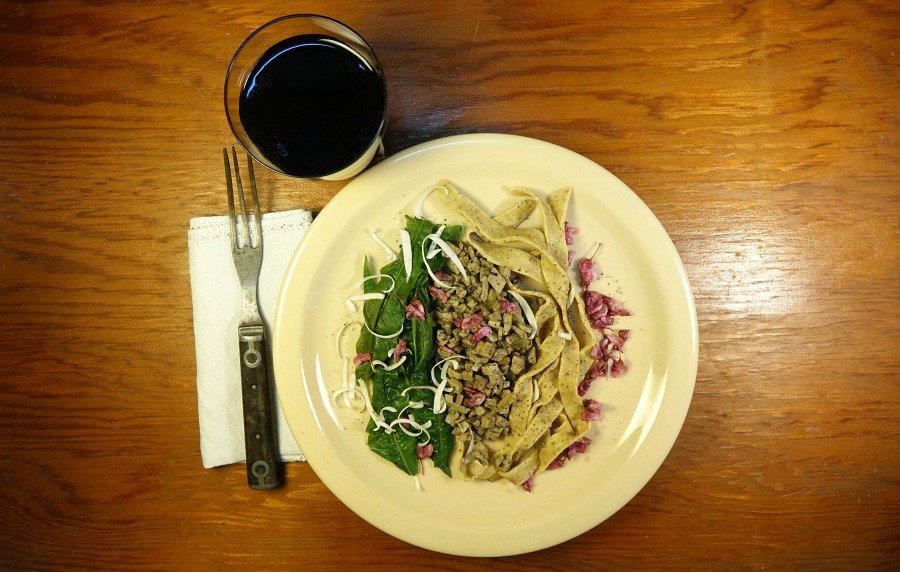 I simply steamed the Bristly Hawksbeard, and sliced the rose petals into thin strips. I topped the plate with a touch of black pepper. Pine pollen pasta is so good! The flavor of the pine pollen really comes through. But it would be a shame to cover it with a sauce.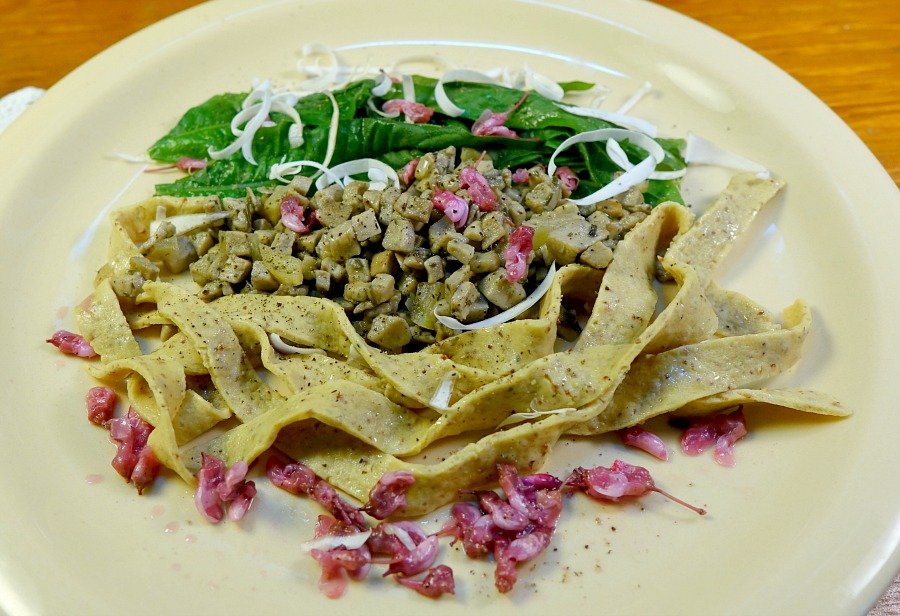 Puffball mushrooms are mild-flavored, too. So the puffball caviar goes perfectly with the pasta. The greens have just a touch of bitterness. The fermented redbud flowers have a slight tart bite, with a deep richness from the ferment. Both flavors are perfect compliments to the pasta and puffballs!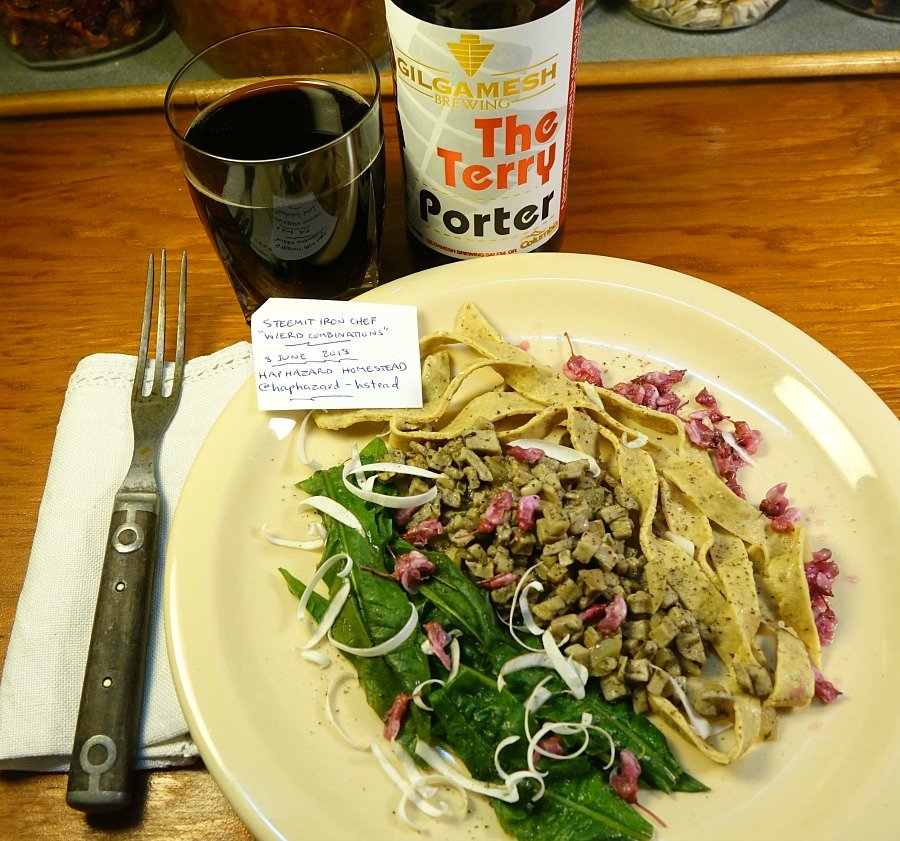 The rich flavor of this porter matches this plate well. Why is this beer called "The Terry Porter"? Stay tuned for Beer Saturday to find out!
---
What Do You Think?
Have you eaten Giant Puffball mushrooms?
Have you eaten Pine Pollen?
Do you have any pine trees in near you?
Would you eat my pine pollen pasta and puffball plate?
I eat a lot of wild plants and show you how, because I believe that we can all have lives that are richer, more secure, more grounded, and more interesting by getting to know the plants and the land around us – in our yards, our parks, and our wild places.
Thanks @progressivechef for creating the Steemit Iron Chef contest series!
I try to make content that's interesting! If you found this informative and helpful, please give it an upvote and a resteem.
---
Plant List
Western Giant Puffball - Calvatia booniana
Bristly Hawksbeard - Crepis setosa -tender young leaves
Eastern Redbud - Cercis canadensis - flowers
Elephant Garlic - Allium ampeloprasum var. ampeloprasum - spring bulbs
Ponderosa Pine - Pinus ponderosa - pollen
---
Haphazard Homestead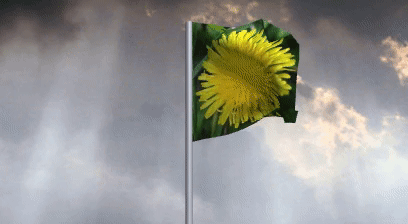 foraging, gardening, nature, simple living close to the land
All content is 100% Haphazard Homestead!
My YouTube channel: Haphazard Homestead