Last Call to the 1on1 talks & #steemit-austria Afterparty with @Tigerkid at Cafe Monic / Saturday, April 28th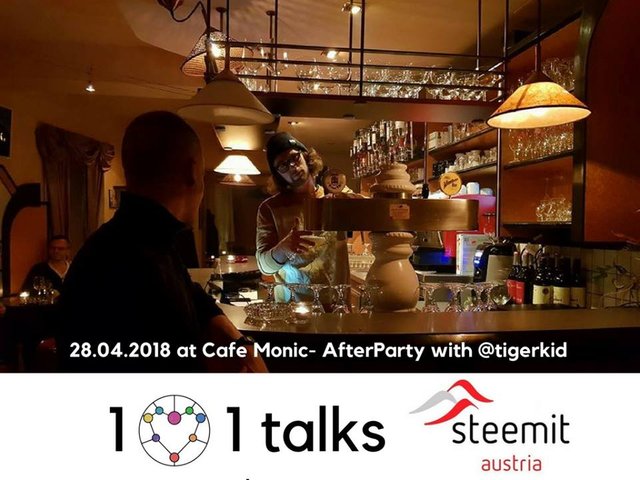 What?
You are invited to join the 1on1 talks and the #steemit-austria party!
When?
Saturday, April 28th
1on1 talks / 12 - 8 p.m
#steemit-austria party with @tigerkid from @steem-munich / 8 p.m - 3 a.m
Where?
Cafe Monic
Gumpendorferstraße 69
1060 Vienna, Austria
Why?
The 1on1 talks are enabling personal exchange.
The party is dedicated to the #steemit-austria community.
Who?
The event is organised by @manncpt, @nicoletta and @jnmarteau.
How to join?
Just drop by when you have time. We will be there. If you want to be announced just tell us the time window when you are present for the 1on1 talks. Then we can introduce you to the people on the event when you are coming.
How to support the project?
Please upvote, reply and resteem this post and the publications by the organisers to ensure the sustainable development of the event and further community activities.
See you on the weekend! 🐋 🎵 💃
Related posts by @jnmarteau and @manncpt: