You are viewing a single comment's thread from:
RE: Smokinglems Simple Adventure Canyoneering Music Video
Kumusta @smokinglems
We have given you our still tinnie-winnie upvote!
You have been spotted by a human @steem-untalented to possess rare gem!
To remove barriers: 'Everyone must have something to offer'!
#untalented abolishes the conditioning attached to IQ tests e.g smart, dull, bum and you suddenly give every human a chance to shine!
So if Bill Gates did Microsoft and i can do Macro-hard, aren't we both genius? Oh, we both are!
'We are genius!' 'We are human!'
Join the steemgigs community on discord https://discord.gg/CGuPyyT
#untalented is a branch of @steemgigs. If you would like to offer your service in building the dreams of other steemians, you can do so under #steemgigs.
However, if you want to experience full blown freedom and grow in confidence about your gifts and talents, share under #untalented.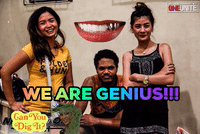 We aim to create historical moments in the genre of touching lives and you can support us if you desire, by voting on steemgigs for witness. Simply click here https://steemit.com/~witnesses and type 'steemgigs' in the first search box.
See this URL for more info
https://steemit.com/steemit/@surpassinggoogle/steemit-s-untalented-is-in-beta-participate-freely-because-every-participant-in-this-contest-will-win-something-no-losers
Just incase you find any level or form of gifts, talents, attempts at out-of-the-boxness, or any steemian low in confidence about their abilities, worth, etc; please don't let it slip emptily by.
Kindly call on me! Simply reply to any such post and add @steem-untalented or #untalented to your reply and i will be there to upvote, acknowledge, strengthen and encourage them.