Update Delegator steem-Indo # 9 : Let's delegate to steem-indo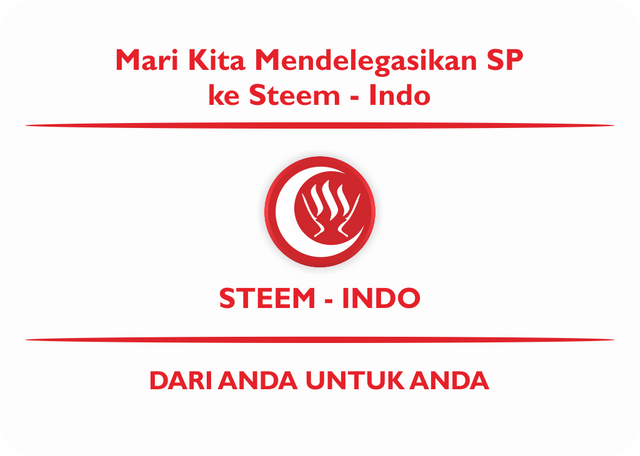 Image credit by @midun
Selamat sore sahabat @steem-indo!
Apa kabar para sahabat? semoga selalu dalam keadaan sehat.
Memasuki akhir bulan maret ini, Steem Power delegasi kepada @steem-indo terus bertambah, sebanyak 19 delegator sudah bergabung bersama kami.
---
Berikut list delegator yang sudah kami update sampai hari ini.
TOTAL SP SAAT INI 3.626,01

Kami melihat antusiame yang besar dari steemian untuk mendukung project ini, harapan kami kepada para delegator supaya tetap konsisten dengan karyanya, tidak melakukan plagiat dan penyalahgunaan yang melibatkan komunitas.

* Kepada Anda yang ingin ikut bergabung dengan kami, berikut link instant untuk delegasi kepada @steem-indo
---
Setelah klik link diatas, pastikan jumlah Steem Power yang anda delegasikan sesuai dengan tertulis atau anda bisa bebas mendelegasikan SP anda dengan ketentuan minimal 50SP. Pada saat melakukan delegasi pastikan anda masih meninggalkan SP untuk akun anda.

Mungkin teman-teman calon delegator penasaran dengan mekanisme kurasi (vote) yang akan diberikan oleh @steem-indo, berikut ilustrasi yang sudah kami hitung secara sederhana :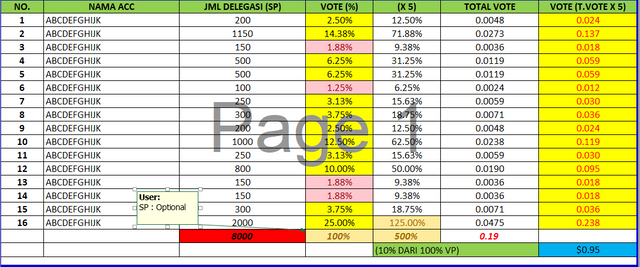 Saat Anda bergabung bersama kami maka keuntungan utama Anda adalah Vote yang akan Anda dapat lebih besar beberapa kali dari Jumlah SP yang didelegasikan.
Contoh kalkulasi sederhana :
Bila 300 SP = $0.010 /100% Vote, maka dengan melakukan delegasi ke kami, maka anda akan mendapat 4 s/d 5 kali lebih besar vote (suara) yang anda terima atau $0.050.
Untuk mengecek Nilai vote, anda bisa menggunakan kalkulator Vote berikut :

Image source capture

Kami sudah aktive memberikan kurasi kepada para delegator yang saat ini sudah mencapai 19 orang, kami berharap akan terus bertambah dan memberikan efek positif bagi komunitas.
Value vote akan terus naik seiring dengan naiknya harga steem di market, bila terjadi penurunan, maka value vote juga akan turun.
Catatan Delegator :
Tidak ada penyalahgunaan terhadap vote yang diberikan
Ikut mendukung program dari @steem-indo dan mempromosikannya
@steem-indo tidak mengikat para delegator terkait delegasinya kepada steem-indo.
Pertanyaan sekitar @steem-indo silahkan tanyakan didalam komentar postingan ini.
Kami menunggu Anda dengan dukungan Delegasi Steem Power kepada @steem-indo.
---
Thank you very much to Mr. @guiltyparties for has been supported this project to run properly.
---

---

Support us as a Witness.
At the bottom, type in guiltyparties
Click VOTE


---
Posted Via eSteem Surfer
[email protected]eSteem.app | ?GitHub | YouTube
? Telegram | Discord