I really must thank my brother-from-another-mother, @jackmiller, for helping us make this happen. It couldn't have been possible without his post: Vote For Our Little Steemian With A Warrior Heart! and ALL of you wonderful people who supported, resteemed, and voted for my son in this contest!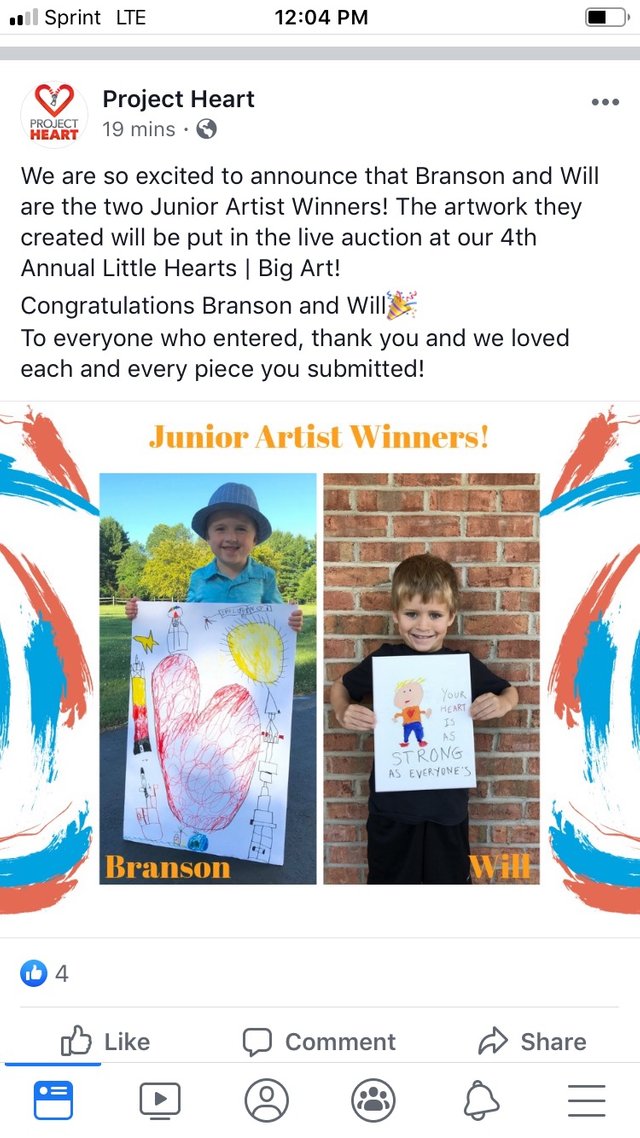 Way to go, Branson! I am so proud of you!!
Thanks to the support from everyone who voted, my son was able to get 800+ Votes in this contest! His art has been seen by people all over the world and that alone is a win.
I mean, I was a graphic & fine arts major and that took me well into my 20s to achieve 😆 I'm so proud of my son for contributing and being such a good sport. Him and I voted each day for ALL the contestants because he loved seeing all of the kids numbers going up. Thankfully, one popular vote winner was selected along with a staff pick, so Congrats to my son, Branson, for the popular vote!
I explained to him that popular vote is not the important part, but rather being a part - a contributor - is the most important. All of these kids contributed and I'm sure there were many who could have but for whatever reason did not.
It's about doing something, instead of nothing. I'm proud of all of the children for being warriors and overcoming congenital heart disease AND already giving back to a great cause. These kids really should be proud!
So what happens with the Art?
It is being shipped to Nashville, TN to be auctioned. The two winning works of art will be shipped to Project Heart ❤️ and auctioned off to raise money for the foundation!! How exciting is that?!
Branson will also make a video talking about what he would like to be in 20 years, which will be played at the Nashville event, the 4th Annual Little Hearts, BIG ART contest
Could not have done this without the gracious support of the world community
Thanks to Steemit, friends, family, and local networks - This was all possible!
Branson was even lucky enough to have Steemit CEO, @elipowell share some love ❤️

What a lucky kid! I thought I was lucky to get a drawing on my refrigerator as a kid, but this blows that away.
Special Thanks to All (below) for Resteeming @jackmiller's post to help - it really made all the difference!
Extra special love to @brisby, @elipowell, @enginewitty, @guiltyparties, @iamjadeline, @mrnightmare89, @oivas, @prettynicevideo, @rakkasan84, @saffisara, @scarletreaper, @snook, @someguy123, @themarkymark for the resteem support and love! Thanks a million10
Post Rewards for this post have been declined, so if you choose to vote - that helps add value back into the rewards pool to keep great content creators alive! We just wanted to say THANK YOU again to everyone who helped these Junior Artists share their art with the world.
all content in this post is original, created for Steemit by


Join me on CHOON.co to listen, curate, and share music to earn NOTES

click to join me on TRYBE.one, a knowledge sharing platform

click to visit @witnesspage on steemit, managed by @jackmiller

⚡️ @grow-pro is a proud member of #thealliance ⚡️