How To Make The Best of Steem HUNT IEO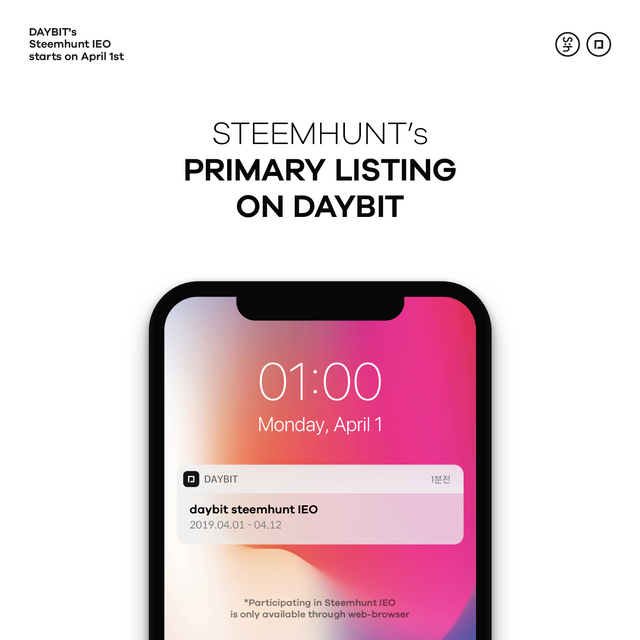 Hello friends!
Are you interested to get some crypto as free, bonus or reward?
If you like the flagship Steem DAPP @steemhunt and want to invest in its HUNT token, you may be aware that it is offering its tokens through IEO (Initial Exchange Offering). The 3rd round for this IEO is currently in progress on Daybit Exchange. The offer price for 1 HUNT token is 0.02 USD.
Daybit is a popular Korean crypto exchange with Chain Partners - an established crypto comapany as its promoter, well known for its Coin Duck offline payment service. Recently, Samsung announced to integrate Coin Duck in its Galaxy S10 mobile phone wallet.
Daybit is said to be the most undervalued global exchange and it aims to reach the top 20 spot soon. Its own token DAY is also seeing a good growth in its price. So I quickly opened an account with Daybit to buy some HUNT tokens in this IEO. I had a good strategy to get the HUNT tokens cheap.
Unfortunately, my mobile number couldn't get verified there as I never received the confirmation SMS code from them. I don't wanted to purchase any tokens there before my account gets verified.
How to hunt for HUNT tokens:
So here I'm telling you how you can take the most benefit from this HUNT IEO:
1. Transfer at least $100 worth STEEM to your Daybit wallet.
Reward:
(a) 1000 HUNT tokens will be distributed to first 100 users to deposit at least 200 STEEM. Check details here
(b) And if you are among the top 3 users to deposit highest amount of STEEM, you will be rewarrded as below:

1st : 50,000 HUNT
2nd: 30,000 HUNT
3rd: 20,000 HUNT
2. Now you can use the deposited STEEM to buy DAY tokens. Purchase at least $100 worth DAY tokens.
Reward:
Upto 500 userrs will receive an airdrop of $20 value of BTC per person. Check detail here.
3. Buy HUNT tokens from IEO. HUNT tokens are priced at only $0.02. Check further details here.
Reward:
You will get 20% bonus tokens in this phase.
So how does this strategy sound to you? Can you afford to miss this opportunity?
HUNT token is the first ever IEO on Daybit platform. Thus the onus to make it a success is also quite heavy on Daybit team. Daybit has already confirmed STEEMHUNT's primary listing on its exchange to be on 1st April at 01:00 hrs.
With this, HUNT, STEEM & SBD all are set to rise higher, esp. I'm more optimistic about the HUNT token.
I'm also going to start writing my posts using SteemHunt platform in order to receive some HUNT tokens. You too can do just that to pocket some more HUNT tokens. :)
Happy HUNTing...
...with some wise words from @stupid!