Daylio Mood-Tracking Diary App - Fun, wonderful, easy way to improve your mental health
Daylio Mood-Tracking Diary App
Fun, wonderful, easy way to improve your mental health
---
Screenshots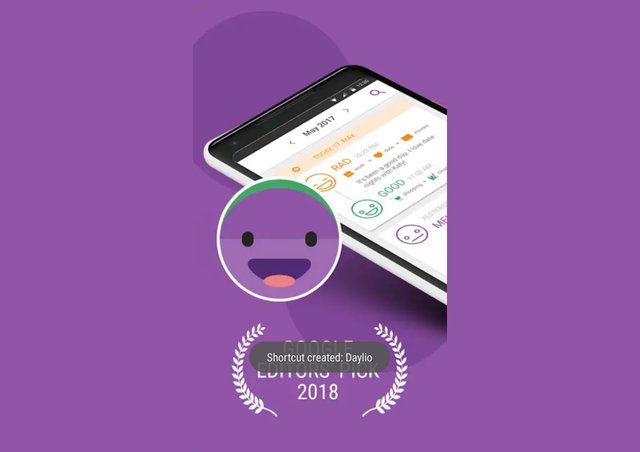 ---
Hunter's comment
I don't like to hunt apps for Steemhunt because #nobrainer but this app gives me a good way to tie in some relevant writing. Even though this is labeled as a "diary app", this little app is actually terrific for your mental health and emotional well-being. Also because there are too many women's period tracking apps getting hunted so here's something better and unique. Even though I'm not a huge fan of "diary apps" because keeping a diary is just more work to be done(!), this app is even better than many of those so-called mindfulness/meditation/wellbeing apps out there.
Why?
Because you can track your moods without writing a single thing!
It's so easy to just tap the mood that represents how you feel. You can even create your own moods (which you should do). This is a great way of checking in with yourself and seeing how you are feeling right now!
By looking back at the patterns, you can see how much time you spent feeling anxious or irritated by coworkers ... things that clearly compromise your quality of life.
So this is just for sensitive sissies?
This is for people who don't like high-school kids getting shot at school. This is for people who want to go to an outdoor music concert without getting injured by snipers from a tall building nearby.
Checking in with yourself isn't just for sissies. It's for people who care about their mental health, especially in today's increasingly stressful world where even the most successful people are killing themselves after losing to anxiety and depression. If you don't think your mental health is just as important as your physical health, then read the news and be glad you're not the parent of a teenager who shot his classmates.
We all know that all your power is in the right now and this app helps you keep your constant pulse of how you are feeling. Most people don't keep tabs on this because they're so busy trying to keep their inboxes empty or endless rounds of QA or trolling their coworkers/fellow volunteers, that they don't even realize how un-centered and un-grounded they have become ... until they get home from work and their partner is like, Okay can we get off your work sh!t please??
This well-designed, minimalist app is beautiful and intuitive and you will just float along to the end. No fluffiness or floweriness or spiritual vibes that try too hard, thank God.
It comes with this set of default moods:
If you want many more moods or custom moods, you can do so with an upgrade. If you have problems with depression, you can add your own moods like "depressed" or "lonely", and you should also get professional help. Be sure to read the fine print to see how/if your sensitive data is being used by others, just FYI! Please note that this app and this hunt is not intended to replace professional medical care.
Easily create your own moods
Here I easily created a few more moods of my own:
"a bit anxious" (to track anxiety and nip it in the bud because I don't want to end up like these annoying people next to me),

"food coma slump" because it's the 4th of July weekend and I am finally -- for the first time in almost a year -- indulging on Starbucks frappucinos and giant bags of Doritos and popcorn and want to track how often I feel bad from eating sugar/fat/dairy versus feeling good from eating paleo, and

"idiots" which is short for "I hate having to deal with idiots" as I'm trying to gauge how much time I waste being aggravated by idiots.
On the happy side, I also added "someone I like" under the top-most happy category, which means that I got to click with someone I like that day. What's better than taking to a guy you want more of 😀 I hope to find lots of those in my monthly summary and if not, well, we're gonna do something about that.
Customize your own activities to track your time spent
You can also easily select the activities in which you partook; activities are also customizable.
Make the connection
Quickly you can see the correlation between activity and mood. I'm sure you can also add in a food dimension, so that you can finally see the connection between what you eat and how you feel #NextVersionPlease. Here's how easy it is to do that.
So far, my first day looks like this:
Pretty dismal because of the bad food I've been eating plus it's been almost hot AF and I'm already anticipating it being even hotter than AF tomorrow.
Premium Features
If you want more than approximately 9 basic moods, here's what Premium gets you:

I hope to keep this up and see the accumulation of my moods and activities over time ... because, after all, the sum of how you feel is really the quality of your life.
How much of the time are you happy? How much of the time are you not happy? If you don't care, then you've missed the boat, my friend. With Daylio, now you can't say that you don't know.
---
Link
https://play.google.com/store/apps/details?id=net.daylio
---
Contributors
Hunter: @meditateonthat
---



This is posted on Steemhunt - A place where you can dig products and earn STEEM.
View on Steemhunt.com