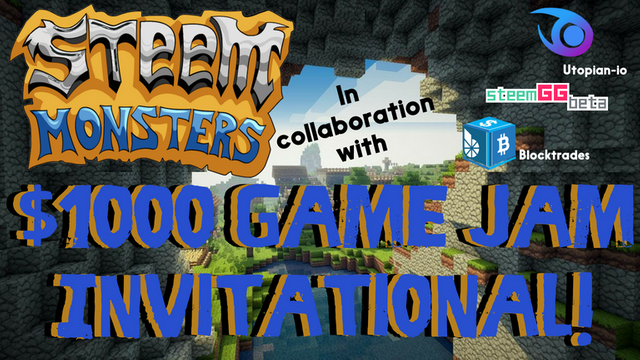 The Steemmonsters Game Jam has ended.
It has been a relatively successful event. While the number of submissions was lower than expected, it had been in general a fun experience for the Game Dev as well as for us. Thank you for all those who have participated, and a big shout out to @aggroed who have made this happen.
But now, it's time to vote for the best games!
As promised, we are giving out Steemgg sub-category prizes for games that were entered in the Game Jam and uploaded onto Steemgg. Here is the list of games that are qualified to enter our Steemgg Category Prize:
---
Game #1: Gates of Steem

Be Zintar Mortalis the Summoner and

Kill monsters in this Steemmonsters RPG!

Game Link

Game Post

Game #2: Goblin Tower 13k

See how high up the tower can you jump.

Don't Fall!

Game Link

Game Post

Game #3: Steem Dominion

Grab a friend and play a game of multi-player

Steemmonster Chess!

Game Link

Game Post

Game #4: Tap Monster

See how many bosses you can defeat by

leveling up your monsters!

Game Link

Game Post

Game #5: Shoot the Monster

Control the machine gun and see

how many monsters can you shoot!

Game Link

Game Post

Game #6: Steemmonsters: Snap

Try and snap pictures of monsters and

See if your fingers can catch up with your eyes!

Game Link

Game Post

Game #7: There will be Dragons

In this hack and slash RPG, clear

the stage by slashing monsters!

Watch out for the Dragon!

Game Link

Game Post
---
Just to recap, we are giving out the following prizes:
First Prize: 150 STEEM
Second Prize: 120 STEEM
Third Price: 100 STEEM
Players' Choice Award: 70 STEEM
Good Game Awards x 3: 20 STEEM each
Here is what we are going to do to determine the placing. We are calling upon all of you out there to come and participate in the voting process. Have a play with the game entries listed above, give them some love (and upvotes), and decide which ones deserve to win.
Place three votes by commenting under this post with the numbers for the three games that you think should win the competition.
We, @stabilowl and @bobdos will also be giving votes too. But being the organiser, our votes will be worth 20 points each. At the end of 7 days, we will tally up all the votes, and rank the games according to the votes received to determine who the winners are.
And, as an incentive and thank you for supporting the event, each person who vote will be in for a random draw with a prize of 10 STEEM.
That is, you just need to vote to have a chance to win. So keep those votes coming!
---
Thanks for all your support, and we hope that you enjoy playing these new games on our platform! Don't forget to vote!
---
Support @steemgg by Upvote, Resteem, Follow