Hello Steemians! If you don't happen to already know, Steemgar is an agar like game that utilizes the power of Steem blockchain to reward players of each match played. But not just everyone, only the top 5 to ensure exhilarating and fun competition between gamers on the field.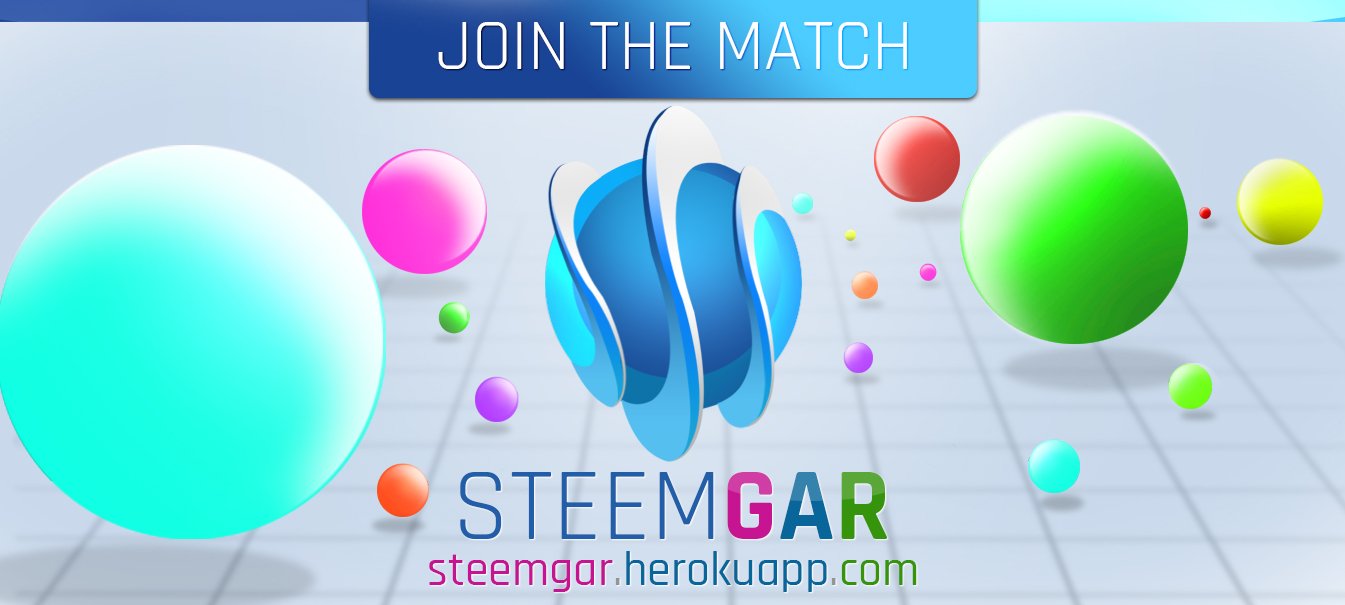 If you wish to take a quick look before continuing on you can do that here: https://steemgar.herokuapp.com/
One of the goals of Steemgar was to show yet another exciting way to use Steem blockchain. The game owner can reward players, non players can reward the players and players can reward each other if they so wish and all of this can and is done by using Steem only. Of course the possibilities do not end there. Players could be rewarded for reaching certain goals or beating everyone else in certain categories like most kills in a week. It's just a question of having enough voting power, imagination, time and effort. What I listed before is basic stuff, but I'm sure we get to see way more exciting implementations in the future by bright steemians.
Now I'd like to take a moment to list all the changes made to Steemgar in the last 3 months
Since the last public post about changes made to Steemgar is 3 months old by @cryptoctopus I think it is a time for an update.
Changes made (small and big)
Chat and leaderboard now hides upon the match start
Reduce time window to join the match (This way all players start with equal footing in the start)
Audio added to alert players about match that can be joined (Enables you to browse internet while waiting)
Check for proper start time of the match server side
Speed of players increased to make gameplay more engaging
Chat added to frontpage
Add respawns to the game
Merge timers, virus counts and split amount has been tweaked (More viruses to bring more safe havens for smaller players, increased merge time to make splitting more risky)
Limit fire food ability with timer (Splitted players can't now just grow one of their blobs in an instant to huge using fire food)
Increase game area size (Good up to around 23 players now, after that it gets a bit crowded)
Lists of players joined and player kills made available
Check banned players on server
Instead of rewarding top 3, top 5 gets rewarded
Changes to ensure game is fair for everyone (view distance related)
Added game ended container that informs players about creation of reward comments and when it is safe to leave the match
Lots of changes to the frontpage like total change of overall look, adding winner banners that are upvoteable, icons... (Big thanks to @aleksandar.vasic for his design work)
Html codebase tweaked to be more SEO friendly
Adopt CSS grid layout
And plenty of bug fixes and small tweaks
What still needs to be done and where you could help (Possibility of bounties here, hit me up)
Dynamic map size change according to players joined (This will make high and low player counts more enjoyable)
Client side prediction (This would make the game smoother for players with higher ping)
Custom skins for players
bug fixes like players not being able to split at times or dying even if some of their blobs are untouced
a reward bot that distributes daily earned revenue to delegators of @steemplayroom account
make Steemgar playable and fair for mobile users
If something above peaked your interested or you got an idea of your own you'd want to implement to Steemgar, feel free to talk to me about it at discord here: https://discord.gg/BXXB3yx
The future of Steemgar, me and Steem
I'm more of an idea man and not a maintainer one. Steemgar is not yet in a 1.0 state and still needs a few but important features to reach that status, as my focus is slowly shifting towards a new idea that I see a need for in Steem ecosystem and changes in my life taking up more of my time, I'm starting to look for opportunities to let others also participate. Open source being the most interesting option but more about this in the next Steemgar post!
Thank you section
Biggest thanks belongs to @cryptoctopus, without him Steemgar wouldn't be where it is now. Thanks to him Steemgar can now run as long there's need for it and he will always be on the top of lists like these until the end of times.
Steemgar has also received big upvotes from @bue and @wackou, thank to you both. Biggest voters get their names listed on the frontpage of Steemgar by they way so if you wish to see your name up there, you know what to do.
Big thanks you @kolegaotaku for designing the Steemgar match announcement image and the logo itself.
Thanks to @aleksander.vasic for design work on the frontpage.
Also thanks to all the contributors on Discord, and for those who follow the voting trail. Every bit counts!
And of course to all the players, thank you too!