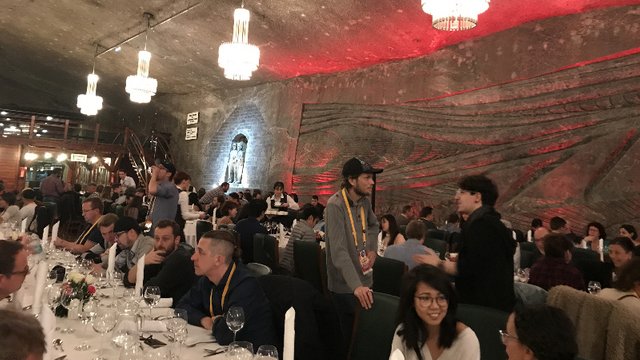 Whew! Steemfest was a whirlwind. TWB was well represented, with both admins (@GMuxx and @Rhondak) present, as well as one of our top editors, @Jayna, and Steemhouse prospective @Katrina-Ariel. We picked up a few other folks along the way, like @martibis and @elizacheng, who have both been on the periphery for a while. Our goal was to make a strong presentation to introduce the publishing house and book launch, and it went very well. Mission accomplished. We have a video link below, extracted from the live stream recording and edited to exclude mention of any witness affiliation. It's only twenty minutes, and definitely worth a watch!
The other goal we had for Steemfest was to meet people face to face and get the word out about what we're doing with Steemhouse Publishing and Wordrow. We had a checklist of people we needed an introduction with, and we met all of them. In doing so, we shook hands and had conversations with some of the most powerful users on the platform…but there was an unexpected development. We really like these folks! What started as strategy turned into a collection of new friends, people we hope to build relationships with due to shared common interests.
We won't be calling out or tagging most of the people we met, but there is a handful of exceptions to that. @Fundition made a post about TWB that just blew us away. Please, please go read it HERE. We are deeply grateful to Fundition for so many reasons. So having the opportunity to meet @hightouch and @addicttolife, as well as @goyard and @free999enigma was definitely one of the high points of the entire conference for us. They're incredible human beings and I firmly believe their project has potential to change the world.
Moving forward from here, we're going to launch more contests, more events, and more initiatives to get the community excited about creative writing again. It's going to take time to emerge from the slump that was caused by several separate factors, but after interacting at Steemfest and getting a glimpse of the future, we couldn't be more excited. More than ever before, the blockchain is in the hands of the independent developers and the creatives with a vision. We can't wait to see what the next year holds!