I'm coming to SteemFest3!
Got my ticket yesterday evening and, as you can see, it talks about burning bears, which I think is not a sensible thing to do 😂😂😂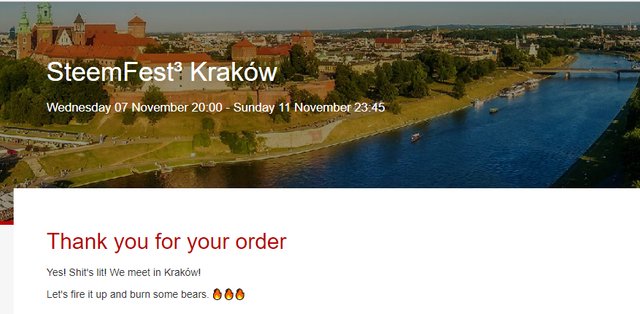 Jokes aside, I come with important messages:
Steem is a community which has grown around a set of rules set out and enforced by an open source IT system (a "blockchain").

The community is important.
The rules are important.
The blockchain is important

The first two elements above are those of a "proto-state". The blockchain enables the emergence of completely novel, non-territorial states.
As such, the Steem virtual state has a Government too: the Top 20 witnesses, with the other witnesses (among which @lux-witness which I run with @pstaiano) as a sort of Parliament.
I come to Steemfest as a private person, not in any kind of official quality. Speaking for myself only. But I do work in a governmental organisation. And I'll argue that there need not be any contradiction between blockchain (especially one like steem) and government.
Here is a shout out to @roelandp, our "GO" as they say in French ("gentil organisateur"): what about a live debate pitting someone like @dollarvigilante against your humble servant? It might help clear some of the confusion around what "state" and "government" are and why some can be evil but should not be presumed to be so beforehand.
But more importantly, it will illustrate that government guys love Steem too ! 😉
Are you up to listen to someone coming from a different background?
Are you ready to open up to a more complex but possibly richer view of the world?
Other posts you might enjoy:

If you know what witnesses are and agree that people commited to keeping this blockchain ticking play an important role ...



(by simply clicking on the picture - thanks to SteemConnect)