SteemFest⁴ updates: New venue for Conference day 1 - Ticket price hike tonight
TLDR;
New venue day 1 - mai pen rai
Ticket price hike tonight (executed tomorrow morning CET :P)
Wow, what a week it was. Cryptos shaving off a cool 25% off the market cap. Wobbly it was. And the crypto markets is not the only thing wobbly, organising an event in a wonderful country such as Thailand also is :)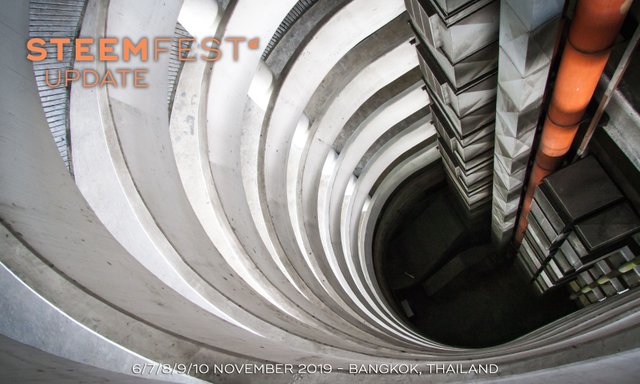 Bangkok parking by Holger Link on Unsplash
In previous posts I stipulated some "bumps" on the road, but I think I never got really into the depths of it. Since I started prepping this SteemFest through my Bangkok visits in March and April of this year I've had:
1 venue getting closed due to bankrupcy
3 times assigned new contacts (and reopening price negotiations in some cases) with 2 venues due to people getting fired or switching jobs.
And now it came to a new "high", I never experienced before in my history of 15 years event organising:
As I am getting close towards the date of going to Bangkok for final preparations, this week I was mailing everybody to setup day meetings to visit with catering, tech, livestream folks to visit all locations.
So I proposed a meeting at Conference Day 1 Venue and the response I got was: "Ok, meeting is fine, but when was your event again?". This response already triggered all my alarm bells, and I told the event date. Their response was: "Oh but we already got a concert booked then". Not something you want to hear so close to the event, and especially not me, as I have been trying to work out details since those visits (twice I went to this venue) in March/April, confirming the event every month with all venues and parties involved.
Rest assured I was pretty disappointed, but was also happy I had not yet commenced with any prepayment procedures. Funny thing is that during my visits in Bangkok I had seen with my owns eyes SteemFest had been written down in the big paper schedule / calendar books of this venue. Anyhow my contact person was very friendly, and I learned to keep my cool already before (see my previous post about that). So I just responded: "Ok, I'm pretty disappointed as I thought we had an agreement, which I reiterated on 14 august recently and got confirmed. But I guess things happen for a reason"...
... And apparently things did happen for a reason! Disappointed I went to my catering liaison and told them the news. I asked them again about a venue we discussed earlier, but which happened to be off-limits due to pre arranged bookings on the SteemFest dates in that given venue.
But, against all odds and certainly my expectations... they had great news, so with great happiness I am announcing the new...
new!Conference Day 1 venue for SteemFest 4: Siam Society / Kamthieng House Museum
Just a couple of stops away from the SteemFest Prince Palace hotel near Asoke station is, amidst the bustling Sukhumvit Area, this area of peace and tranquility. The premises of Siam Society is a lush green area in the concrete jungle of Bangkok.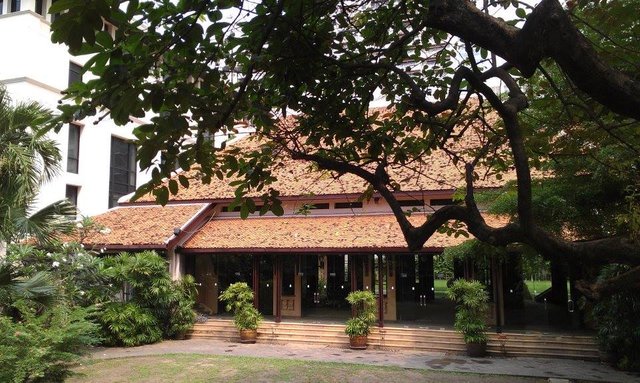 Siam Society under Royal Patronage - main hall surrounded by lush gardens
The Siam Society Under Royal Patronage was established in 1904 with a mission to promote knowledge of the culture, history, arts and natural sciences of Thailand as well as those of neighbouring countries.
On the premises of the Siam Society, which consists of an enclosed presentation hall, surrounded by gardens, you can find the Kamthieng House. This ancient building, more than 160 years old, was given for preservation in the 60's to the Siam Society. It's an old teakwood house, transported all the way from the northern Chang Mai province to Bangkok city centre and is the decor for SteemFest 4's conference day 1.
The gardens will serve as a great spot for breaks and might also house some roundtable sessions (tbd).
So, needless to say, in the end I am pretty happy with this sudden change of plans, triggered by an unexpected event :) Everything happens for a reason!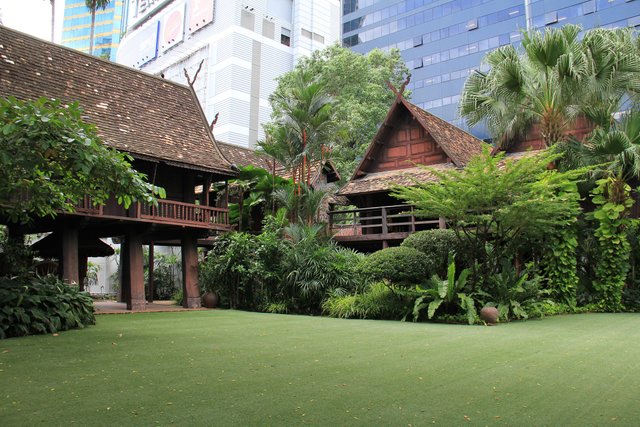 The Kamthieng House in the Siam Society's gardens
Don't forget: SteemFest ticket price rise (!) tonight
Lastly in this update I would like to remind you that tomorrow morning SteemFest Ticket Price will
hike to the September level
. If you are certain to come, please get your ticket prior to tomorrow CET morning as then prices will be upped.
Reminders:
With that, I wish you a great weekend, and wonderful wobbly October ahead. Tomorrow will be my last time going for a kitesurf (haven't been for a while, and certainly won't go for a while after this). Special moment on the sea.
See you on the chain!
@roelandp
Rewards from this post will go to organising @steemfest
(simply by setting the beneficiary)
SteemFest's ticket reductions are made possible by generous donations from: