SteemFest updates: new names - new sponsors - deadlines - hotelroom fomo
Sawadee! it's been a 2.5 weeks since opening the ticketshop and folks have been getting aboard the SteemFest cruise!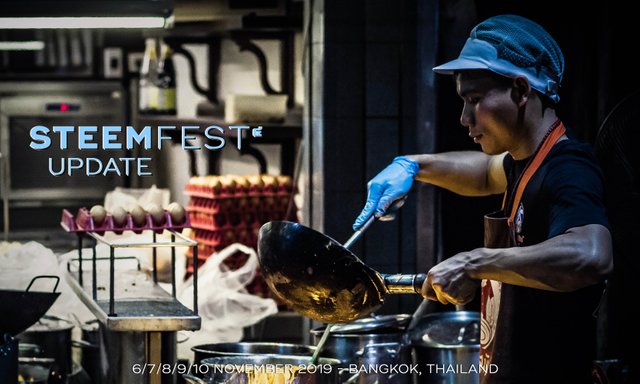 Man cooking in kitchen by Gareth Harrison on Unsplash
This year SteemFest has seen organisation efforts quite a bit upfront as my last visit to Bangkok was in March / April of this year. It has had its advantages, seeing that the event could be announced way earlier compared to previous editions, but also its disadvantages: Locations going out of business, or my liasons/contacts switching jobs :)
So now I'm already for the third time negotiating with one of the venues. So some of the negotiations had been going pretty difficult, whilst some where just a breeze. I'm looking very much forward to working together with my tech liason and the catering who will be travelling along with the event as it moves to several venues across the vast city of Bangkok. I'm really looking forward travelling back to Bangkok early October, eager to finalise the event in the city instead of over emails, skype calls and Line chats :P
With Steemwallet.app V2 shipped this week - I'm all aboard SteemFest4!
Past weeks I had also been (in between :P) quite occupied with the (somewhat delayed) launch of the upgrade of the SteemWallet.app - which is now finally out there! If you had missed
my announcement post about it
last week: The wallet has been upgraded with a
Dapp browser with Steem-Keychain support
, enabling you to login and post on gazillion sites out-of-the-box as they already support the API's for the Keychain firefox/chrome plugin.
SteemFest4 - New names announced!
Just like previous years, SteemFest is for the people, by the people. If you have a steem related project, or something interesting for the steem community / ecosystem, share your suggestions via [email protected]
New sponsors announced! Welcoming Bitshares and @smooth.
I am happy to acknowledge the Bitshares worker for sponsoring SteemFest4 has been voted in. Bitshares has a similar DAO worker proposal system as will be launched with HF21 on the Steem chain. Thanks to this sponsorship Bitshares will be present on SteemFest4 and will give away a couple of SteemFest tickets through competitions in the coming months.
Additionally, longterm Steem witness, and long term SteemFest sponsor (since edition 1 in Amsterdam!) @Smooth decided he will be sponsoring the event as well.
Thanks to these sponsors and already sponsoring since the announcement (@Blocktrades, @Steemit, Steem-engine, Splinterlands and SteemWallet, the plankton ticket price is lowered to 50% of the cost-price of the actual attendance.
By the way, did you already see those SteemFest ads on steemit.com? Or are you adblocking them? :) :)
FOMO Warning: Hotelrooms are going fast in the Prince Palace Hotel.
Since November is also the start of the tourist season, and this hotel is attractively priced and conveniently situated, it is a popular hotel with backpackers and other tourists. If you want to stay in this hotel, I recommend you to book sooner rather than later. Agoda even has booking options fully cancellable up to 1 week in advance, so if you are (still) not sure if you can make it, you can just claim a room and in worst case, cancel it so your card won't get charged.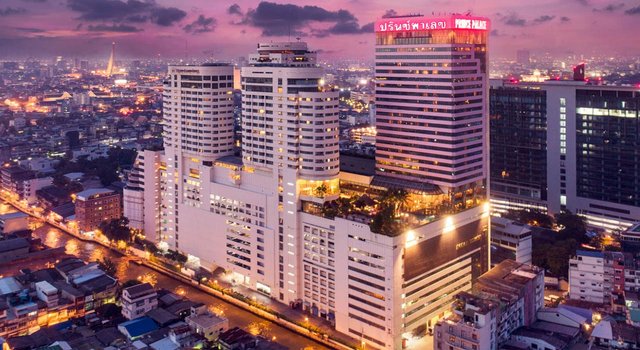 Please note, there are 2 properties inside the "Prince Palace towers" which are both the same, but with different booking links/pages. Prince Palace building namely consists of 4 (or so) towers (hosting 800 rooms(!)). So you can actually book your stay in the building, sharing the same entrance and facilities, through:
Note there are different room options in both buildings! Check it out! DYOR!
Reminder: Ticket price hike #1 in 2 weeks @ Friday 30 Augustus!
As explained in the announcement post a couple of weeks ago, it was two years ago that 1/3rd of the ticket bookings of the event came in the last 7 days prior to SteemFest2. That literally brought in unnecessary stress and costs because of last minute changes with catering and transportation logistics. If it would be just up to me it is totally fine to book last minute, however the Chefs and such want to know prior to the event how much food they need to order :) So like last year, to force you into planning ahead, and hopefully preventing last-minute planning a dynamic pricing schedule is implemented.
| | | |
| --- | --- | --- |
| Current prices | from now to Friday 30 August - 23:59 UTC | Ticketshop |
| Increase 1 | 30 August - 27 September | 20% of costprice increase |
| Increase 2 | 27 September - 25 October | 20% of costprice increase |
| Increase 3 | 25 October - 5 November | 20% of costprice increase |
| Walk up rate | 6 - 10 November | 20% of costprice increase |
This year's minimum (Plankton!) ticket price is 20% cheaper compared to last year. The actual costprice of the event per person is forecasted at around € 450.
You will notice the event website has several levels of ticket prices. Don't know which ticket level to buy? Steemfest.com's ticket section will give you a suggestion of minimum ticket level based on the amount of SteemPower you have (checking your ranking: Plankton, Minnow, Dolphin, Orca, Whale) once you fill out your username. Should you decide to select a support ticket (Silver, Gold, Platinum, Diamond) you become an awesome sponsor yourself and are instantly buying drinking rounds for fellow attendees. Support ticket buyers are mentioned in the program booklet and on opening slides. Please be an honest judge for yourself when deciding what ticket you opt for. Don't be ashamed of your choice!
Buy your ticket with crypto or fiat.
Like last year you can buy your ticket again with crypto. This year the options are SBD, Steem and BTS through
SteemFest site
's ticket section or with BTC, E-banking and Credit-cards via the
SteemFest Paydro ticketshop
.
Manual Crypto Payments done through the SteemFest site in SBD / Steem / BTS are processed minimum every day at 10 AM CEST and 22 PM CEST by checking our email inbox and validating the incoming transfers on the @steemfest wallet (and the @steemfest wallet on Bitshares). Then we mail you a coupon code to claim your ticket. (you still need to claim your ticket after we mail you the couponcode!)
See you in Bangkok!
@roelandp
Ps: In the next post(s) the SF4 locations will be revealed.
---
Liquid rewards from this post will go to organising @steemfest
SteemFest's ticket reductions are made possible by generous donations from: