SteemFest⁴ updates: Mai pen rai continues :) New venue Conference Day 2 + RoundTable sessions are back!
TLDR;
lol whut, Conference venue day 2 also got cancelled on me. Bad luck or smth :P, but again, a solution is here already :)
Roundtable sessions can be proposed now through this form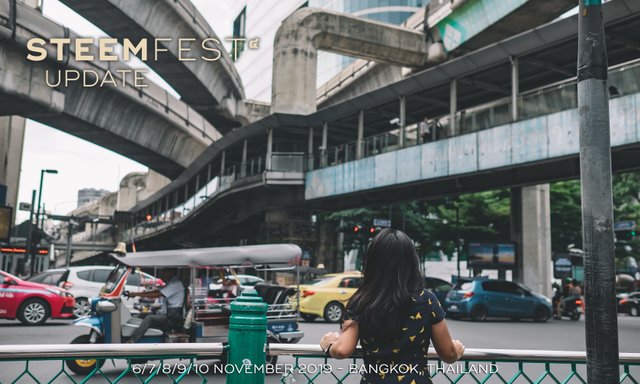 Photo by Hanny Naibaho on Unsplash
Yes! Me and my family arrived in Bangkok on Wednesday and after checking in our guesthouse compound a bit to the north of the city (1 hour public transport to Siam) I went into the city. Jet-lagged as hell with only 1 hour of sleep because our 1yo daughter felt like only sleeping inside the carrying pouch, so daddy had "standing duty" for about half of the 11 hr plane ride. I made my way for my first meetings.
I visited the bowling alley and afterwards had a long meeting with Kimmy from Dee Catering, our dedicated caterer for the event. After this I joined the SteemFest liaison for transportation, Destiny Tours, by means of Pornpawee and we checked out the closing venue scenery, while discussing the event details.
Completely exhausted after those 36 hours of no sleep, Pornpawee was so kind to drop me off at our guesthouse as that is in her neighbourhood. That night continued by dealing with the regular SteemFest emailings, chats, ticket instructions for the Korean delegation by @jack8831 and finally got some hours of sleep.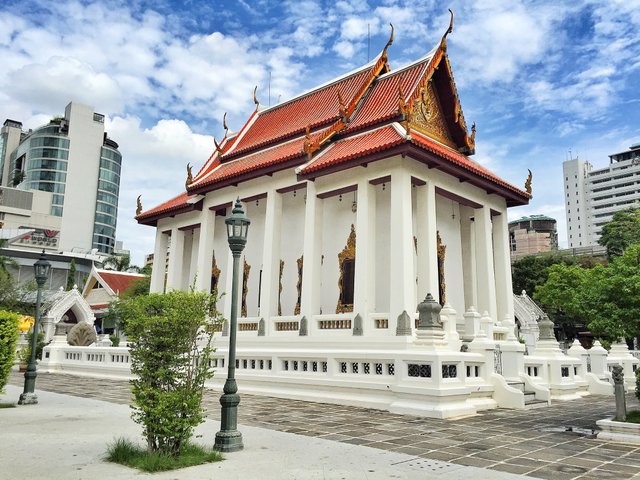 Wat Pathum Wanaram by Pakin Thanomkiat
Yesterday was a busy day too, we (Dee Catering's Kimmy & Jane and I) visited the Wat Pathun Wanaram which is on the program for visiting between Conference Day 1 presentations and bowling night. After that we went to Conference Day 1 venue: Siam Society, where I met with the dedicated SteemFest A/V technical company: Headroom Professional, by means of Nathan. Also his connection for the live streaming joined in and afterwards we went to the new "Conference Day 2 location" ....
Conference Day 2 - New venue: Grand Postal Building Theatre
Yes, it was
only 2 weeks ago
I announced a new "Conference Day 1 location", but can you believe it or not, once I arrived in Bangkok I got a text from the original day 2 location, Warehouse 30, that the "new landlord had unexpectedly planned renovations until 20 November" 🤦🤷‍♂️. Since I already experienced the previous last minute cancellation I did not even get upset... :) To hot, maibpenrai!
I discussed with Kimmy from Dee Catering if Grand Postal Building's Theatre would be suitable and available, and luckily yes! Which means we only move the event 500 meter away and to be honest, being it already a theatre it has great facilities for presentations as that is its general purpose, along with performances. This former post office used to deal with all Bangkok's post and is nowadays still a smaller post-office on the ground floor, coworking space and learning center. It's facade is very impressive and the interior is well maintained and spacious for SteemFest on the 3rd floor.

Grand Postal Building in Bang Rak - the new Conference Day 2 venue
SteemFest roundtable sessions during Conference Days
Back by dope demand: Roundtable sessions. Next to the mainstage presentations who are quick paced, there is also time to go in depth with a selective audience during a roundtable session. This can be a discussion or workshop style format. If you are attending SteemFest and
have an idea for a roundtable subject
you want to present and engage with other attendees, please supply your proposal
through this form
.
Ok, I think, that's it for now... We are going to the supermarket and I can finally finalise the printed maps of Bangkok as all venues are now 100% guaranteed, including deposits paid :P
Oh by the way, don't forget to join the Peerplays SteemFest Ticket Raffle! Check this post for the instructions!
Reminders:
Have a great weekend!
@roelandp
Rewards from this post will go to organising @steemfest
(simply by setting the beneficiary I forgot to set the beneficiary this time... oops)
SteemFest's ticket reductions are made possible by generous donations from: