SteemFest² Updates - It's SteemFest week! - last updates: Schedule announced - Livestream scheduled - Art at Steemfest selected works
Three days ago we moved from the south of Portugal (Cercal) in to Lisbon. I think we weren't even the first ones to arrive in Lisbon for SteemFest :). 3 days till SteemFest!
Headlines
Now available: SteemFest² Schedule - subject to changes.
If you still need a place I recommend to search via Booking.com in the area near Marques de Pombal, Lisbon or use AirBnB and also search near Marques de Pombal, Lisbon.
Come 1 day early and join the SteemFest Blockchain Hackathon on Wednesday 1 November 9 AM.
In this post: Livestreams are scheduled!
In this post: Two unfortunate cancellations.
In this post: Art at SteemFest - "selected" works :D :D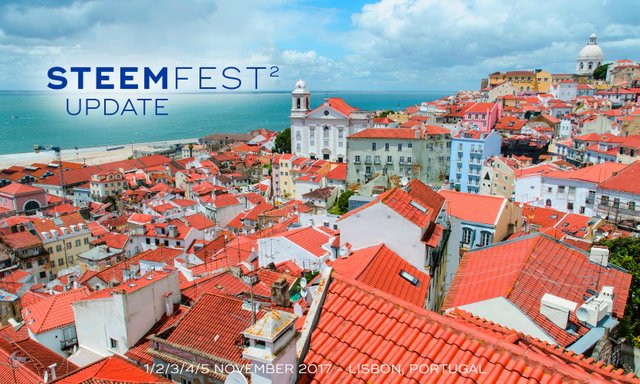 Art at Steemfest - "Selected" works
Wow, wow, wow. Combined with the several submissions from art initiatives and the individual submission we got 133 works in, after removing duplicates :)
Good news.... all works will be printed and ecologically framed. We've got a big space (thank you LX Factory!) and I guess with some crafty work from the curators (on Tuesday) we are going to find a place for all the works submitted, if they are of decent quality to be shown. To be continued, or come check it out @ LX Factory (free for public) from 1 till 5 november.
Directions to Art at SteemFest gallery - open daily from 9 - 19 (approx) from 1 till 5 november:
LX factory Lisboa - Rua Rodrigues de Faria 103 - In the main street you see the tall building on the right, the Art at SteemFest exposition is in this building. - all the way at the end - take the last entrance, just after the Sushi Factory restaurant on your right. Take the stairs to the first floor - again, turn right. We'll put up some signing too :)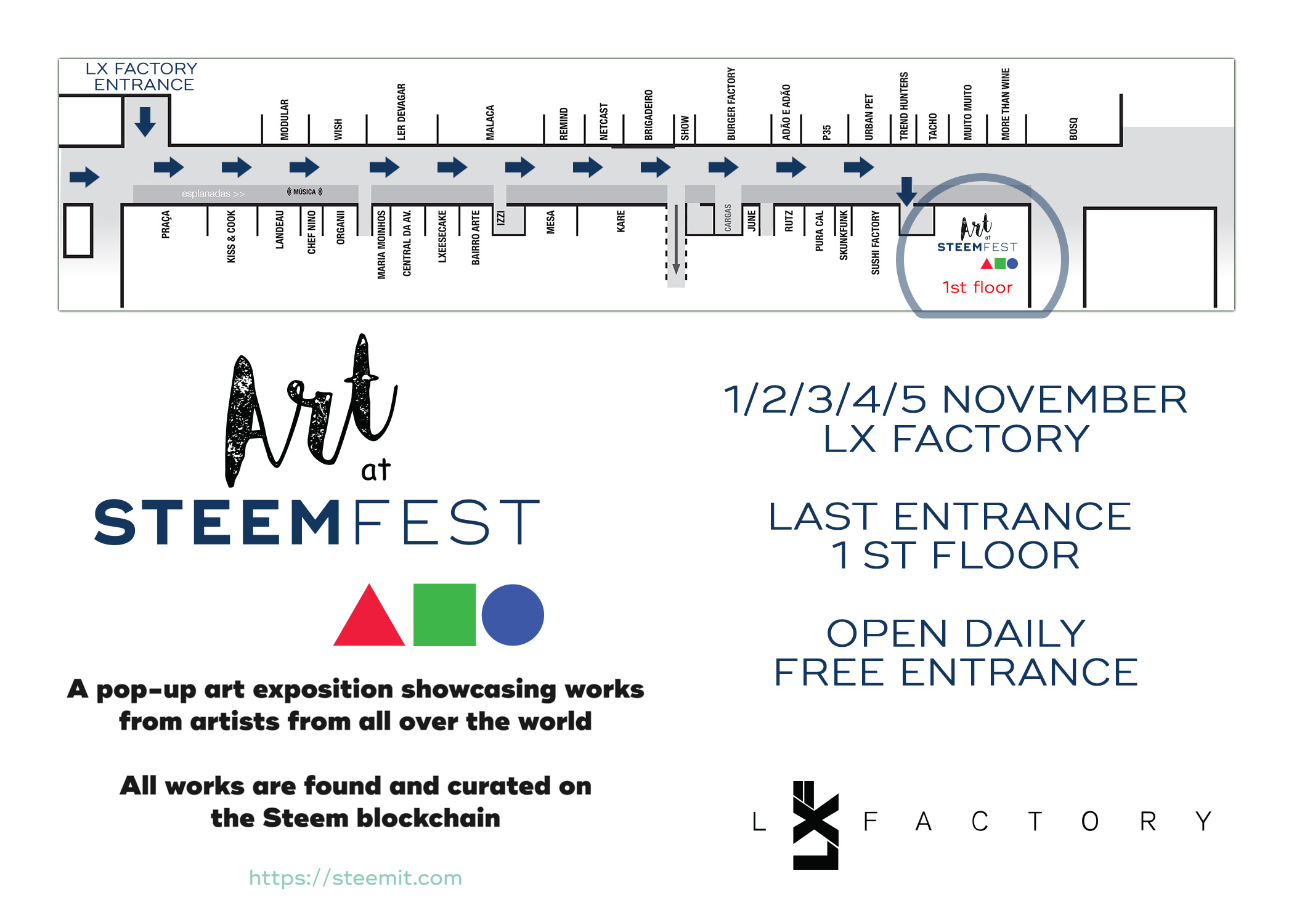 Week Updates
So I had a very nice office this past week (see below), but much to do. The week was full of gazillions of tabs, emails, indesign, illustrator, photoshop, slowing down computer, blasting through 30 GB cards of internet. Prepping raspberry pi's for several occasions. They come in handy as tiny standalone computers if you want to have them serve a single task (like playing a movie in a loop, or showing a slideshow) without having to give up your mainframe laptop. It's also great that you can just install anything linux on em and most of it is supported. They come with downsides too, mainly processor power, so you have to be creative about that.
Since the SteemFest got a nice kicker in ticketsales the past 10 days (in contrast to last year, why you guys book sooooo late :D) I had to adjust orders for shuttle service and several catering partners.
Then I had a nice DIY job: prepping light armatures for the Art at Steemfest expo space. Which is quit bad lit at the moment so I made these DIY armatures from electric plastic piping, and when we got to Lisbon I got these light bulb fittings from a certain Swedish Furniture DIY store. My vision is we can strap those light armatures to the pillars in the venue and have some decent lighting high up, shining down on the walls, hopefully evening out any shades.
The same day we arrived in Lisbon I did a crazy tour picking up old tv's across Lisbon... Via the Portuguese Ebay called OLX I found them, brought the raspberry pi to test them and then when the car was full of antique tv's (3 only) I brought them to the Art at SteemFest space.
Next day was all about picking up booze for the friday 'A Night of Steem'-variety-evening. This will be held in the former 'Santiago Alquimista' bar / theatre cafe, which is beautifully situated and constructed along the medieval castle wall, facing the inside of the venue. Since the bar is being remodelled they offered to pre-open for SteemFest and i really fell in love with the place. The only "downside" was that I had to bring in the booze myself. So I got a selection of wines, spirits for cocktails, beer, water and sodas. It's gonna be a blast for sure.
Now it is really a matter of gazillions of small (computer related) things like mailing, calling and then prepping badges with the firepower crew and packing goodiebags (but that will be last minute work on wednesday). We'll be doing the Art at SteemFest setup on 31st of October @ LX Factory with a group of Steemians and then preparing for the SteemFest Blockchain Hackathon which is taking place on 1 November.
---
A Note For SteemFest Attendees
: You will get last minute info as well as daily emails (until 6 november, don't worry :D) starting this tuesday 31st, on the email address registered to your ticket's order.
---
Unfortunate cancellations: Unfortunately @CharlieShrem and @theprophet0 had to cancel due to personal reasons, and we miss @gloglo due to visa issues. But with more than 40 speakers, enough to hear. Don't worry, you will get that Shremfie one day!
Livestreams scheduled: For those of you missing out, just like last year, @shourai will be streaming SteemFest from both rooms. Room 1 will have a multicam, directed by the master himself, and Room 2 will have a single overview cam. Both Rooms will be hooked into the master audio so you can get a grasp of SteemFest that way as well.
Set reminders for the livestreams here: youtube.com/steemfest
Ok, that's it for now! Have a nice end of the weekend. Bom fin de semana!
All liquid rewards from this post go to @steemfest