SteemFest² Updates - Final Round Of New Names Announced - Revealing 'a Night of Steem' Program - Tips for the DIY CityTrip Weekender
Yesterday we set foot in Portugal again. Tension is now really on. I've setup a temporary office for a week, before moving to Lisbon coming friday. 10 days till SteemFest!
Headlines
In this post: Final round of new names added to the SteemFest² site
If you still need a place I recommend to search via Booking.com in the area near Marques de Pombal, Lisbon or use AirBnB and also search near Marques de Pombal, Lisbon.
Come 1 day early and join the SteemFest Blockchain Hackathon on Wednesday 1 November 9 AM.
In this post: Revealing the 'Night of Steem' line-up - friday's party after conf day 2.
In this post: DIY Citytrip Weekender Tips - prepare your weekend, find some fellow Steemians and explore Lisbon and beyond!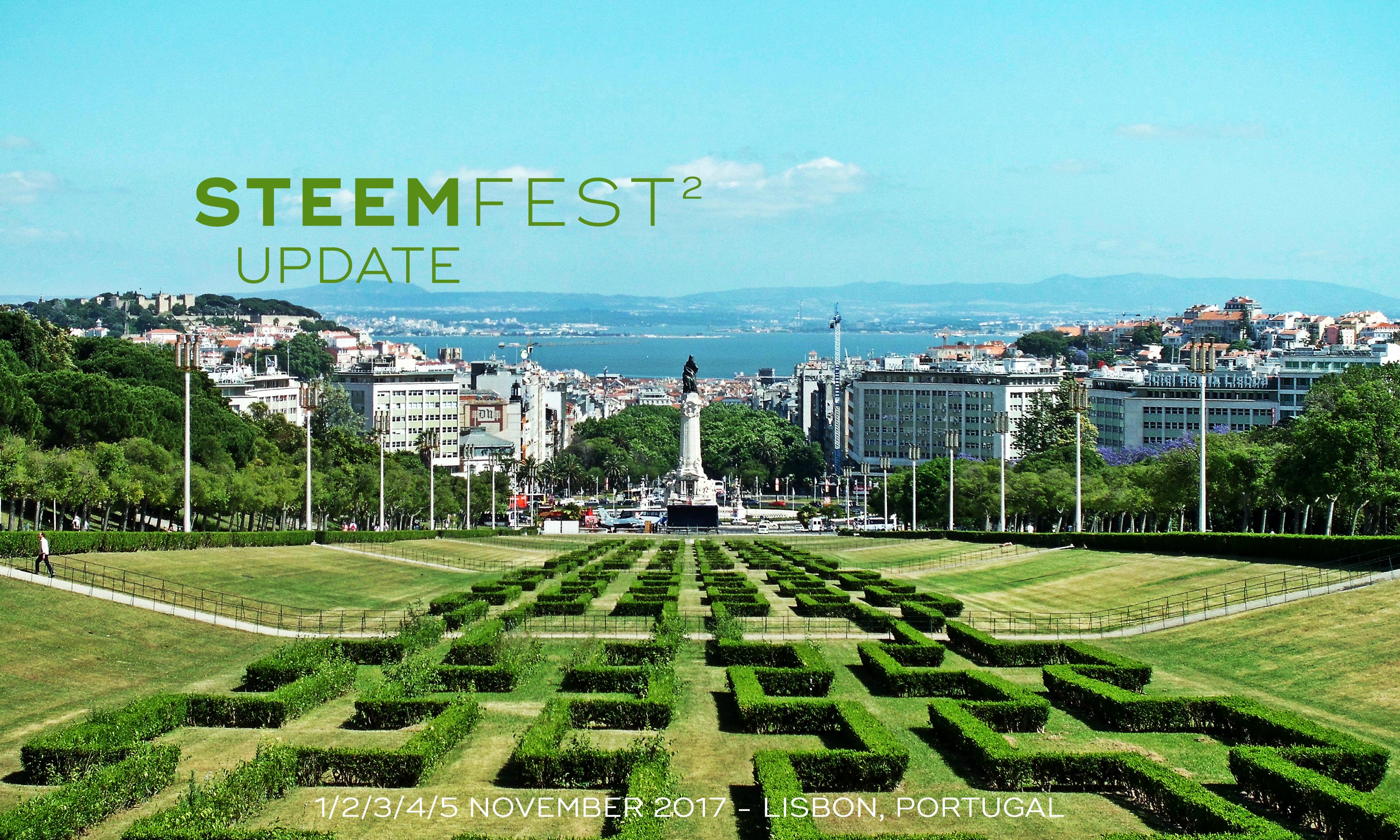 Final list of names talking / performing at SteemFest² announced:
Week Updates
I actually had a todo list this week written down as every night when I couldn't sleep thinking about small things, needed to pencil them down, just to help me calm down :P The week was about finalising the mobile app, tested together with @good-karma who now submitted them, awaiting review. They will be live a couple of days before SteemFest, but you can already download last year's version which will simply be overwritten in your appstore next week, so you won't forget to download it.
Furthermore I prepped a couple of Raspberry Pi's which serve as great standalone computers for projector stuff for the livestream, Art At SteemFest and a realtime photogallery for the photobooth of course :P.
For the SteemFest Blockchain Hackathon I prepped some big fat ugly fake cheque's for the winners and mailed the Blockchain PT Meetup group subscribers, who co-promoted the hackathon. Really want to consolidate lists, as all participants for the hackathon will use the Devpost site to submit their projects.
Wrote some invite letters, got very disturbing news the visa for @stellabelle's full expenses paid trip winner @gloglo was not honoured, with the same reason as @infovore's last year.... It is really a pain in the ass and demotivating to see this visa cancels from people who are super serious about attending and moving world's to make it happen. My heart is with you @gloglo, thanks for your kind words, you will be missed in Lisbon!
Yesterday we arrived in Lisbon with some minor delays, again a headache and feverish from the plane, hope I don't start developing this 'plane sickness' or something, maybe it's just the age :P Hopped in the rental, visited the Art at SteemFest venue, wonderful, a bit rough on the edges, but perfectly fitting, and can host MANY artworks, so thats great too. Will need some lights, but manageable.
And then today... My first creamy & delicious Pastel de Nata: (had to share it though :D)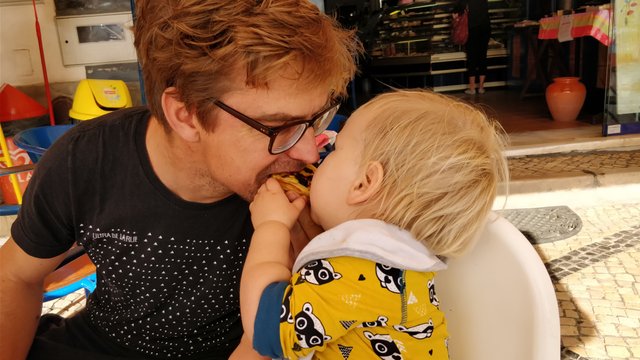 A Night of Steem - Friday evening 3 November - Suspenso
After 2 days and 2 nights of conferencing, social events and trying to fix that jet lag (in no particular order) we start the weekend with a night of variety!
In the recently remodelled former Jazz Club Santiago Do Alquimista, now called Suspenso, in the curly hilly Castello area, we'll have the place of our own for SteemFest & SteemFest Hackathon attendees altogether. The program:
@bitfilm 's award show for best cryptocurrency related movie short. (Voting ends on 23rd of october, cast your vote now!). The award winner will be showed on screen.
The world famous @steembirds (@dan-atstarlite and @jaybird) came all the way from the USA and will do their first ever live performance playing their greatest blockchain hits on stage!
Steem's rising star @jerrybanfield will do a stand up comedy act on stage!
And the night will be closed with a surprise DJ. This person knows punk, Steem, and rose from the ashes of tsar cannons and broken bells. Make your transition.
---
DIY Citytrip Weekender - some tips!
The next day, you wake up with a hangover... Or not, that's up to you. You can immediately refresh and revive yourself by joining a Yoga session (location TBD, weather depending). This year the idea was as many of you will be visiting Lisbon for the first time, to give some dedicated time to explore the city. DIY Citytrip is really DIY and the upcoming SteemFest mobile app (v2 update soon) will guide you with that, but here is a list of great things to do:
Art At SteemFest: Both saturday & sunday the 5 day pop up exposition is open to general public, displaying solely works from artists who are fellow Steem users. On saturday late morning there will be a couple of talks and workshops by @timsaid (including a photo walk), @opheliafu and @paolobeneforti. On sunday Art At SteemFest expo space will be place to an accoustic jam session and the neighbouring LX Factory Road has the sunday market with stalls with various foods and if all goes well also the famous Dutch Pancakes baked for you to grab.
Walk the DIY Audiotour inside the (soon to be updated) SteemFest mobile app. 13 highlights in downtown Lisbon with all stories about them.
Castelo de São Jorge: Explore the Moor history and a beautiful view of the city and river.
Tram 28: Take a single ride in this vintage tram from start to end and you've seen all the narrow curly streets and
many highlights.
Parque das Nações: Lisbon Expo area with a couple of museums, oceanarium, shopping mall and telecabine.
Go super tourist in Baixa: The tourist trap area. Don't get pickpocketed and don't buy fake drugs here.
Elevador Santa Justa: iconical urban elevator in the Baixa area. Saves you a steep walk up Largo do Carmo.
Miradouro de São Pedro de Alcântara: cosy little park, with beautiful city view. Get there with the Glória funiculair.
Pillar 7 experience: breathtaking views from the Ponte 25 de Abril suspension bridge at 80 meters height.
Torre de Belém: small fort at the riverside in the west of Lisbon. Combine with a visit to the monestary.
Volvo Ocean Race: Near Torre de Belém you will find the race village of this renowned sailing cup, coincidentally stopping during the SteemFest weekend in Lisboa!
Casa Independente: Alternative hangout at night / club / party.
And then there is the SteemRally, but you have to ask @originate about the details :) As said, almost all of these SteemFest DIY Citytrip Weekender Tips will be conveniently pinpointed on the offline map in the upcoming update of the SteemFest mobile app.
---
Ok, that's it for now! Have a nice end of the weekend. Bom fin de semana!
All liquid rewards from this post go to @steemfest