SteemFest⁴ update - introducing conference venue, new speakers, ticket price hike 1 and TRF SPS
What a week it was on the chain :) But hey, what doesn't kill you makes you stronger, right? Hello Hardfork 22! With Hardfork 21 came the new economic changes, downvote pool, some new api calls and the Steem Proposal System.
TLDR;
Ticket price hike #1 within 12 hours
Travel Reimbursement Fund - SPS Proposal open for voting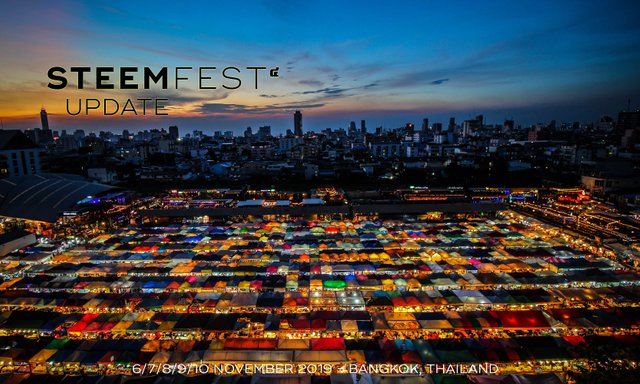 Sunset over a night market in Bangkok - by Florian Wehde - Unsplash
The Steem Proposal System...
... is the automated community voted distribution of blockchain created funds. I like the concept behind SPS's because anyone can write a proposal, and the community decides what will get enough votes and thus paid through the funding system in SBD requested (provided the fund has enough SBD available). A true democratic process, albeit a bit capitalistic, as it's stake weighted voting :) Oh by the way, if you have a Proxy set for your witness votes, that Proxy-account is also the proxy for your proposal votes, be aware!
For SteemFest's Travel Reimbursement Fund I setup a Steem Proposal System Proposal. Oh, if you don't know: the @t-r-f account is the community donation fund for SteemFest go-ers. Anyone who is attending in Bangkok will be able to register for their piece of this donation fund - which gets paid out after the event based on each attendees travelled miles. If the Steem Proposal for @t-r-f funding gets enough traction it will receive a modest amount of 77.777 SBD per day (once the treasure of the SPS system has enough funds) for 77 days. All garnered funds will directly be paid into the @t-r-f account.
If you like this idea and think it is helpful for the Steem chain to bring as many people of the ecosystem together, and give a travel relief by means of fund support, please cast your vote. But please whatever you opt for, thats up to you, but do take some time to also explore the other proposals proposed. There are already some interesting ones up for voting.
Read how to cast your vote in the dedicated SPS Proposal: SteemFest Travel Reimbursement Fund Post.
New Names announced for the SteemFest⁴ Lineup:
SteemFest: Conference x City Trip
The philosophy behind SteemFest is: conference meets city trip. I've attended many conferences. What I dislike about most of them is that you travel (in some cases) half the globe to arrive into a place you don't know. A culture you have not met, a city you have not seen. And what do you do? You lock yourself up in a hotel, preferably the same as the conference is held in, and stay for 3 days, and then,... go back home. Bye bye opportunity to explore.
With SteemFest this is different. By attending the event you already explore various facets of the hosting city. This is simply done by organising different parts of the event in physically different cities. It's a small logistical nightmare, but it keeps the dynamic of the event alive. Every time a new place. Some won't like this, but most of you do.
This is why even both conference days' venues are in different places across Bangkok. So you get to see the city already by just coming to the conference. Nobody said it was going to be easy.
Announcing Conference Day 1 Venue: Scala Theatre in Siam
Siam is the defacto heart of Bangkok. Filled with 4 (or so) mega malls, neighbouring the Chulalongkorn University grounds, the Royal Bangkok sports club and overheaded by the BTS Skytrain it is a bustling area filled with Thai locals & tourists.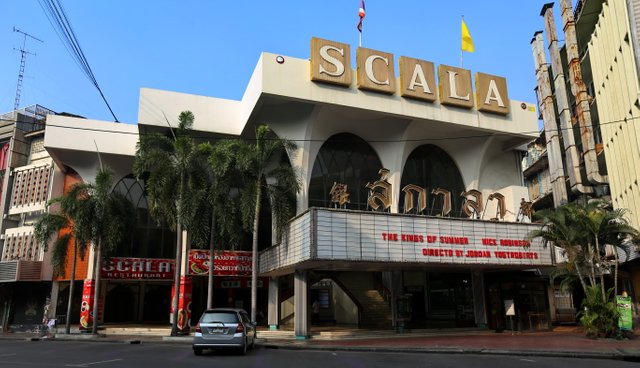 Scala Theatre by Phil_Jablon on Cinema Treasures
Chilling between highrisers and malls is this beautiful (imho a bit thai kitschy :D) movie place called "Scala Theatre". The Scala is a historic cinema in Bangkok. Opened in 1969, the Scala is the last remaining operational standalone single-screen cinema in the country.
The venue has a nice semi outdoors lobby area with high ceilings and air-cooled cinema with stage, which will be the days' place for all talks & presentations. A huge screen for projections, it is a cinema after all.
Getting to Scala from the Prince Palace Hotel is rather easy: Only 2 boat-stops away from the hotel stop with the Khlong Saen Saep ferry (5 mins - 9 baht - 0,27 EUR) and a 3 minute walk. Note: it's gonna be wobbly ride :) But fun!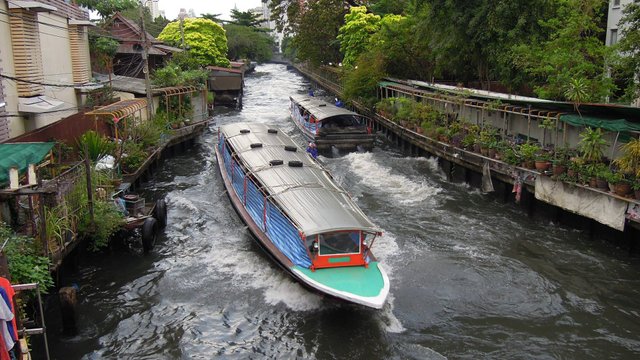 Khlong Saen Saep speedy ferry - by David McKelvey on Flickr
After the conference day more activities have been planned in the Siam area, but hey what fun is it to reveal everything right now?
Last call! Price Hike 1 is about to happen!
Please be alert that SteemFest ticket price will follow the pre-announced dynamic pricing schedule. From this schedule term 1 is almost finished. Actually by midnight tonight, but the prices will only be updated tomorrow CET morning, so you still have some changes to grab a ticket for early bird price until then.
The new price will be a 20% raise of costprice added to the "regular" ticket (+88 EUR)- out of which plankton (50%) & minnow (75%) raises are calculated.
SteemFest Competitions
Want to come to Bangkok, but are struggling for funds? There are some competitions going on:
That's it for now. Have a nice weekend!
Liquid rewards from this post will go to organising @steemfest
SteemFest's ticket reductions are made possible by generous donations from: