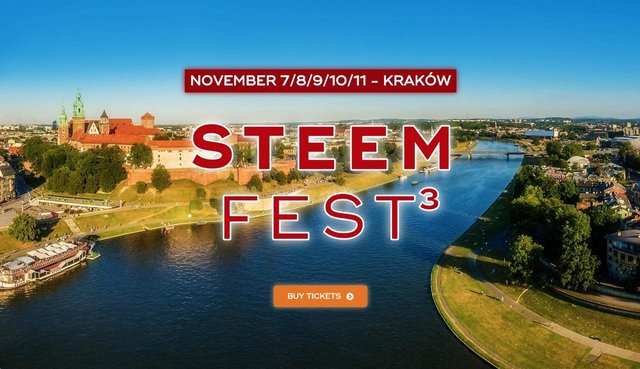 Steemfest 3 Tickets purchased
It's the same procedure every year. I bought the first Ticket for @steemfest 3 in Krakaw. @kinakomochi @yoshiko your sponsored tickets are on the way. I am waiting for a couple of other Asian and Japanese Steemians to contact me for their free Steemfest Tickets. I am giving away 10,000 USD for Tickets, Flights to the Asian Community this year https://steemit.com/steemfest/@knozaki2015/steemfest-3-finally-annouced-japanese-members-can-participate-in-my-flight-hotel-giveaway
Please apply if you want to get a $ponsored ticket!
As you can see here, for SF2 https://steemit.com/travel/@knozaki2015/steemfest-ticket-ordering-live-let-s-get-ready-to-rumble and for SF1 I always snatch the very first tickets.
Did you book your Hotels and flights already for @steemfest 3 ? Are you excited to meet new people, I can promise you it will be amazing !!!
Will this be the best @steemfest ever ??? I am blogging about the following topics :

I travel the world (Travel and Restaurant Blog)
Exposed (Uncovering Stories you need to know)
Lifehacks (How to save money,etc) 
SPOTTED (Limited Edition Food, Drinks, Gadgets)
Steemperlen (German Version, Series Ended)
SQUEEZE (Interview Series) 
COOKED (10 Episodes Cooking Series)
Working anytime, anywhere (New series for freelancers)
Frequent Traveller (New series about Travel Hacks and FFPs) 
HEAVEN (NEW Luxury Travel Magazine)
FARM
German Sausages
GADGET

ABOUT ME: Some insides into my Steemit life
Presented by TokyoM Ltd. Singapore