Breaking Through the Fourth Wall – The Steemfest Experience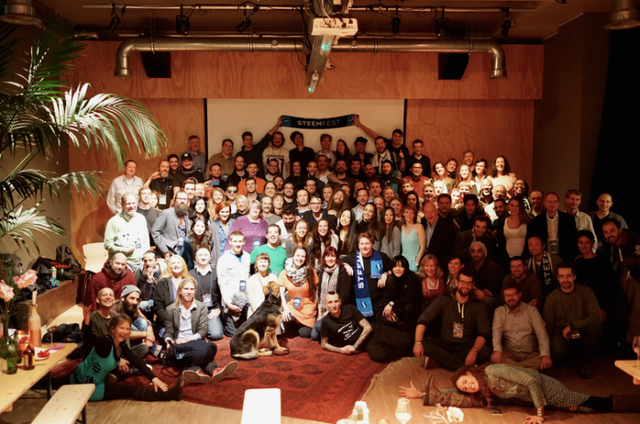 Hey Steemian friends,
I am still reeling from the joy and enthusiasm I felt at the phenomenal Steemfest 2016. A resounding success by anyone's standards, it was a showcase of professionalism and class from beginning to the very end. The gratitude and thankfulness I feel toward @roeland and his team of experts is insurmountable.
So, before I put up my actual post regarding the Steemfest tomorrow, I'd like to share some of my personal reflections of the event as a whole while they are still fresh in my mind.
I'm almost in a state of depression whilst settling back into the daily routine of "normality" after the rollercoaster ride of fun that was the Steemfest. I mean that as the highest possible compliment I can give to the organisers. Exceeding expectations almost beyond words, I classify the last few days as being the definition of success. I can honestly say never in my life have I been in an environment encompassing such talented, diverse and affable people. It's something I was fortunate enough to be a part of and have created some treasured memories in the process that will never be forgotten.
Pre-Steemfest, I would flick through the posts and enjoy reading all the great articles and content on my computer screen. Now, after the event is over, an extra element has been thrown into the mix that had previously not existed. Real lives. Many new articles I read now are told to me through the eyes of that certain somebody I became acquainted with at the event. Almost like a personal narration from that individual's unique perspective on life. A feeling of familiarity not too dissimilar, in fact, to receiving a postcard through the mail from a dear friend.
The incredible people I met over the course of those few short days have literally transformed every post they have ever written. I can envisage and interpret new meanings and messages based on their particular traits, personalities and beliefs. Better understand their ideologies and views through the looking glass to get an exclusive "behind the scenes" take on the relationship between post and person.
Now, when I sit back and think about that carefully, the words "mind" and "blown" are quickly conjured up.
It's literally like moving from a 2D ecosystem into a 3D world. A truly astonishing accomplishment, I'm sure you'd agree. The fact that the whole thing just fit together as perfectly as it did is due to us being currently a small group of early adopters and believers in creating something better, as @ned put it so succinctly in his introduction speech. We are all slap bang right at the start so forming great friendships and lasting connections is totally achievable if we all pull in the right direction. Steemfest has proved that point without a shadow of a doubt.
Whether anybody still has any questions about the financial side of Steemit (which, might I add, are being addressed by some of the most intelligent individuals I have ever come across), there is one thing which is now just simply an undeniable truth about Steemit. The unity of the community.
When have I ever emotionally connected with so many diverse people in a relatively unknown group within such a short space of time? The answer is never… until now.
From my personal view of point, Steemit has surpassed just being a website primarily based on economic remuneration, but has now become a living, breathing entity unto itself. Because there are real people running the show behind the red curtain, people I grew so fond of so quickly, people I think about and miss as I type this post. Amazing, interesting, smart and brilliant people! If the calibre of Steemians present as this event was already so high, imagine those who couldn't make the event. The mind certainly boggles at the heights of intellect and greatness that we all have yet to see in upcoming future events.
After all is said and done, the triumphant victory of Steemfest has pushed the platform to the next level and I am honoured to have personally witnessed Steemit's first baby steps.
Bless you all and I look forward immensely to our next meeting in the near future...