My body is back at work but my heart and mind are still at Steemfest.
I knew I was going to be down for a while after the high of Steemfest. I felt it especially today when I was migrating the e-mail of a business to Office 365. I'm self-employed. It wasn't the most exciting job in the world but it pays the bills (don't worry I do jobs that I enjoy too).
My mind kept drifting to that amazing weekend. Only now do I realize how long it has been since I haven't thought about work at all. I felt like I just lived in the moment the whole weekend. Going from one cool event to the next. This is my Sunday story and my last one about Steemfest.
---
I didn't want to take the train again so I drove to Amsterdam this time. I parked my car in some cheap shady garage (10 euros a day) and walked 20 minutes to the Café Hesp to find out nobody was there. Was I too late? I waited 10 minutes and then decided to walk another 10 minutes to the Volkshotel. My heart jumped when I saw people were still there. I was on time!
I couldn't see anybody I met on Saturday so I approached a random group and asked them what was happening. They said they were leaving for the boat and I asked if I could join them. It was no problem! This group consisted @hilarski, his wife @anahilarski, a very interesting looking guy called @ballinconscious and an anarchist from Norway, @kooshikoo.
On the boat, I sat next to Randy (Hilarski) and he told me he and his wife have a social media promotion business specialized in Blockchain Technology based in Panama. He does promotional work for Steemit to. It was the coolest thing. We talked a lot about crypto and ICO's. I had such a blast and kept thinking how easy it is to speak to like-minded people here. On the boat, I also met @marketingmonk he does Radio shows about crypto and he has the most radio voice I ever heard.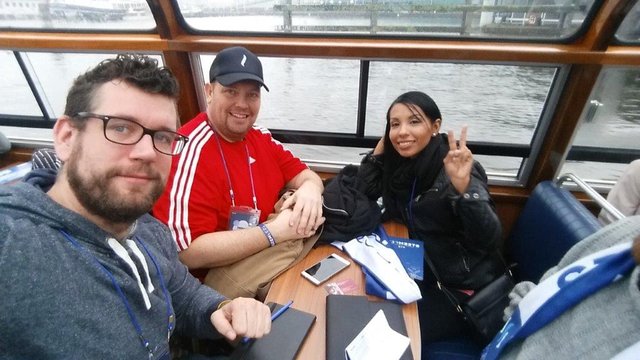 Stepping off the boat I ran into my friend from the first-day @ezzy. We stuck together for the rest of the day with his wife @rea and others. I met @guerrint. We talked about the makeup tutorial and the hate and praise she got for it and later at the closing dinner about the current state of the US. Very down to earth and cool person. I also met @beanz she's from Dublin, Ireland. Super nice person and funny. (I'm glad you found your photo.)
We all went to check out the beautiful old church. Inside @ezzy and I had a very open conversation about religion with witness @arcange. In hindsight, a church, probably not the smartest place for me to tell out loud I'm an atheist. Arcange also pointed out that a wooden ceiling in a church is very rare. I didn't know that. I did think it gave the church more character.
Next @ezzy wanted to see the red-light district so he had to ditch his wife and the others girls somehow and he decided they should go shopping. (of course, this didn't happen, he asked for permission and it was granted and hell even I asked for permission and my girlfriend wasn't even there!)
Just before we were allowed we had run into @mammasitta. She's lives in Indonesia and she paid for her trip to Amsterdam with money earned on Steemit. I asked her jokingly if she liked girls and she said yes so we dragged her along too. It was a crazy day. @shla-rafia joined too and he became the tour guide. @shla-rafia tells jokes on the streets of Amsterdam. He's very funny.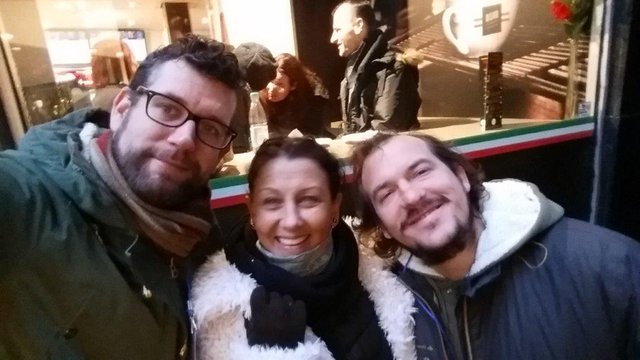 We ogled at some girls and then @shla-rafia left us to it. The three of us ended up in a café where we ordered some warm beverages (@mammasitta was freezing). We talked very passionate about the blockchain and what Steemit can do for storytelling.
@mammasitta made me look at the blockchain in a whole new way. A way of storytelling that can never be deleted (book burning in WW2 was mentioned). My children and grandchildren can one day read my stories because they are in the blockchain forever. It also made me realize I must be more careful with what I put in there. But seriously can you image reading your grandparents stories on the blockchain if that was possible today. Man, would I love reading their stories!
The hours flew by and we had to get back to the hotel for dinner. We used the free Metrocard @roelandp gave to us (the amount of planning he did, my goodness).
The dinner was lovely.
I had to leave this beautiful event after the photo shoot. It wasn't easy. I said goodbye to my newly made friends and especially to @ezzy and walked the 20 minutes to my car. I was happy to see it was still there. When I got home I wanted to stay in the moment and wrote my first story.
I loved Steemfest and the two stories I wrote are just the tip of the iceberg of all the stories that occurred that weekend. It was such a privilege to be part of the biggest diverse and open minded group I have ever met. I hope Steemit will last for a long time and I'll be around and invest as much in it as I can.
I must say I feel a lot less down now. Writing helps. Memories help. They are the best thing.
Steem on.
---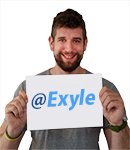 Follow Me @exyle