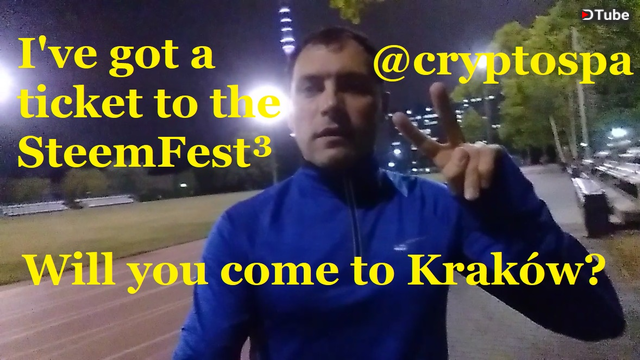 ---
Hello dear Steemians, Dtubers, Actfitters and all people of Blockchain!
I've just bought a ticket to the SteemFest³ in Kraków! I am so excited! I would like to meet other Steemians there and to make friends! I do like Steem ecosystem a lot! I am so happy that I am going to SteemFest³!
I want to say thank you to the Steemians (@edwardsun55, @yanipetkov, @steemcafe) who have motivated me to start using #Steemit and to become part of the Steem ecosystem. Many thanks to @clixmoney for motivating me to start using @Dtube and converting me in a Dtuber and a member of the @dcooperation. Thanx a lot to @nathanmars, who I have started following recently. Reading his posts on Steemit and watching his videos on #Dtube and #Dlive I've become much more interested in attending the SteemFest.
Thanks a lot to @roelandp who explained me in details how to buy a ticket for the SteemFest³ and also motivated me a little bit to attend this great event.
So, let me tell you my story about buying the ticket for the SteemFest³. Since the beginning of the Summer I've been doing plans to come to the SteemFest in Kraków. But all of sudden, at the end of August, the company I work at decided to celebrate its 20-th Anniversary at exactly the same time (from 9th till 11th of November). I work in Moscow, Russia, but I am from Bulgaria (a small country in Southern Europe). So, I faced this dilemma - either to go to the SteemFest or to go to the celebration of the company I work at. To be honest If don't attend the company celebration my boss will not be happy with me...I've been working at this company for almost 6 years, and I do love it! My colleagues are great people! So, I decided to ask my boss to attend just the last night of our company celebration on Saturday (the 10th of November) in order to be able to come to Kraków just for the first 3 days (from Wednesday till Friday, so, I will not be able to stay on Saturday and Sunday). My boss has approved today my holiday request, so, I am coming to the SteemFest³! On Tuesday (the 6th of November) after work I will go immediately to the airport and will take a flight to Riga (Latvia). In Riga I will take other flight to Warszawa, Poland and I will arrive early in the morning on Wednesday (the 7th of November) in Warszawa. Then I will take a bus to Kraków and I hope I will be able to check in at the hotel at 2 p.m. I will stay in Kraków until Friday night as I said earlier. On Saturday I have to be in Russia, and I have to be in the evening at the Resort (100-150 km away from Moscow) where the company I work at will celebrate its 20-th Anniversary. I still don't know how I will manage it to leave Kraków on Friday (the 9th of November) and get to the resort in Moscow region by Saturday evening, but I hope I will be able to figure it out...It is going to be a very active and intensive journey, so I am going to use Actifit Fitness Tracker (@actifit) :). And, by the way, I am not rich, I will spend some of my savings for this trip, because I believe in the Steem ecosystem and I am sure the people who will attend this SteemFest are great! To be honest I wanted to buy the ticket for planktons, because it's the cheapest one, and because I will be able to attend just the first 3 days of the Fest, and also I am not rich. But It turned out, that according to Steemitborad I am a "minnow", so, I've decided to be honest and to buy a ticket for minnows, that is a bit more expensive.
So, that is it! I will visit the first part of the SteemFest³ and the last part of 20-th Anniversary of the company I work at. Two very important events for me.
Ok, dear Steemians, if someone wants to meet me, have a cup of coffee with me, etc... please, write in the comments! Let's make friends!
---
▶️ DTube
▶️ IPFS