The Road to Steem Fest - The actual road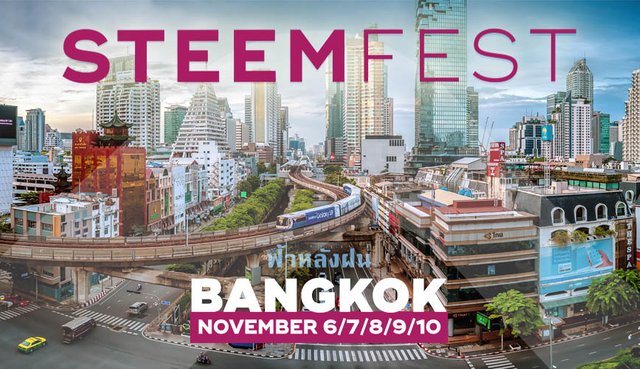 Hey Steemians! It feels like so long since
@roelandp
made the first announcement regarding this year's Steemfest... We've had some time to prepare and plan, to try and get some funding and figure out if we are going to the biggest Steem event of the year.
And now, we are a little bit more than a month away from the actual event.
But, do you have it all planned already? Is every detail of your trip taken care of?
Perhaps you are flying from the other side of the world and you have to take 17 flights to make it to Bangkok; or maybe you live close to Thailand but you need to drive for hours to get to the nearest airport so you can take a short boat trip to the Thai shores; who knows, I bet some people will have to do some island hoping to make it on time to the opening cocktails.
Whatever you have to do to get to Thailand, share it with us!
I remember last year, thanks to this topic of the #roadtosteemfest initiative some people found out they were taking the same plane to Poland from the USA and BUM, they were friends before even arriving to Krakow. Amazing, right?
Well, what are you waiting for? Tell us how does it look for you, share with us #TheActualRoad you'll have to take and everything you'll have to endure to make it in one piece to Thailand!
Small set of rules:
You have until Sunday 6th of October to post about this topic (yes, that's a very short notice :P)
Use the tag #roadtosteemfest and #blocktradescontest so we can all find the posts and get to vote on our posts to help out our funding for the trip.
This #RoadToSteemFest initiative, just like last year's, will run until the previous week of Steem Fest. There will be around 16 topics regarding the #roadtosteemfest so make sure to try and join every one of them because...
...everyone who joins in on at least 75% of the topics, will be eligibile to win a big surprise in Bangkok. This surprise will be revealed later down the road and only people who attend SF will be able to receive it.
Remember, you have until Sunday, October 6th to publish your The Actual road post.
---
There is already three contests to win Steem Fest tickets + Accommodation in Thailand sponsored by @blocktrades and @actifit, @steemhunt and @travelfeed check them here
Thank you everyone who makes a post about this. Any vote or resteem is appreciated, since all the liquid rewards from this post will go to fund one lucky Steemian's Steem Fest 4 entry ticket.