The road to Steem Fest | Fears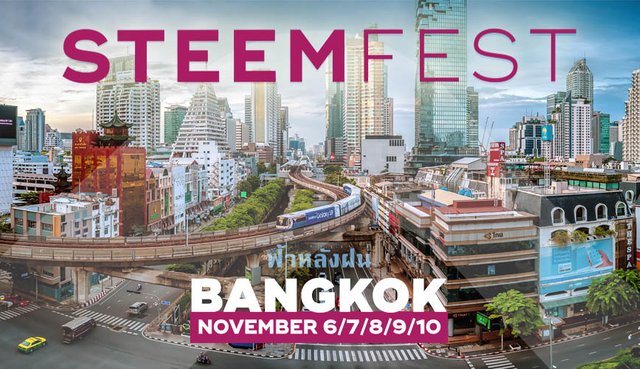 What? Did you really think it was all going to be fun and games in the road to Steem Fest?
Think again
Let's face it. We all have fears, second thoughts, hesitations about all of this happening so fast. Threee months ago we didn't know we were going to Thailand and now it's all becoming a reality, we have a plane ticket, an event ticket, accommodation etc... we can´t back down. We've reached the turning point, either we go or we go.
No backsies.
When we realize there's no going back, it's when fears start to become real.
Well guess what? This #roadtosteemfest thingy will give you a hand with that matter.
Do you think no one will recognize you and say hello to you? Don't worry, @waybeyondpadthai will greet you when he sees you.

Are you afraid you'll end up too drunk one of the nights? Don't worry, @celestal will be your sideckick.
*Do you fear ending up in a corner with no one to talk to? Don't worry, @travelgirl will keep you company there.
*Does running out of a conversation topic gives you anxiety? Don't worry, @louis88 will definitely have something to talk about with you.
Do you think no one will laugh about your jokes? Don't worry, @macchiata will always have a smile for you.
Do you dread the idea of being surrounded by strangers? Don't worry, we are all a family at this point.
These are just examples... don't answer this questions on your posts but actually speak about your fears about this event, and the whole situation...
Who knows, perhaps after reading about them, we'll be able to help each other out to overcome those fears... after all, this whole initiative is supposed to bring us all together as a community :)
Let's make a post about our fears about Steem Fest, Bangkok and Thailand in general.
Small set of rules:
You have until Sunday 27th of October to post about this topic
Use the tag #roadtosteemfest and #blocktradescontest so we can all find the posts and get to vote on our posts to help out our funding for the trip.
This #RoadToSteemFest initiative, just like last year's, will run until the previous week of Steem Fest. There will be around 16 topics regarding the #roadtosteemfest so make sure to try and join every one of them because...
...everyone who joins in on at least 75% of the topics, will be eligibile to win a big surprise in Bangkok. This surprise will be revealed later down the road and only people who attend SF will be able to receive it.
Remember, you have until Sunday, October 27th to publish your Fears post.
---
Thank you everyone who makes a post about this. Any vote or resteem is appreciated, since all the liquid rewards from this post will go to fund one lucky Steemian's Steem Fest 4 entry ticket.