My first own crypto token, thanks to Steem Engine.
Yesterday @aggroed and @yabapmatt (the Steem Monsters team) introduced "Steem Engine" (based on the steemsmartcontracts software of @harpagon) which allows everybody to create ones own token.
"Steem Engine" now offering an alternative to SMTs.

That also means there is alternative token creation mechanism available now in addition to the SMTs planned (and postponed) by Steemit, Inc. @aggroed also wrote that already "soon" there will be an internal market where the new created tokens can be traded against STEEM.
For technical details and a short comparison (from @aggroed's point of view) between Steem Engine created tokens and SMTs I recommend you to read the full article about Steem Engine.
Want some "Kobold"? :)

Out of curiosity I took the opportunity to create my own new token, too. Referring to the STEEM user name of my wife (@kobold-djawa) and because it sounds nice, I chose the name Kobold (KBD). :)
You can find it in the token list below (screenshot from the Steem Engine website):
---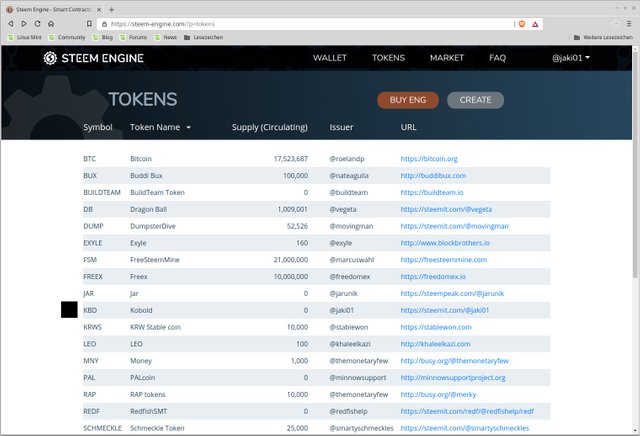 ---
(By the way a little improvement would be to fix the the token table header when scrolling through the tokens, especially as their number will increase rapidly.)
I created my new token more or less just as a test and for fun (nevertheless I may send you some if you wish - but hurry up there are only one million Kobold 'coins' remaining). :-) However, for businesses, waiting for SMTs since a very long time, the new options created by Steem Engine could be a huge opportunity!
What to do to create your own new token?

To create your own token you simply have to go to the Steem Engine page, press "GET STARTED" and log in (optional with KEYCHAIN). Then click on "CREATE", after which you have to choose the token name, its symbol and some other details. Done!
Creating a token costs 100 Steem Engine Token (1 ENG = 1 STEEM).
So, what will be the name of your new token? :)