Previously, I talked about Dealing with abuse on the Steem blockchain. There's so much wealth of information shared in there. I was able to talk about some helpful tips as a guide for some Steemians (most especially newbies and minnows).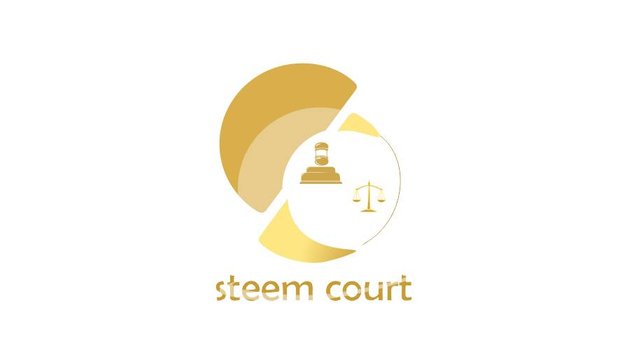 My proposed Steemcourt design
By clicking on the link above, here are some of the items discussed:
Introducing Steemclearners and about cheetah comment
The usage of tags - tag spam and the abuse of tags
creating quality contents - original, required length (according to Steem rules)
The issue of commenting on posts or contents
In this post, I will basically discuss three things:
Plagiarism as an act of thievery of intellectual property (and its forms)
Image citation and free stock images
Referencing of posts
You will notice that these topics are very wide and cannot all be discussed in this post. For this reason, (rather than discuss each of them individually per post), I have decided to include several related links to well detailed posts where readers can read them up.
Meanwhile, you can also check @Valchiz's (the founder of D_medic school) blog where minnows can obtain some level of mentorship with respect to becoming successful Steemians.
PLAGIARISM
Lexicographically, (according to the 9th edition of Oxford Advanced Learner's Dictionary), the word 'plagiarism' is defined as the act of copying another person's ideas, text or other creative work and presenting it as one's own, especially without permission. Source
Unfortunately, many bloggers are guilty of this illegal act. This act might be intentional or unintentional, (the latter category consists of those who engage in it out of ignorance).
Steemit awards originality of content. Like I always tell people who I introduce to this platform:
"Plagiarism is extremely frowned at here on this decentralized blockchain".
In fact, copying a sentence is not even advisable (except is being referenced properly). It is better for you to be criticized for what you are than to be praised for what you aren't.
CONSEQUENCES OF PLAGIARISM
As I earlier said in my last post, @Steemclearners is a community charged with the responsibility of downvoting abuse as a means of combating them. You can read more about them here. The funny this I've also discovered is that some people will steal a content and then use bots to upvote themselves. That is against the Steemit rule.
Below are some of the consequences of plagiarism:
The user's account could be flagged (downvoted as a way of punishment) or blacklisted
Plagiarism puts the reputation of the victim at risk.
It keeps potential readers off your blog.
It can result in legal action and so on.
CHECK FOR PLAGIARISM
The next question becomes: "how can you check for plagiarism?"
There are several plagiarism checkers. They work with seo tools or through google search. Some of which are smallseotool.com, grammarly, edubirdie.com and so on. Actually, I'm not a fan of plagiarism checkers since my contents are self-written.
It is also important to reference contents that are not original (according to the terms of service). I will be discussing that in this article.
COPY RIGHTS STANDARD ON THE STEEM BLOCKCHAIN
The decision of how to a work should be used is dependent on or made by the original owner.
Back then, when I want to publish a post I wrote myself, I would use any image on google. I never knew anything about copyrighted images and permission licences. I initially thought that all images could be used provided that I dropped a link where I got them from.
Very many people ate still guilty of this act without knowing that it is unlawful. In some communities like SteemSTEM, such act is highly discouraged, that is, you cannot get upvote from them if you violate such rule. You may have been writing quality Science-related articles and might probably be wondering why you don't get good rewards. The problem could be copyright (image) issuses.
But that's not a problem. A solution has come, you can read Guidelines on Copyright Standards in SteemSTEM. In that post, you'll learn more about copyright rules; it will equip you with the knowledge of the framework of blogging and you'll become familiar with terms like: copyrighted images and public domain (Creative Common licence), ghostwriters and grey areas, several forms of licence that exists and so on. Thanks to @Mobbs who authored it.
By 'several forms of licence', I mean that some state of copyright allows you to use their work or content provided you give credit to the original author; other discourage modification while another category is that which allows you to share as mush as you want provided that you don't use it for commercial purpose etc.
There are some websites that give free copyright images, amongst these include: www.unsplash.com, www.pexels.com, pixabay, wikimedia commons flick etc. (I frequently use Pixabay and Flickr as my favorites). You might be wondering how to get the relevant free stock images to publish your post. It's simple, just follow these steps:
Step 1: Type your keyword on google search rectangular box as you normally do

Step 2: Click on Image (we are familiar with this stage too). Rather than use any image of your choice, move to Step 3.

Step 3: Click on Tools (after which the usage right options comes out)

Step 4: Click on labeled for reuse. At this stage, you can use the image of your choice.

The above step is applicable if you are using a pc. If you are using a mobile phone, Step 3 will be excluded.
Note: After having read the Terms of Service for the free images, it is also important to know that IT MUST BE PROPERLY SOURCED . This will take us to the third part and last part of this article.
THE PLACE OF CITATION
The primary aim of citation is to give credit to the original author. Other reasons could be:
To avoid Steemclearners from visiting
It's a plus to your reputation (prevents your account from being downvoted)
It makes your post look more professional and quality
It shows that you have respect for intellectual property
It provides additional information for interested readers etc
HOW TO REFERENCE
The method of citation varies. Firstly, you must ensure that you have the licence or permission to use the content, also, work in accordance to the Terms of service.
The reason why I have chosen to include this sub heading is because I have noticed that most Steemians reference their images inappropriately. For instance, it is not enough to state that "The image is from google".
Another way in which people improperly source an image is by dropping the image address alone (without any information about the name of the website).
Below are some of the ways in which you can reference a work.
WITH RESPECT TO A SENTENCE
Referencing a content could be in two formats. you can use the quotation mark (" ") or the markup (>)
Below is an example:
"SteemCourt is available to decide on all disputes relating to SteemChurch parishioners."
The above statement was made my @Sirknight when he was introducing Steemcourt - The first church of the blockchain.
WITH RESPECT TO A PARAGRAPH
In this case, you will source it close to the ending of the paragraph. The link will take the reader to the website which has the main source.
The markdown style is [source](drop the link here)
Below is an example:


"Steemchurch farms empowerment scheme is an agricultural based initiative by that aims at helping or assisting intending agricultural aspirants. The help rendered by steemchurch farms would either be in cash or crypto form". Source

WITH RESPECT TO IMAGES
This category may appear to be more technical. Actually, it's easy too. I talked about four steps on how to get free stock images or public domain (labeled for reuse). That should be accompanied with a proper citation.
The fact that the images are free doesn't mean that it cannot be misused.
To site an image, the markup is [the name of the image and site](then, insert the url here)

Note: For images like free stock photos, use the website where the image appears as a source, rather than the image address itself.
For communities like SteemSTEM, their method of citation may appear to me more complex. If you want to get steemstem upvote after you must have written an outstanding post and used their tag, you must learn to follow the rules. More information is needed.


A screenshor from @Synick's blog showing how to source an image for a SteemSTEM post
You can also read on
Abuse Guide - 2017 Update
published by Steemclearners where you will learn more about plagiarism and original content; continued copy and paste (as a spam); tag abuse; identity theft/deception; known user verification; comment spam; malware and other vector abuses.
Check out the comments on each of the links shared here to help broaden your knowledge about these discussed issues. The answers to your questions may be provided in the comment section.
If there is any part of this article (or the included links provided) that still looks less clear, there are a lot of qualified and knowledgeable Personnel who can guide you. For me, I have mentors who still put me through, the likes of @dante31, @greenrun, @edumurphy, @destinysaid, @michaelcj, @kingadesh, @jaf8, etc, who having learnt all these things from, I have decided to spread this educative piece.
Thanks for reading. With a resteem, you will give others the permission to learn too.
I am... Gracehills