It gives me great pleasure to make a review of the activities of the @Steemchurch for the month of December 2018.
The aim of this review is to enable us look back to evaluate the operations and the level of interaction in our community for effective management decisions and planning. Evaluation is an important tool in community development and must be utilized effectively.
This review presents the posts made by the community handle - @steemchurch and the number of upvotes, number of comments. It further shows in graphical representation, the trend of interactions in the community as per upvotes and comments.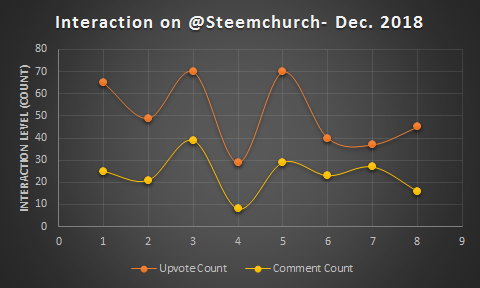 Analysis Chart on @Steemchurch community for December 2018
@Steemchurch Information as at December 31, 2018
| Parameter | Value |
| --- | --- |
| Reputation | 65.9 |
| Effective SP | 13, 395 |
| Age | 385 |
| Cumulative No. of Posts | 60 |
| Cumulative no. of comments | 4,617 |
| Cumulative Number of upvote | 7385 |
| Cummulative Upvoted by other users | 13,344 |
It is important to not that as at today, @Steemchurch has 1502 followers, 369 Discord members.
**The Statistics are as at the time of making this post (3rd January 2019, 11:45 GMT+1)
Below is a plot of Interaction on @Steemchurch account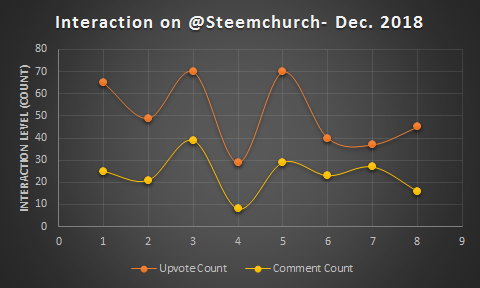 Chart created by @Uyobong using Microsoft Excel 2010 software
Taking a look at the analysis on Steemchurch for November, 2018, we see the table below presenting the comparison and consequent growth rate of the account in terms of interaction by the Steemchurch community.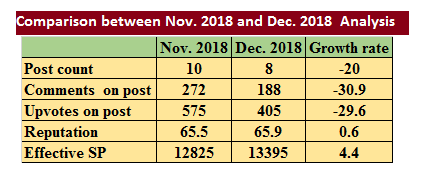 Table created by @Uyobong using Microsoft Excel 2010 software
Summary and Description of Results
Within 31 days, @steemchurch parishioners were only able to give (on the average) 50 upvotes and 23 comments on each of @Steemchurch post. This was quite low comparing to the fact that we have four (4) viable sub-communities - @Sc-n @sc-g @sc-v @farms. Assuming that each sub-community has 20 committed parishioners, then @steemchurch post should boast of atleast 80 upvotes and 80 comments per post. The sub-community leaders should look into this statistics and do something about the interaction on our community account.
There has been a minute 4.4% increase on @Steemchurch SP. @Sirknight had made a call for delegation with a target of 100,000 SP, December only recorded an additional 570 SP. I believe that the SP should have at least grown to 50% of the previous effective. I therefore call on Steemchurch leadership to call for monthly increase in SP delegation by members so we can achieve our expected target. This consequently led to a 0.6% increase in @Steemchurch reputation.
We still have much work to do to strengthen our community membership. Membership roll should be drawn at the end of each month. This will help our parishioners to sit up and give in their best to @Steemchurch.
I hope my suggestions would be given a critical look by the @Steemchurch leadership.
Contact Steemchurch:
DISCORD | STEEMIT | WEBSITE | TWITTER | FACEBOOK

If you like what am doing, support and engage this post. Thank you!
I am your analyst - @Uyobong