Check the updated list of this year's last STEEM distribution participants. In December any Steem.center collaborations will be for free, thanks in advance for all volunteers!
Intro | Rules | Steem.center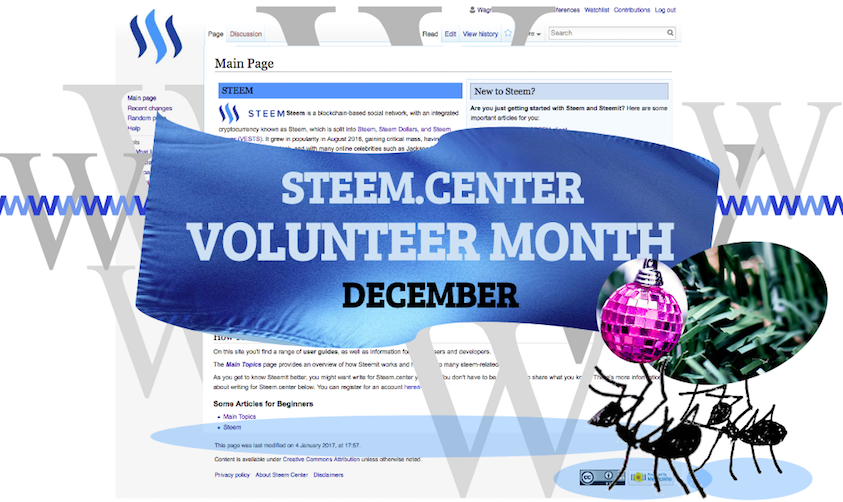 Hello steemians! We're happy to announce new created wiki pages about blockchain enabled decentralized initiatives and a spanish version about Steem reputation system. Check it when you have a time if you like:
The new articles and translations were created by come back participants @vitkolesnik and @angelgarz, thanks, gracias and good luck again!
You can also see many new created and update articles in Steem.center wiki this month, just see the list bellow and visit some of them if you're interested:
And beyond the spanish, the wiki has pages in other languages like arabic, galician, french, chinese and japanese. The link with the list of all languages available is: https://www.steem.center/index.php?title=Languages
Now @vitkolenisk and @angelgarz join @seablue, Collatz, @crokkon, @neander-squirrel, @orgaescola, @surpassinggoogle, @evildildo, @axorve, @hdmed, @headphonek99, @inoue, @gazetagaleguia, @freyman @tanyehwen, @theghost1980 and @wagnertamanaha to form the group of 18 participant to receive a share of STEEM collected here in November.
Thank you all for the collaboration and support again!
Steem.center Volunteer Month in December

In december we will make a pause in the STEEM distributions for collaborators in Steem.center. At this time all editions would be welcomed but will not receive any share of STEEM collected here. Next year we plan to come back with the monthly transfers as usual. Happy hollidays!
Project's Balance

Now our wallet has the sum of 28.915 STEEM. Like we did for october, all STEEM collected here in November would be shared among this month's participants. Check our project's introduction and rules proposed to understand the distribution system and join us as a volunteer in december or rewarded participant next year. Or just upvote and resteem this post to increase the collected amount as an incentive to new participants.
Join the project!

If you liked our proposal just get together to create a collective knowledge platform to new steemians, advanced users and developers transforming Steem.center in the wiki of all things Steem related. You are invited to join the project, take a look in the rules to understand our proposal in rewarding the project's participant monthly in 2018. If you want to be a volunteer in december or participate in the next year distribution list to earn a share of the STEEM collected by this account, please follow us here in @steemcenterwiki, register in Steem.center with your Steemit username. Then start making wiki collaborations!
To find suggestions of new pages to start you can click in Articles for Creation and use the sandbox page to test and play wiki editions without commitment. There are some loosely guidelines we suggested before and if can also ask for a personal response in Steemit.chat #wiki channel.
To support the project with donations, just transfer any STEEM ammount or STEEM Power delegation to @steemcenterwiki. Also follow us, upvote, reply or resteem this post.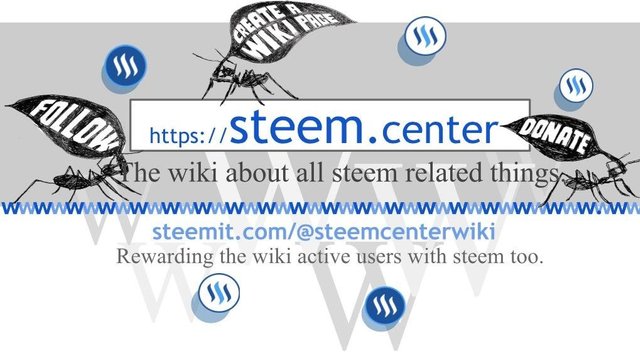 Image credits: photos by Ronny K. (Pixabay), Kristina Servant (Creative Commons License on Flickr) and illustrations by @wagnertamanaha
Intro | Rules | Steem.center