Steembola closed for entry

Rien ne va plus, s'il vous plaît
No more bets please...
Only at the Steem Social Media platform on a blockchain you can have a chance to become a multi millionaire in about 24 hours. Yes, okay in Slothcoin that is. Still, when was the last time you had a conversation starter like: "Did you know that I made millions with blockchain technology, while sleeping?" You see, now that should get things started at the diner table. So, some come, join and have a go at it. Even if you are not a Slothcoin sentimentalist like @juanmiguelsalas or me, those millions could have your name written all over it. So let's rumble cause it's Tombola time at Steem. But here it is know as a Steembola!
There are six prices in total, which will only be send in SLOTH value, using Slothcoin version 1.3.1 build 3. All the six prices will be connected to a unique random number, chosen between 1 and a million. This will be done by Juan, and I will not know the result until after the Steembola will be officialy closed. That will be after about one payout round, or somewhere around 24 hours. It is not absolutely about exact numbers, but whoever gets the closest. If there is a tie, meaning 1 plus and 1 minus, then the price will be divided between the both.
The prices in SLOTH value:
3 million worth of SLOTH
2 million worth of SLOTH
1 million worth of SLOTH
500 thousand worth of SLOTH
400 thousand worth of SLOTH
300 thousand worth of SLOTH
These are the 6 single prices connected to unique randomly chosen numbers.
What you will need:
A Legal entry
Is a reply to this post that has in it:
A unique working Slothcoin address
A unique number between 1 and a million
Good to know
When the same Slothcoin address is used more then once, only the first reply counts
This means that all other entries, with the same Slothcoin address, are considered invalid
Only the first occurring winning number guess counts
First have a look if it already was used, then place your guess
You can always change your entry/entries in case of a typo or mistake.
Closedown
The closedown of this first ever Steembola will not be exactly right after the Steem based 'payout' closing time. Winners will be notified with a reply containing a transaction number as prove that the SLOTH were send.
NOTE:
If you decide to download and install the Slothcoin wallet, there is no need to download the complete blockchain first. When you start it you can use use it right away to generate SLOTHcoin addresses. But, if you want to fully use it to send/receive/mine, it is needed to completely download the Slothchain.
Declined Payout
For this the declined payout post setting is used. This post was a give away idea launched by some Slothcoin sentimentalists. It is mainly done for the fun of it and to promote Steem at the same time. And also to launch the Steembola concept.
Place your replies please...

This Steembola is sponsored by @juanmiguelsalas and @oaldamster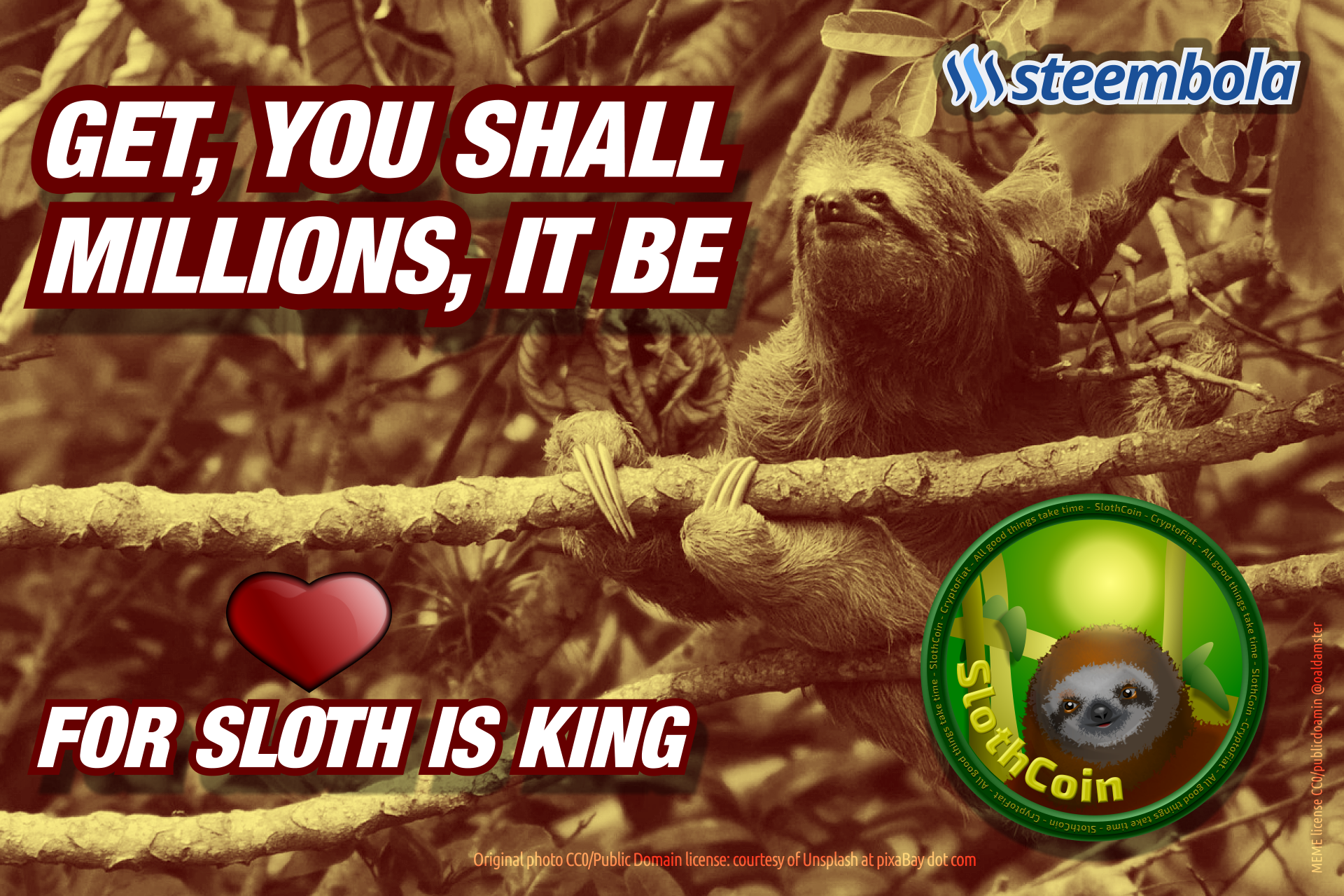 Original photo cc0/public domain courtesy of Unsplash at pixabay.
Sloth Steembola cc0/public domain by @oaldamster