This will now be my 7th SteemBay auction to date, as part of my continuing commitment to support the @steembay initiative, in turn part of a greater effort to develop and establish a Steem-based economy, here in our community.  
I believe it would be great-- as well as a boost to the value of the Steem currency-- to have our own internal peer-to-peer marketplace inside the Steemit community. And with 700,000 members and growing, we're already like a small country-- we need our own economy!
My SteemBay auction no. 7: A genuine $5.00 US Postage Stamp From 1923-- 95 Years Old!
I've noticed that a few people have posted about stamps and stamp collecting here-- and there have been a few SteemBay auctions for them, as well-- so I thought I'd try, as well.
After all, not so long ago, stamps were the single most widely collected item on the planet.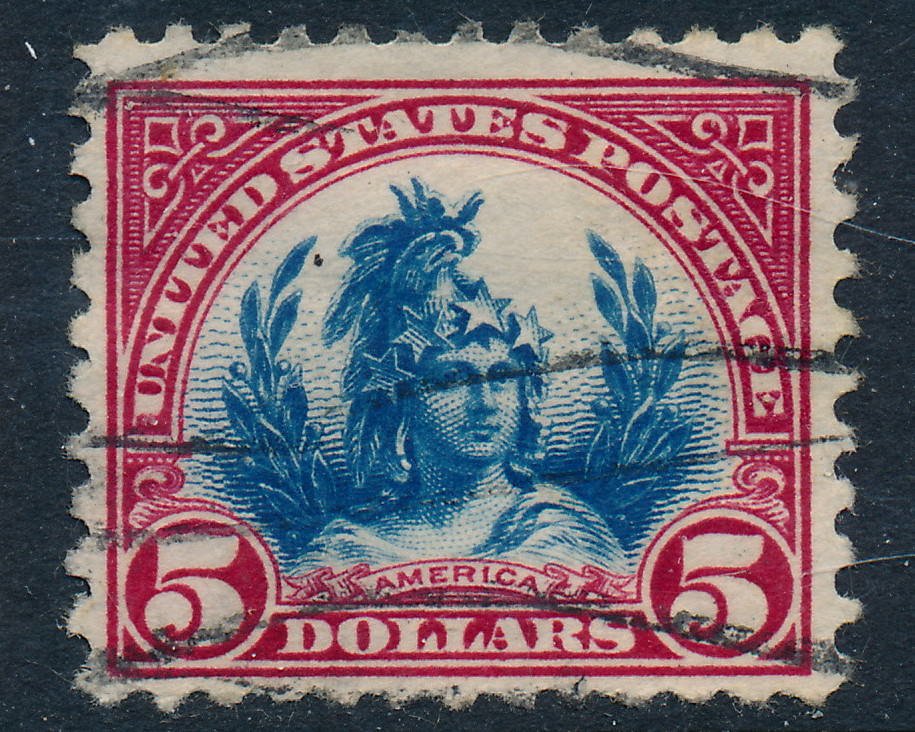 $5.00 high value stamp from 1923
YOUR BID IS FOR: A genuine 1923 $5.00 high value postage stamp featuring "America," aka the head of the Freedom Statue on the Capitol Dome. It is in USED condition; you can see the original wavy lines postmark. This is no. 573, according to the US Scott stamp catalogue.
There are a couple of small stamp hinges on the back, but overall looks to be in good condition, and quite nice for an almost 100-year old item.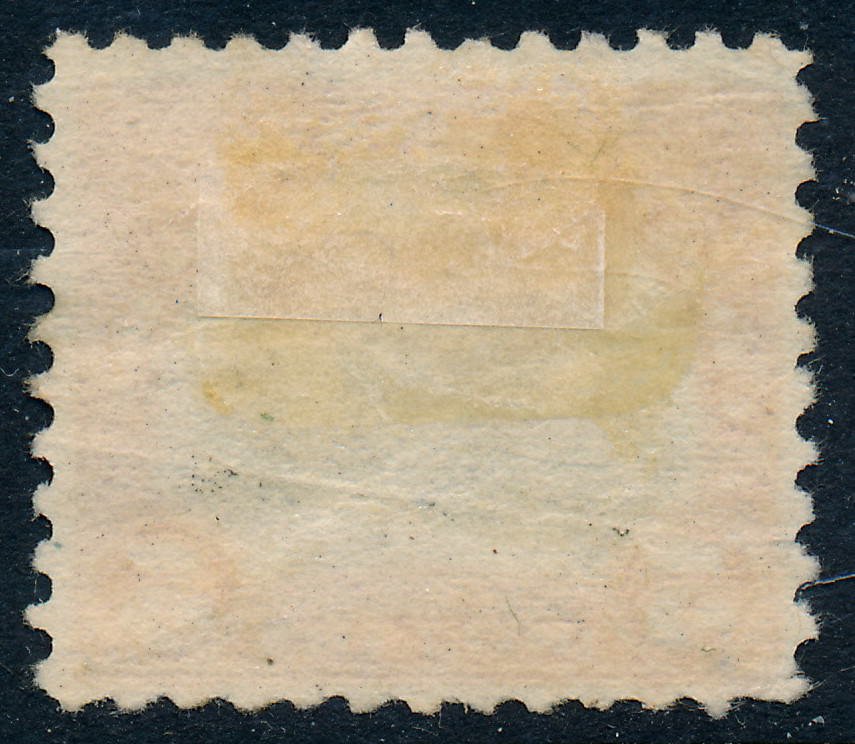 Back of $5.00 stamp; right click and open in new tab to see larger image
I'm showing pictures of both the front and back of the stamp
Consider this: This stamp cost a LOT of money!
This is a $5.00 stamp from 1923. That might not sound like much, but consider this: $5.00 in 1923, adjusted for inflation to 2018 dollars amounts to... about $74.00! This must have paid the postage on a pretty stout parcel, in its time.
This stamp came out of a hoard/old collection of stamps my late stepdad had, and which passed to me when he died a few years ago. I don't really need it anymore, so maybe there's a stamp collector out there to whom it would mean more!
Have a look at the photos, and feel free to ask questions in the comment section! Random questions and comments will NOT be interpreted as bidding, so no worries.
Because this is actually more valuable, the starting price for this old piece of collectible memorabilia will be 3.00 SBD, which is still a pretty good deal at current rates. 
Auction will run for 7 days-- till this post expires.   
So here's how bidding works:
Reply (directly) to this post with "bid x" (where x is the amount you are willing to bid in SBD). 
Decimals have to be written with a period instead of a comma (5.9, NOT 5,9). Wait for the bot to log in the bid (it will tell you in seconds if it worked... sometimes it takes up to a minute due to transaction failures of the system)
If someone bids higher than you, the bot will reply to your post and reference your username. The bot will reply to each accepted bid, stating what is actual highest bid and who is the high bidder. The bot will also reply when you are overbid, and state the new high bidder.
If you need to retract your bid just enter "revoke bid"
"Normal" (non-auction) comments will not interfere with the auction, and will not make you a bidder! 
Upvotes on this post are welcome and accepted with gratitude as any rewards from this post will be applied to covering the cost of postage.   
Shipping is FREE Worldwide! First class mail to the USA, and Standard Air Mail to destinations outside the USA.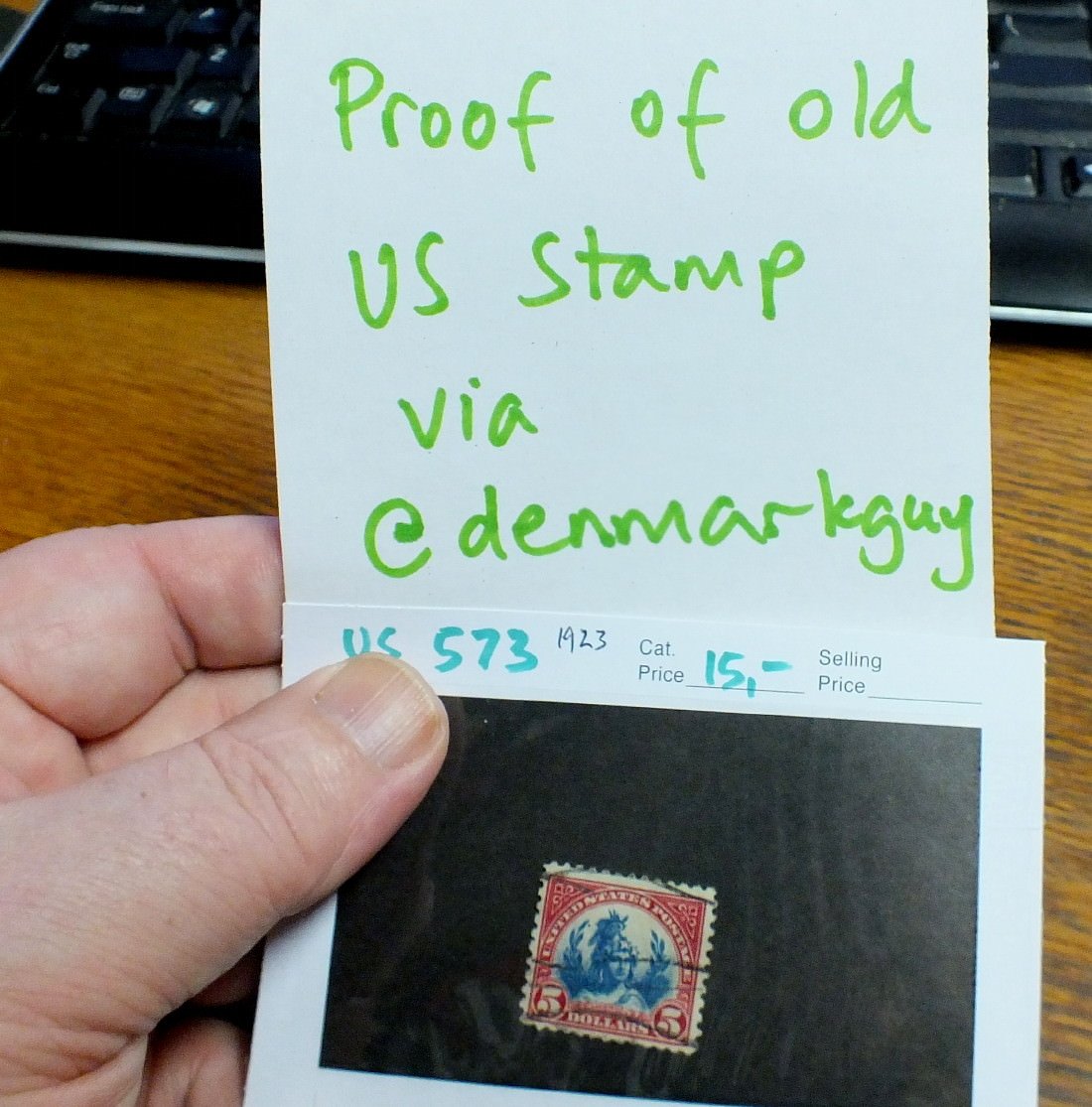 In best Steemit tradition, here's "proof of stamp in hand."
After the Auction:
Payment for winning bid will be in SBD.
I will need the winning bidder's contact/shipping information, which we can either exchange via Encrypted Wallet Memos or through Steemit.chat.
Once I have your information, you can pay via direct wallet transfer, and I will ship you the stamp.
I think that about covers it-- otherwise, feel free to ask questions in the comment section! I appreciate your interest, and good luck in the auction! 
About SteemBay:
@steembay is basically an auction/for sale utility bot in the manner of eBay, except it runs within the confines of the Steemit ecosystem, and payment is in SBD... so it's an opportunity to actually use your SBD for something other than buying Steem or BTC! And it's a chance for us to develop and support our own economy here.
To learn more about Steembay, there's both the orginal introductory post, as well as a quick tutorial.
To see what other people are offering, visit @steembay and click on the most recent "Daily Report of Steembay" post... or you can simply click on the#steembay tag, anywhere you come across it! 
Posted 20180315 01:05 PDT